by EP
Hanukkah is over and Christmas is upon us, but before I head up to Plympton, Mass. to celebrate Christmas with Xani and Dave and Dave's family (and eat, and drink, and eat), I wanted to share two Hanukkah meals that I'll be sure to remember for years to come:
DGS Delicatessen
: During Hanukkah, I was able to visit a new restaurant in Dupont Circle called
DGS Delicatessen
. I heard about its recent opening via Twitter (of course) and after one look at the menu, I knew I had to go. The menu featured old-school Jewish goodies like kasha varniskas, chopped liver, flanken, kreplach, and knishes, but taken to a unique and/or classed-up level. For example, the knishes are made with lamb merguez and lentils; the kreplach are filled with bacalao (salt cod); and the chopped liver is topped with gribenes (fried chicken skin leftover from rendering chicken fat - schmaltz!*)).
My friend Jim and I went, along with Jim's wife Jen, who I was glad to finally meet after hearing about her for a year! We had an early reservation so we got the best seat in the house - at the back of the dining area with a view of Dupont. The space is clean and modern - not your typical greasy spoon deli.
We started with cocktails: I got the "
Bridgetown Apple Royale
," made with Dupont Calvados, Pyrat Rum, Spiced Apple, Lemon, and Maple Bitters. Jen got the "
Hello, Gorgeous
" with Hidalgo Oloroso Sherry, Pimm's, Dolin Blanc, and Smoked Orange Juice. Jim got the "
Rob Roystein
" with Dewar's 12, Ginger Lemon Shrub, Sweet and Dry Vermouth, and Angostura Bitters. All were excellent - Jen was especially enamored by the smoked orange juice. I really wanted to get the "Mazel tov cocktail" because it's the best name for a cocktail - EVER - but the lavender syrup gave me pause (sometimes it can taste like you are drinking perfume).
Then it was time to dine. Jim and Jen graciously let me order all the goodies I had been eyeing and we shared everything. Just what I like in my dining companions!
To start, we ordered the
chopped liver
and a
Reuben
. Both were some of the best, if not THE best, of my life. Seriously (sorry, Mom!). Our waiter explained that the chef is trained in French cuisine and therefore is a pate-master. It showed: the liver was savory and creamy, but still coarse enough to be called chopped liver. The accompaniments made the liver shine: pickled red onion, gribenes (essentially, chicken skin cracklins), and house-made toasted up rye and pumpernickel. The serving was quite generous and I ate the leftovers for breakfast the next day - no shame!
BEHOLD!
Next up: the Reuben. I LOVE a Reuben and almost always get it when I go to a deli. The DGS Reuben was made with house-made corned beef, Emmenthaler, sauerkraut, Russian dressing, on house-made rye bread. The sandwich was griddled up to perfection, and somehow they avoided the classic Reuben problem: soggy bottoms. The sandwich must have come right off the griddle because both sides of the sandwich were toasty and delicious; no sog in sight. In addition, the sandwich had a curious, smokey hint to it - turns out, they sneak a slice or two of their house-made pastrami into the middle of the sandwich. GENIUS. I wish I had ordered another for my main. Jim concurred that it was the best Reuben of his life.
For our main courses, we tried two entrees and two sides. The entrees we ordered were the
Holishkes
, (Beef Stuffed Cabbage Braised in a Sweet and Sour Tomato Sauce, Rye Bread Crumb) and the
Flanken
(Beef Short Ribs Braised with Tunisian Spices, Figs, Spinach and Fresh Mint). Both were very good - I love anything cabbage-related so the Holishkes were my favorite of the two. I loved the crunchy rye bread crumbs on top of the sweet and sour beef and cabbage - it added a nice contrast of flavor.
The Flanken were good but not really my thing - maybe it's because it's something my family never cooked before so I had no perspective from which to judge them? By the time I got to them, they weren't very hot; maybe I would have liked them better if I had them right away.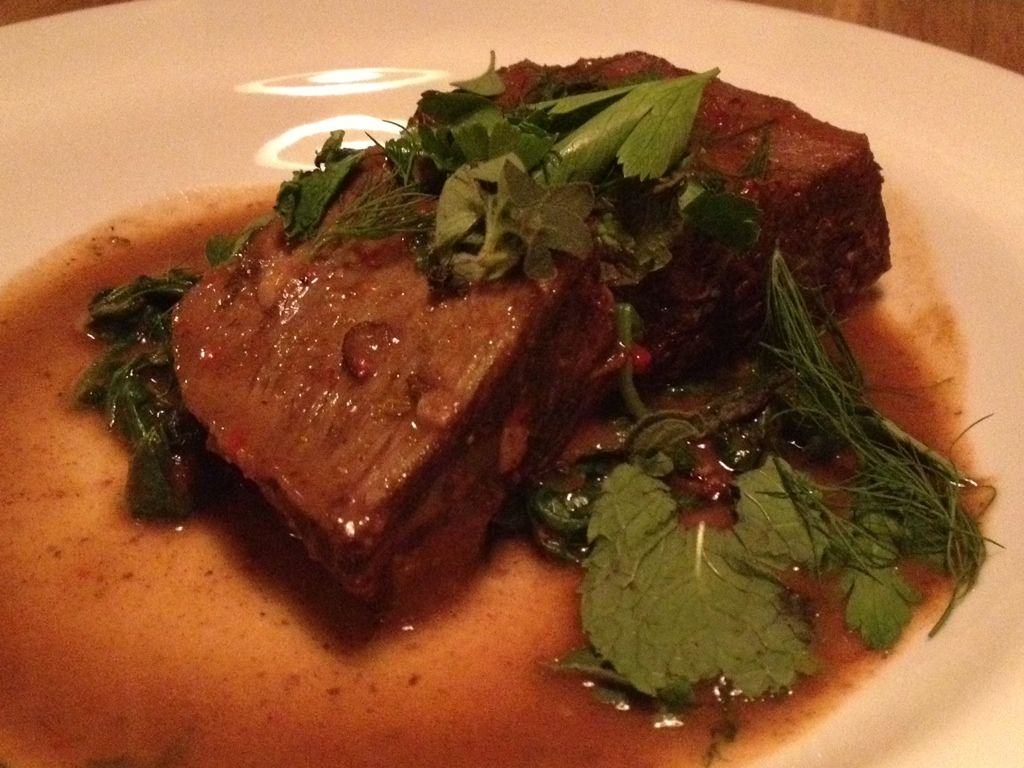 We also ordered two sides:
Roasted Cauliflower
with ras al hanout and
Potato Latkes
with creme fraiche and apple preserves. Both of these were outstanding! I love roasted cauliflower and this dish was caramelized, flavorful, and comforting.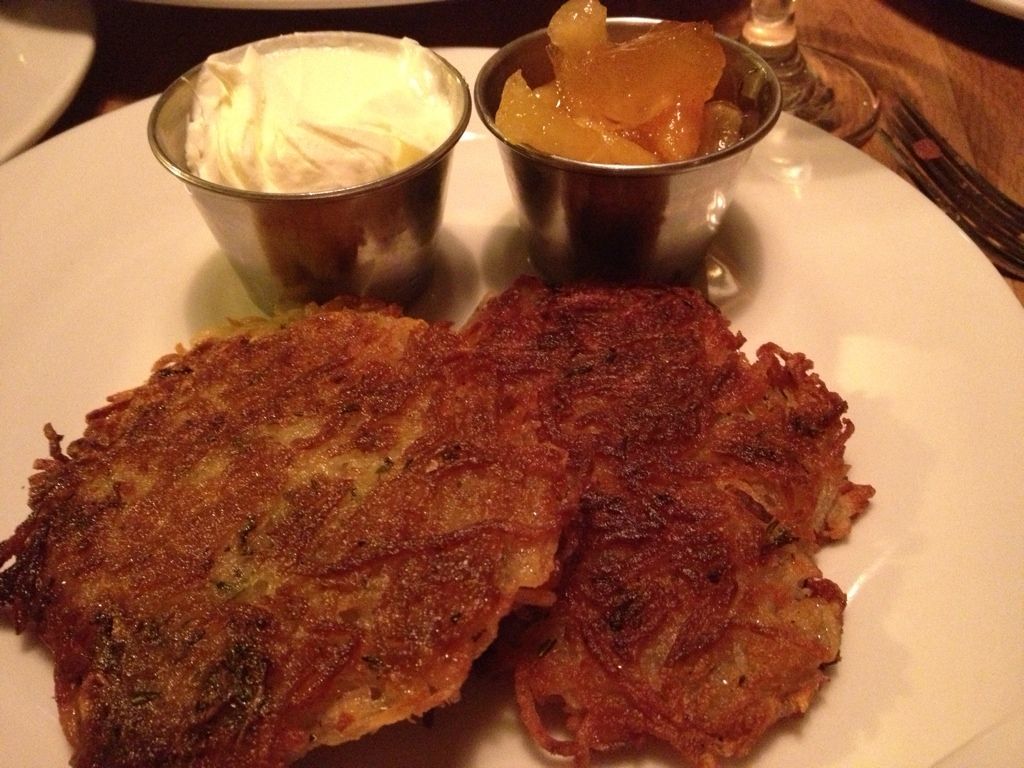 And then there were the latkes: holy crap. They were fried up (and may have been a touch too greasy, but that's my only complaint) and the creme fraiche and apple preserves were a nice alternative to the more humble sour cream and applesauce. But here's the best part: the latkes had thyme in them. It was a pleasant surprise and it really added to the dish - I will definitely be putting thyme in my next batch of latkes!
Finally, it was time for dessert: on a tip from a blogger/twitter buddy, we ordered the
Babka Bread Pudding
with salted caramel ice cream. It was unlike any bread pudding I've ever had - instead of the traditional craggy chunks of bread held together with custard, it was surprisingly homogeneous, with the occasional bit of chocolate from the babka. It was so delicious. While it was quite decadent, we all just had a few bites, so it was perfect. I wasn't complaining about the ice cream, either.
It was a lovely meal to share with friends during Hanukkah. But I am already planning my next trip back!
Homemade Hanukkah:
Per our new tradition, I had Xani, Dave, his daughter, BCD Mom & Dad, and Xani and Dave's pup Eddie over to my new apartment for a gift exchange and latke party. We had a fabulous time! We served
smokey fried chickpea
s, traditional potato latkes, and Smitten Kitchen's
cauliflower-feta fritters with pomegranate
as a lighter (lower-carb) latke option. We made the dough for hanukkah churros but we were so tired after all that frying (and, let's be honest, drinking) that we just enjoyed some of Xani's homemade cookies for dessert. The potato latkes were good but the cauliflower fritters and fried chickpeas were total winners and I will definitely be making both of those recipes again!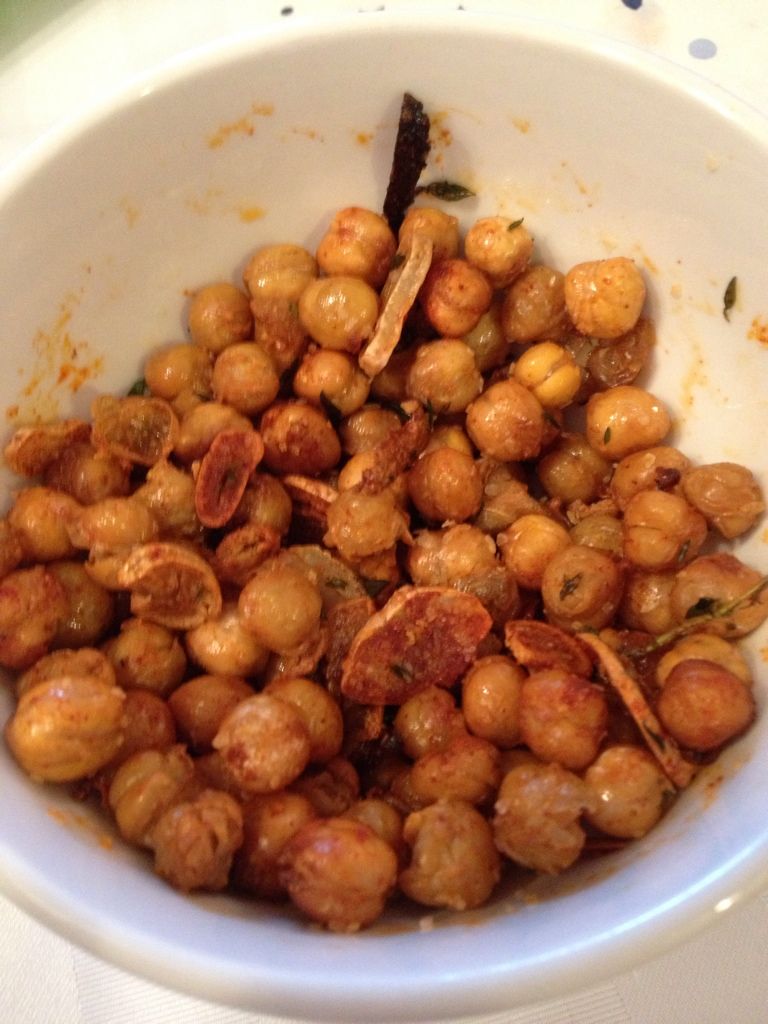 It was so nice to be able to host my family for a gathering. As the baby of the family, I am often taken in by Mom and Dad or Xani and Dave, and I am so grateful to have a beautiful home where I can welcome my family. But just them - my apartment is pretty small :)
Xani and I wish you all a 2013 filled with joy and laughter, great food and booze, and most importantly: health and happiness. And oh yeah: coffee and donuts!!
Cheers!
EP
* A note on schmaltz: If you have an iPad and you have not yet purchased Michael Ruhlman's cookbook for iPads,
"The Book of Schmaltz: A Love Song to a Forgotten Fat"
, get on it, tout de suite. It's a wonderful ode to a great fat! L'chaim!