by Xani
I'm just coming out of the haze of happiness that I lived in for the past few days while celebrating my birthday. Now its all work deadlines, broken dishwashers, bills to pay and blogs to write. No wait, I take that last one back. Let me re-live the weekend by sharing with all of you!
The past few years we've headed up to
NYC
to celebrate my birthday. Always a fabulous, but exhausting time. This year, we decided to rest our old bones (?) and keep it local. Erin hosted me at her house (complete with a real guest room and surprisingly comfortable air mattress) for the whole weekend and we lived. it. up!
It all started Friday night, when I headed to Erin's with a car full of cooking/baking supplies, doughs, plastic cutlery, way too many clothes, and this:
Eddie only stuck around for the early part of the evening-- a little later his daddy picked him up so that EP and I could get to the business of failing at
macarons
. Sigh. We had prepared ourselves for this likely outcome but it was still a bummer. We're blaming it on our lack of a convection oven. Despite EP's research, including getting specific guidance from Chef Briony in actual FRANCE, our little disks refused to form a foot, formed cracks, and just generally flopped. We tossed them and drowned our sorrows in champagne and delivery from
Kebab Stop
(not bad stuff if you are in the Mt. Washington area).
The "before" may look promising, but the afters got thrown in the trash :(
The next day, we awoke refreshed and with one thing on our mind: shopping. After a getting our fix, we returned to EP's house, knocked a few things off our prep list for the next morning's brunch, and then started preparing ourselves for our much awaited dinner at
Wit and Wisdom
, the swanky Michael Mina restaurant in the new Four Seasons Hotel downtown. We had been looking forward to this meal for weeks.
Despite the build-up, W&W did not disappoint. At every turn the service was better and better- valet, coat-check, bar-tenders, waiters, etc, etc. The drinks at the bar were as creative and quaff-able as everyone has been telling me (try the Sticky Wicket!). Once we headed to our table (with a view of the open kitchen AND the waterfront, beat that, other tables!) I was thrilled to see a birthday card waiting for me which had been signed by the whole W&W staff. And it just got better from there! Our waiter Paul was perfect in every way, and the only thing more perfect than him was the food. Here it is, in all its splendor:
|
anson mills green farro, upland cress
Rice Porridge with duck tongues, crispy onions, egg
Insanely Good Broccoli (not the official name)
"Scorched Wheat" fettucine with kale and perfect egg
Special Birthday dessert!
Red Velvet Goodness
Not all the dishes we ate are on the restaurants website, so I had to paraphrase a little with the descriptions. But even without official/accurate descriptions, how gorgeous are these plates? And they tasted even better than they look. The two starters were excellent- the bison tartare was perfectly executed, but the porridge was the real star, just because it was so different, and tasted SO good. EP and I are
suckers for gruel
anyway, and this was like gruel to the Nth degree! Both mains were excellent as well- the pasta was nutty and al dente, and the eggy, buttery sauce reassured you that this was NOT health food, despite the kale. All three elements of the rabbit dish were excellent: the country-fried loin, crisp and crunchy; the confit legs, rich and melt in your mouth. But the boudin was the overall winner-- just bursting with great flavor. Add some broccoli served with hunks of bread that had been fried crisp in bacon fat, and you've got yourself a hell of a meal!
We finished things off with a couple of gorgeous creations by the pastry chef. At this point I was nearing saturation of both food and alcohol, so memories are especially hazy. We snapped one last picture and got out of there before we could eat or drink anything else.
Already thinking about tomorrow's brunch...
The next meal in the weekend's parade of food was a Ladies' Brunch Sunday morning. We hosted six of our girlfriends and plied them with mimosas, bloody marys, and carbs. What could be bad about that??
Menu:
Mimosa Bar (peach puree, strawberry puree, OJ)
Fruit Plate
Made from Scratch Bread Basket
Honey-Five Spice Butter
Mixed Berry Cream Cheese
Sausage Biscuit Babies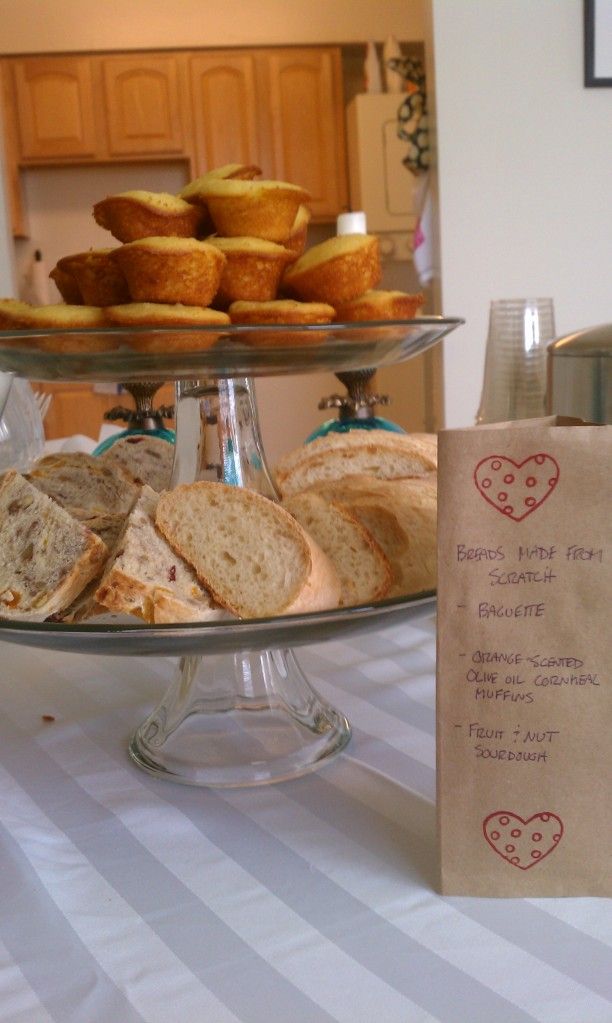 We fancy, huh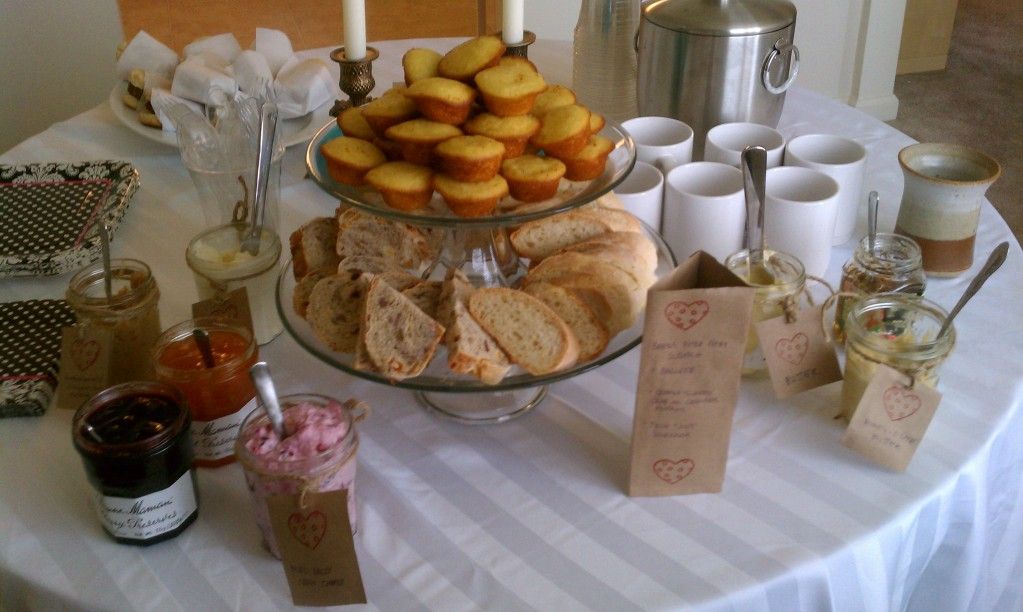 A spread of spreads
Call it a strata, call it a bread pudding, just don't call me late for brunch!
fruit to fill in the corners
I think these pictures tell the tale better than I can with words. My bread-baking hobby is sliding in to the "obsession" territory, thus I insisted on making the baguette, sourdough, muffins and biscuits from scratch. We made the sausage patties as well (and I still think wrapping them in parchment was the cutest touch!). The strata is truly the perfect brunch dish- fully assembled the day before, it baked to perfection while our guests nibbled the other offerings. Most importantly the brunch featured good friends, lots of laughs, and many cocktails.
Some ladies enjoying some drinks
Sisters celebrating!
After digesting for over 24 hours, I somehow found it possible to eat again. One final meal rounded out this fantastic weekend. Dave offered to cook a special birthday dinner, menu of my choosing. I went classic: raw oysters, NY strip steaks, potatoes, spinach. Dave truly outdid himself with the execution of this meal:
Something something about the walrus and the carpenter....
Steak by candlelight
The oysters? Amazing. The steak? None other than the premium dry-aged stuff from the new Harris Teeter in our 'hood. We were shocked at how flavorful they were. The taste was very different from non-aged beef. We both were reminded of flavors like parmesan, mushrooms, even fish. Maybe its the umami thing all the kids are talking about. Oh, and of course they were perfectly medium rare (thank you America's Test Kitchen reipe), and sat alongside crispy, cheesy hasselback potatoes and some damn fine creamed spinach (a favorite of mine since I was a toddler). He really knows the way to my heart... I am a lucky lady!
Could a girl ask for a more fabulous or delicious birthday?? I think not. Thank you to everyone who made it so special <3 <3 <3
X