by EP
I don't know about you, but whenever cookies are coming out of the oven, I sing
"It's cookie time, it's cookie time"
a la the great cinematic masterpiece that is
"Troop Beverly Hills."
Yes, that just happened.
Speaking of cookies coming out of the oven, our ovens have been working overtime this holiday season! We have been making some great treats - both classics and what we're calling "alterna-cookies": classic cookies with a special twist, like gingersnaps made with bacon fat, or sugar cookies made with goat cheese.
Here's a few things I've been baking up:
Bacon-Snaps
These are soft, chewy gingersnaps that use 3/4 C of bacon fat (from 1 lb of bacon) in place of any other fat.
The bacon fat adds a little special something, a savory smoky bass-line if you will. I'm happy to report that these won the cookie contest at our office holiday party! Xani made these also, for our family's casual holiday party. Excellent all around!
America's Test Kitchen Chocolate Chip Cookies
While admittedly the
NYT/Jacques Torres
chocolate chip cookies are "the best ever," these chocolate chippers from ATK are a very close second, and they don't take 24 hours. (Note that you may not be able to see the recipe since the site is members only. I recommend buying a membership - it's pretty cheap and I need ATK's advice seemingly every day, so it's worth it to me.)
The approach with this recipe was to make the classic Tollhouse Cookies even better. These are made with brown butter and brown sugar, and they are pretty large so you get a nice gradient of crispy outside, firm middle, and soft center. Pass the milk.
Warning: this is one of the best cookie
doughs
you will ever sneak a taste of. Dangerous.
Russian Chocolate Cheese Balls
A few friends invited me over for a Russian-themed dinner party so I made a batch of these bon-bon like candies, which I used to buy at the Russian market on Reisterstown Road in Baltimore. The filling is made with cream cheese, farmer cheese, sugar, egg yolks, lemon zest, and lemon juice. Then the mixture is pressed overnight to eliminate moisture. Then you form small balls of the cheese filling and dip it in melted dark chocolate (with a bit of shortening so you get a hard shell around the cheese). I ended up doing a double-dip of chocolate since I had extra, and boy were they great. You wouldn't think the flavors of chocolate + cheese + lemon would work but it does!
(Sorry no pics!)
Goat Cheese Sugar Cookies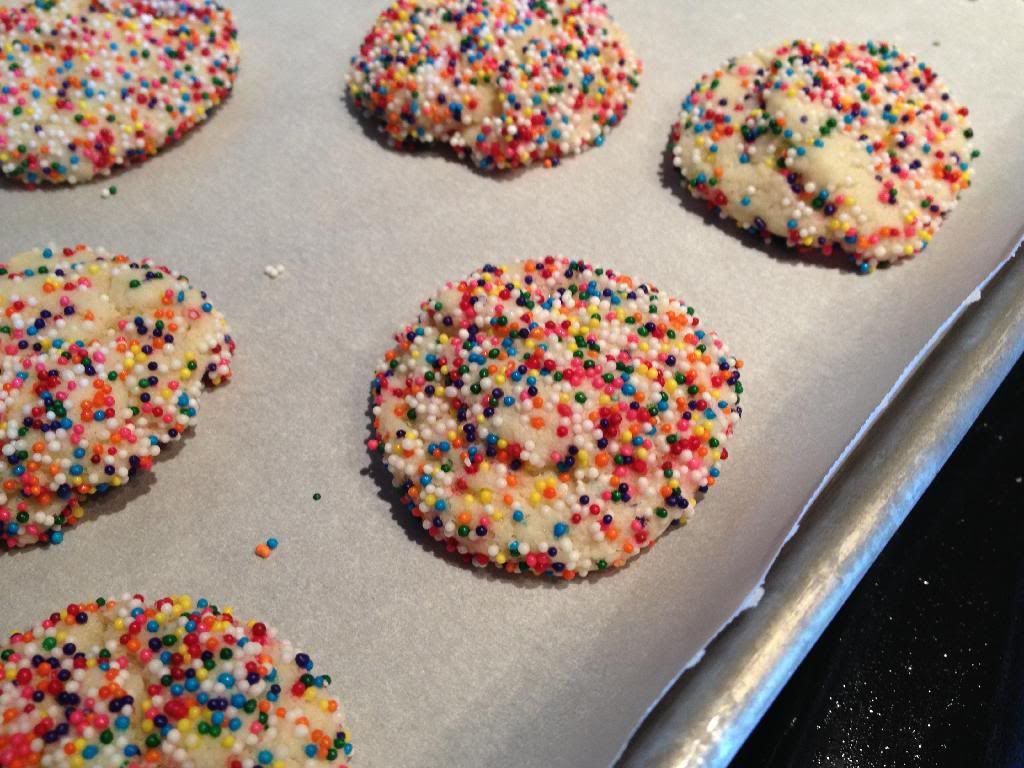 Another alterna-cookie I wanted to try this year was a sugar cookie with a bit of goat cheese added in. Otherwise it's a traditional sugar cookie recipe and the dough is rolled in pretty colored nonpareils before baking.
I have to say, while these were chewy, sweet, and pretty, I found these cookies to be a little disappointing, for two reasons: (1) although many of my friends said that they could taste an "extra something" (presumably the goat cheese), I did not. I don't eat a lot of sugar cookies so maybe I am just not expert enough? (2) Through no fault of this recipe at all, sentimentally-speaking, these were not my ideal sugar cookie. Our Grandma Irma used to make sugar cookies that were big, crispy, and browned around the edges (NOT small and chewy, as these were). We would eat them frozen and dunked in sweet milky coffee after dinner. That is the only sugar cookie I have ever loved and I just can't get behind any other. Perhaps my next project should be to try to recreate Irma's version.
World Peace Cookies
These are one of my favorite cookies of all time. They are a perfect balance of salt, chocolate, sweetness, and tender texture. There are never enough to go around. Besides the pressure to "not overmix/overwork" the dough, these are very easy.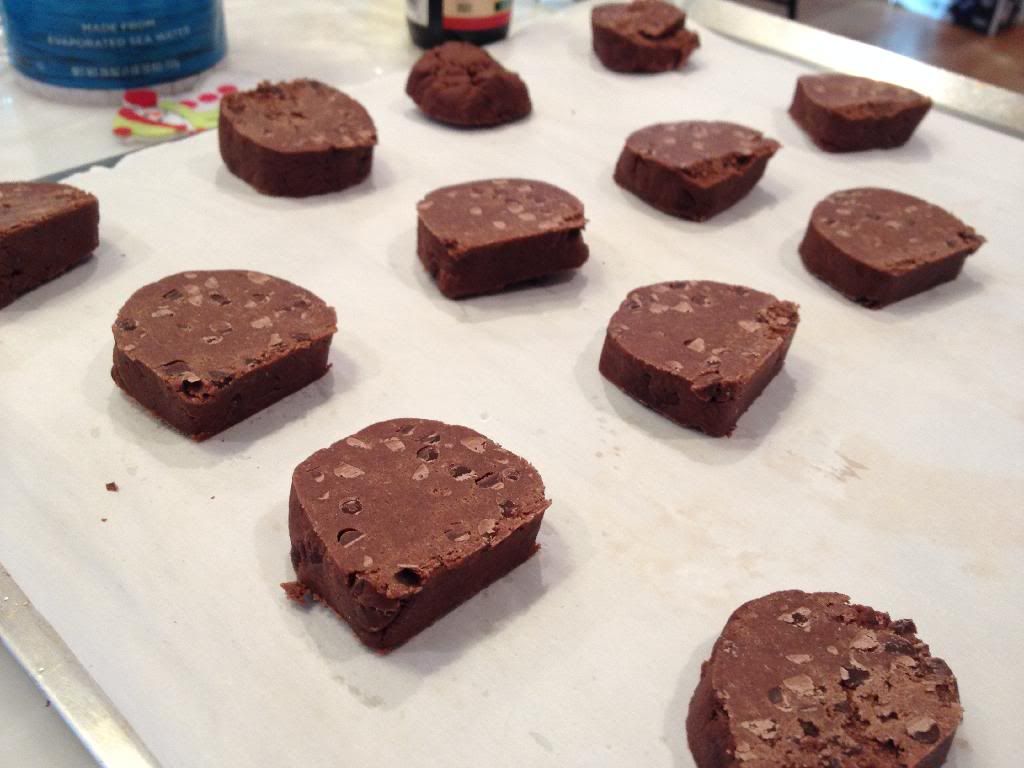 The recipe calls for chopped bittersweet chocolate, or mini-chocolate chips. In my snobbery I always opted to chop the chocolate myself. However, in the past I have found that larger chunks of chocolate get in the way when slicing the cold dough, so I went with the mini-chips this time. They worked brilliantly.
Warning: similar to above, this cookie dough, which needs to set up in the fridge/freezer, is killer. Hide it well.
Homemade Mallomars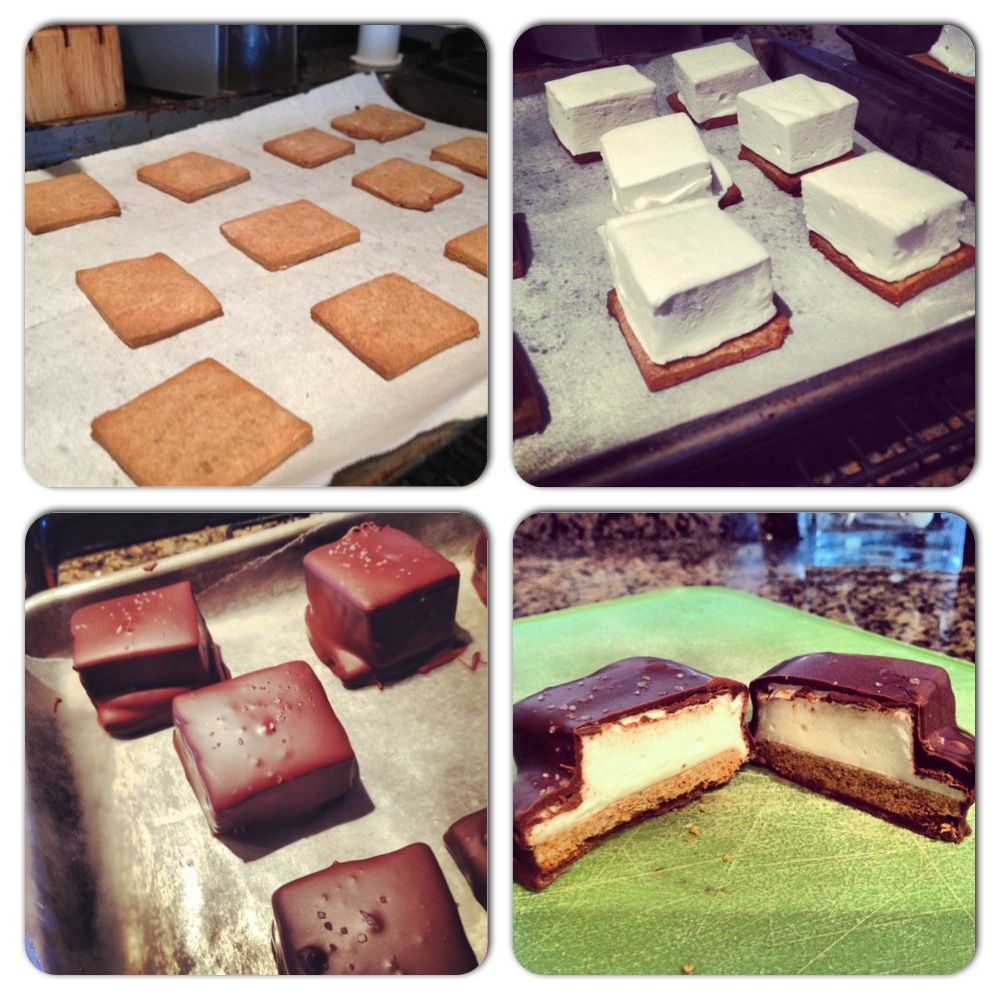 While I generally eat homemade cookies (my own or Xani's, usually), if I'm going to have a store-bought cookie, I love a Mallomar. They are
only available seasonally
(in winter, since the chocolate will melt in the summer - I guess they don't use all the stabilizers that all other cookie companies use?), and I thought it'd be a fun project to attempt to make them from scratch. Coincidentally, I made the Mallomars around New Years, and I always think of Mallomars in the context of another movie: "When Harry Met Sally." Billy Crystal's character Harry refers to them as "the greatest cookie of all time" in the final scene right before he goes after ol' Sally (spoiler alert).
I made the marshmallows two days in advance of New Years Eve, since I planned to bring them to a party. On NYE, I made the cookie base (graham cracker-esque) and then placed the marshmallows on top of warm cookies immediately after they were out of the oven. This melted the marshmallow a bit and allowed the cookie and marshmallow to bond and not fall apart when dipped in warm chocolate later. (One slight criticism of the recipe: sometimes the marshmallows melted too much and slid completely off the cookie. Some babysitting was required.). Once cooled, I dipped the cookie-marshmallows in melted semisweet chocolate, and gave each one a sprinkle of kosher salt since all the components were pretty sweet and I thought it could use a little balance.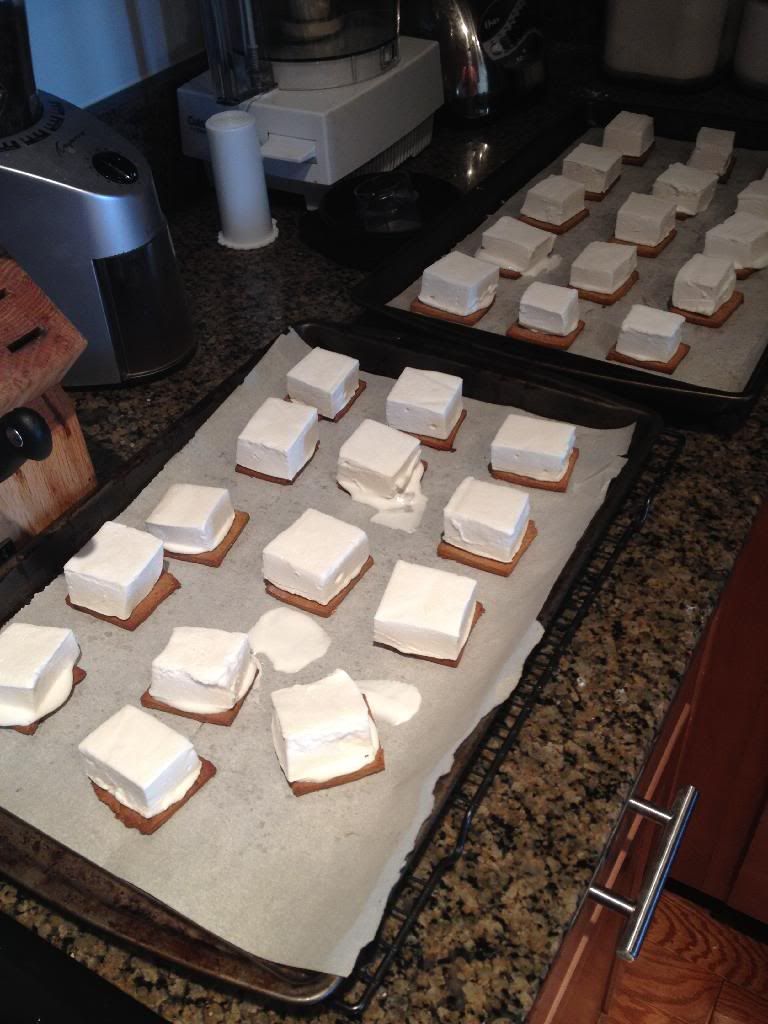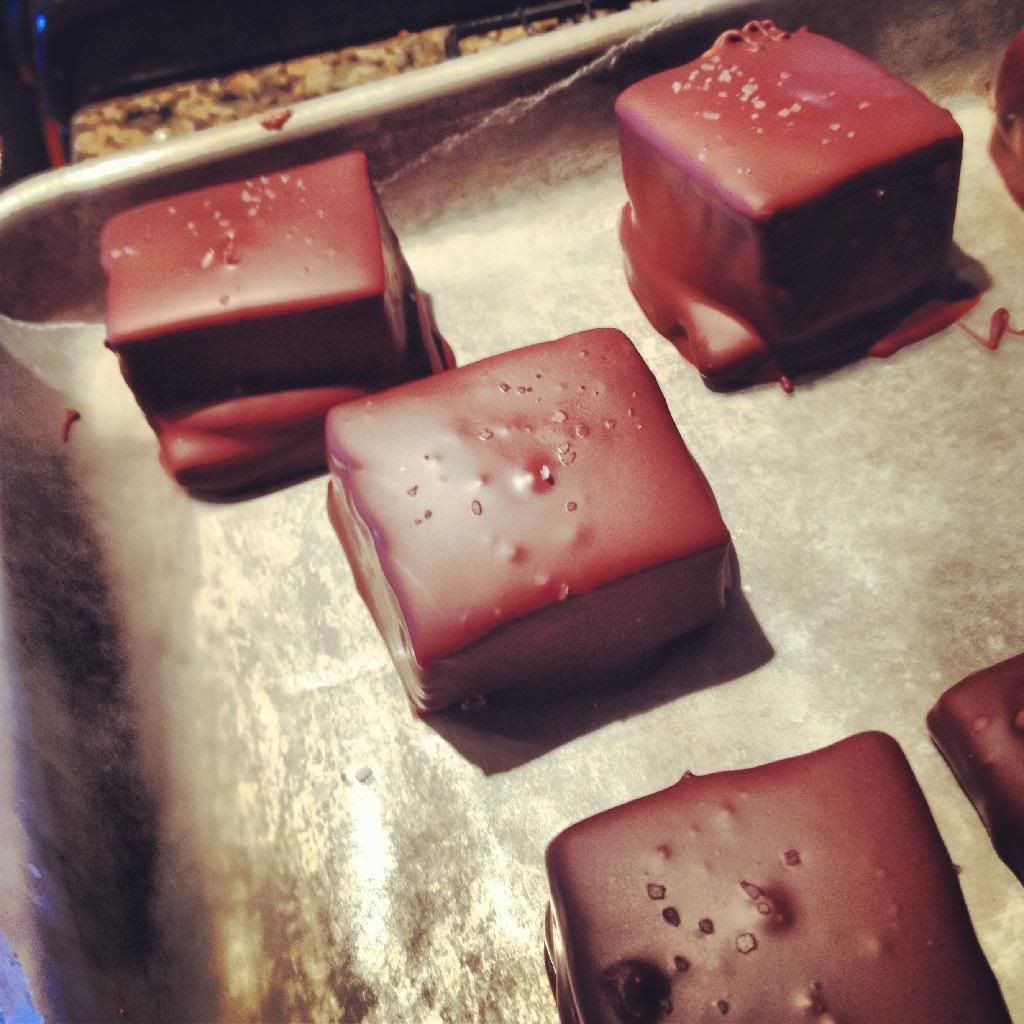 Like real Mallomars, I think these are best served chilled. I brought them to the NYE party and they were such a hit! I was making friends left and right with these babies. This just goes to show that you CAN buy love, so long as chocolate and homemade marshmallows are involved.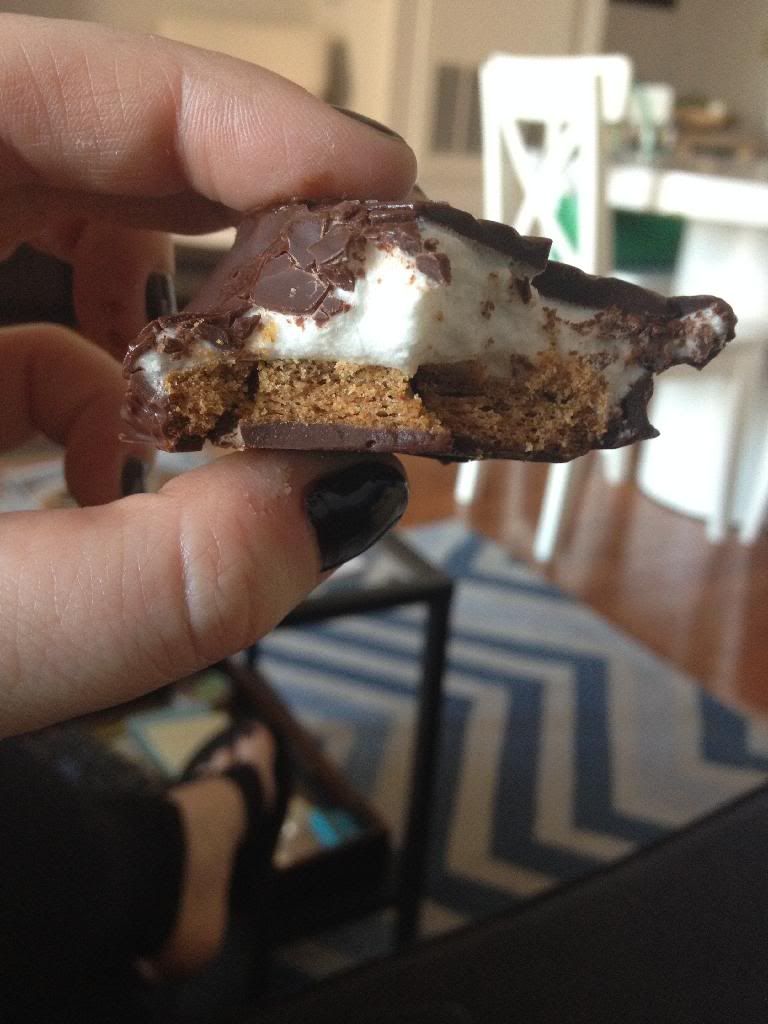 I hope you enjoyed my cookie recap. Now to begin detoxing.
Wishing you a happy and sweet new year!
Erin
ps. My good friends Michael and Leah invited me over for a cookie-baking party a few weeks ago, where we whipped up some great goodies: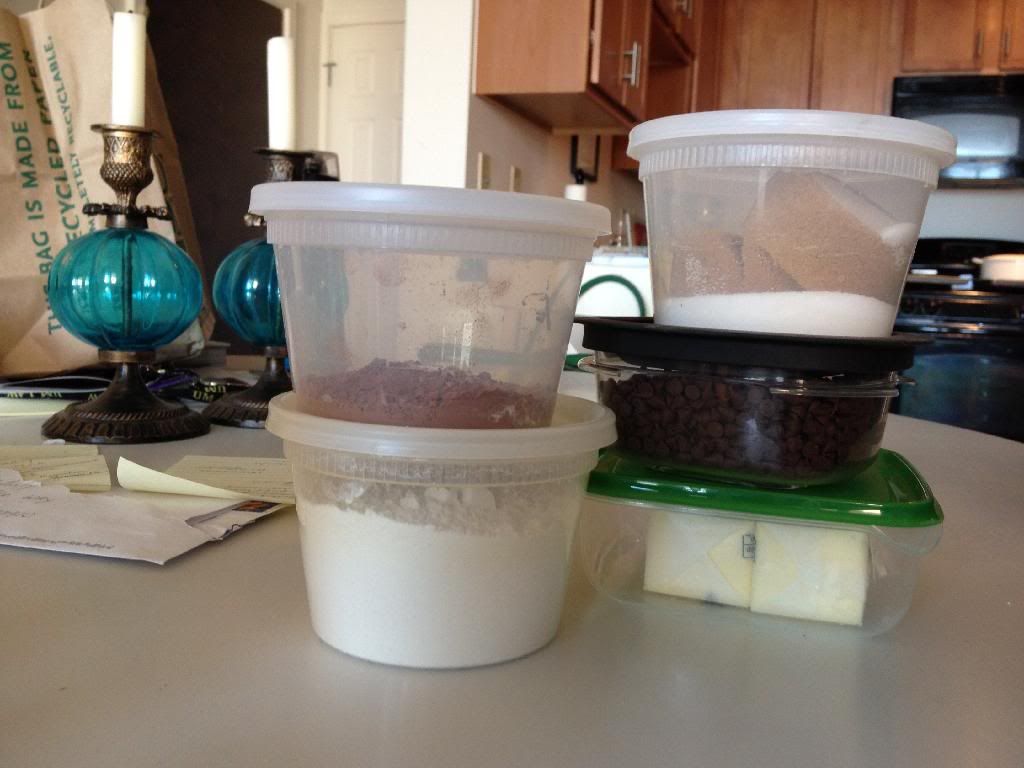 My cookie mise-en-place, ready to hit the road!
Nutella filled salted brown butter cookies:
Just add frozen Nutella blorps to the center of each dough ball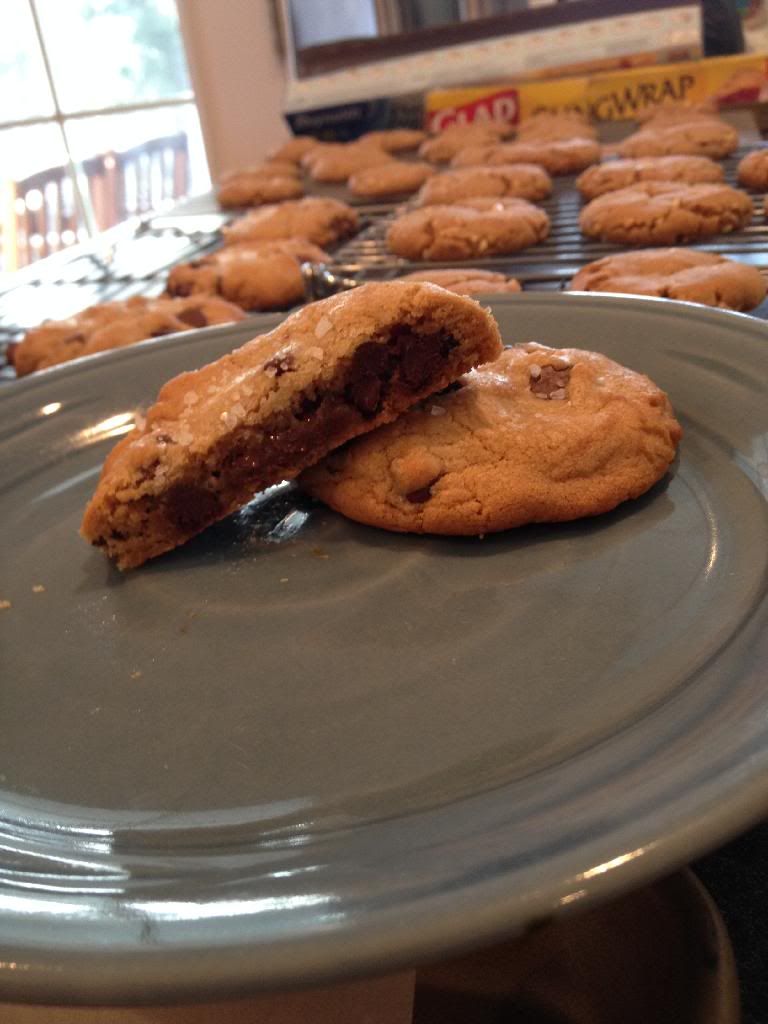 Almond butter crunch cookies: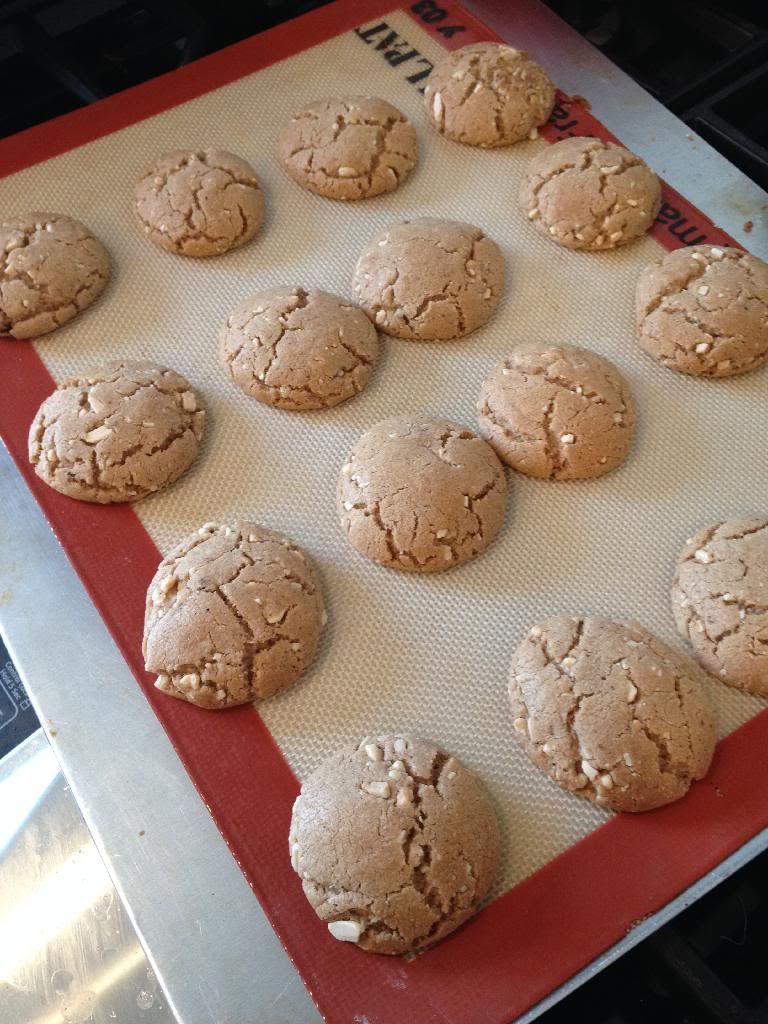 ATK Molasses Spice Cookies (these were my favorites; surprisingly addictive):