by EP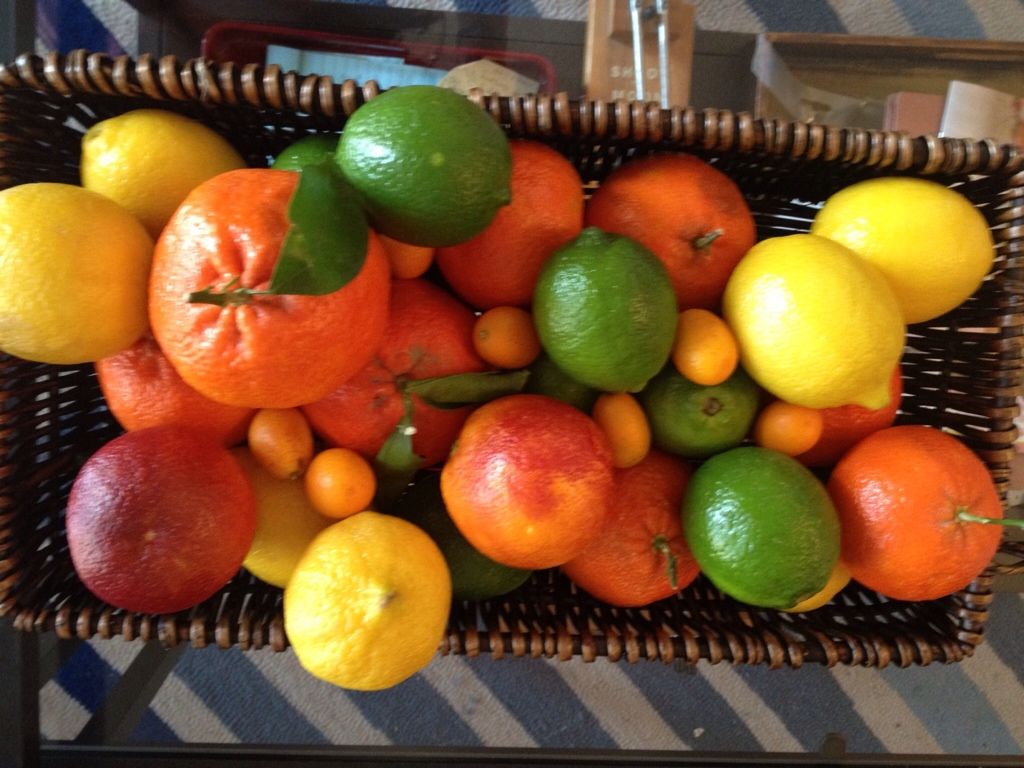 It's winter. Dreariness abounds. We are caught between the sparkly, gluttonous holiday season and the sun-shiny frolick-inducing springtime. The glimmer of hope in this time is the fruit of the "season": citrus. People always give me funny looks when I say grapefruits are in season right now, but it's true! In the US, citrus from Florida or California is as "local" as it's gonna get in February. And lucky for us, we LOVE citrus. Grapefruit is so hot right now, and its French name (pamplemousse) is possibly the most fun word to say - ever.
So for Xani's birthday a few weeks ago, we decided to celebrate the fruit of the season and bring a little zest (har) into our lives in the form of a
citrus-themed ladies' brunch!
We had had a similar brunch for Xani last year, but this time we went full out with the theme, from the invitation to the decor to the food and drinks (of course). Even our outfits were citrus-y! We had so much fun planning and executing this party, and after so many years of throwing parties, we have got it down to a science. Bonus: we work really well together :) Here's what we did:
Food & Drink:
As soon as our guests arrived, we plied them with beverages - that's the best part about brunch, right? So many beverages in one sitting (coffee, mimosa, water, bloody, etc.) and nobody bats an eye. We prepared a mimosa bar with orange juice, grapefruit juice, tangerine-clementine-lime juice (which we juiced ourselves), and limoncello, for people who like to put booze in their booze. We purchased coffee from Caribou down the street, and it was quite good. We had citrus-flavored sparkling water as well.
We envisioned a decorated table, loaded with baked goodies, and that's exactly what we did.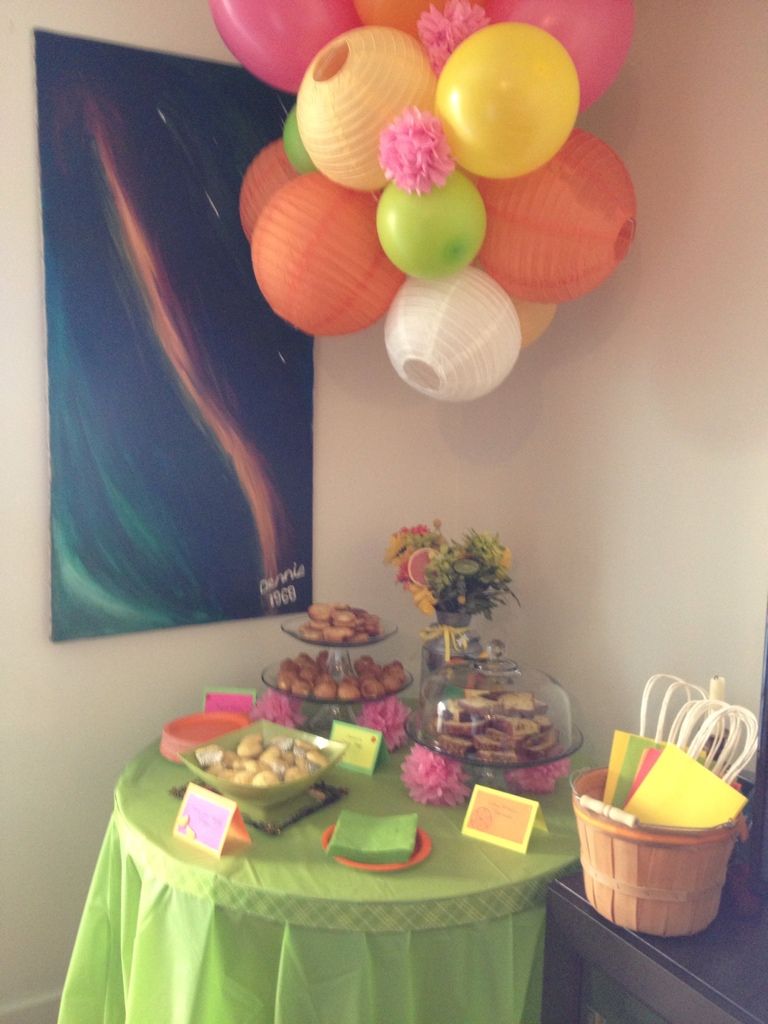 Ta-da!
We wanted to incorporate citrus into every dish, and for the most part, we were successful. The baked goods were:
Creamsicle cream puffs (cream puffs filled with a vanilla-citrus cream)
For Xani, cream puffs have become old hat - she has perfected her technique on making the pate choux, piping the puffs, freezing them (yes!), and baking them from frozen. They turned out wonderfully (basically hollow, which is what you want) and then she filled them with a homemade cream that had a nice orange-y flavor from a very fancy vanilla extract, Fiore di Sicilia. These were a huge hit at the party - obviously.
Palmiers and cream puffs
The palmiers were also a big hit, and I had no idea how easy it was to make them! We put some tangerine zest in the sugar before rolling them out, which gave them a nice citrus-y hint. I will definitely be making these again - lots of "wow" for relatively little work.
The pound cake is a Molly Wizenberg (of Orangette) recipe, and we pretty much love everything Molly does. This cake was no different - it had orange and lime zest, plus lemon and orange juice, and a nice serving of chopped pistachios on top and running throughout the cake. We served the cake from a fancy cake stand with a dome, which made it seem even more ladylike.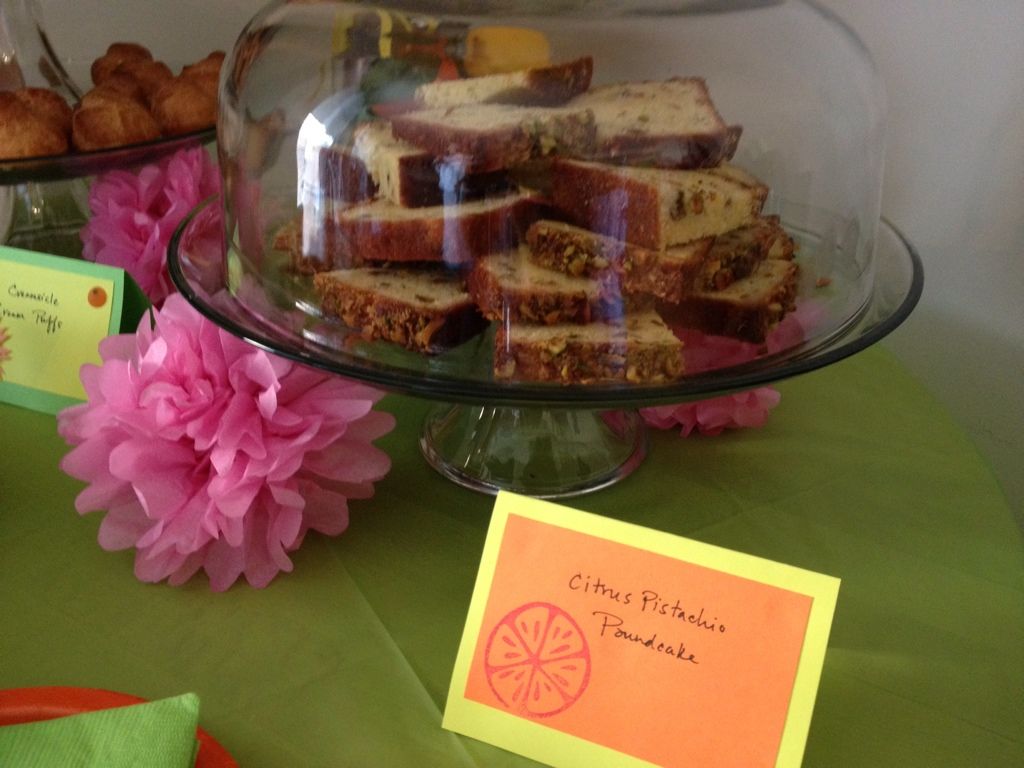 The recipe for the mini-muffins was from a diet magazine, so while they were good, they weren't as good as they could have been. Lesson learned.
One of our better ideas was providing goodie bags to our guests, for them to take some of the baked goods home to their families. Thankfully they did and we weren't left with piles of leftovers.
While the ladies enjoyed their mimosas and coffee, and nibbled at the baked goods, we prepared the savory portion of the meal. We served:
For the Citrus Celebration version of this strata, we replaced the parmesan and gruyere cheeses with fontina (for the gooey factor) and goat cheese, and we added a good helping of lemon zest to the egg mixture. It was lovely and a big hit, as usual.
The salad was refreshing and savory, featuring arugula, avocado, radish, scallion, and some grapefruit and blood orange supremes. The salad is drizzled with the grapefruit and orange juices, olive oil, and salt and pepper. Easy, clean flavors, and delicious. And in line with our theme!
We used store-bought mini sausage patties and fried them up as the strata cooked. We cut a corner here in not making our own. So sue us! They were delicious.
Decor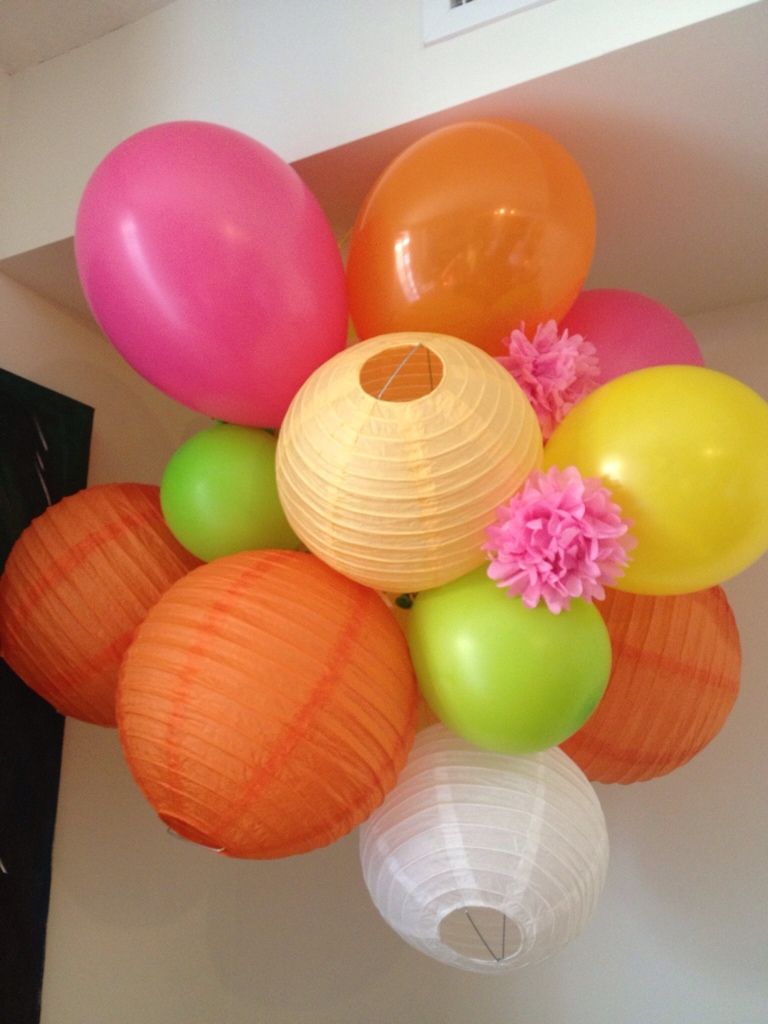 Thanks to Pinterest, in the weeks leading up to the party, we gathered many citrus-themed ideas for decor, food, and drinks on a Shared Board, and found some great stuff! We decorated my apartment with yellow, pinks, oranges, lime green, and gold. We created this, uh, "ceiling art" (inspired by Pinterest) with lanterns, balloons, and paper puffs, and hung it above the sweets table. It was definitely eye-catching and totally fabulous.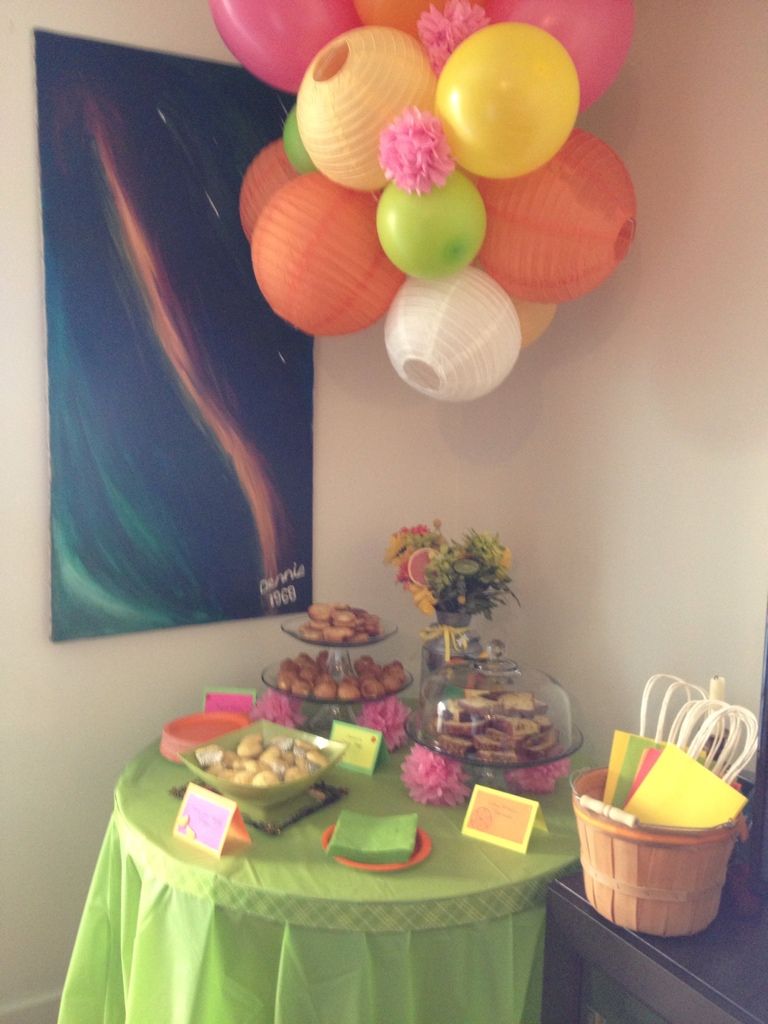 Note the goodie bags on the right
We also did a lot with flower arrangements, which was kind of new for us. We used both fresh and fake flowers, and we incorporated fresh citrus into the arrangments. Xani even created a citrus-only bouquet! These arrangements added such color and beauty to the party - something to remember at our next soiree.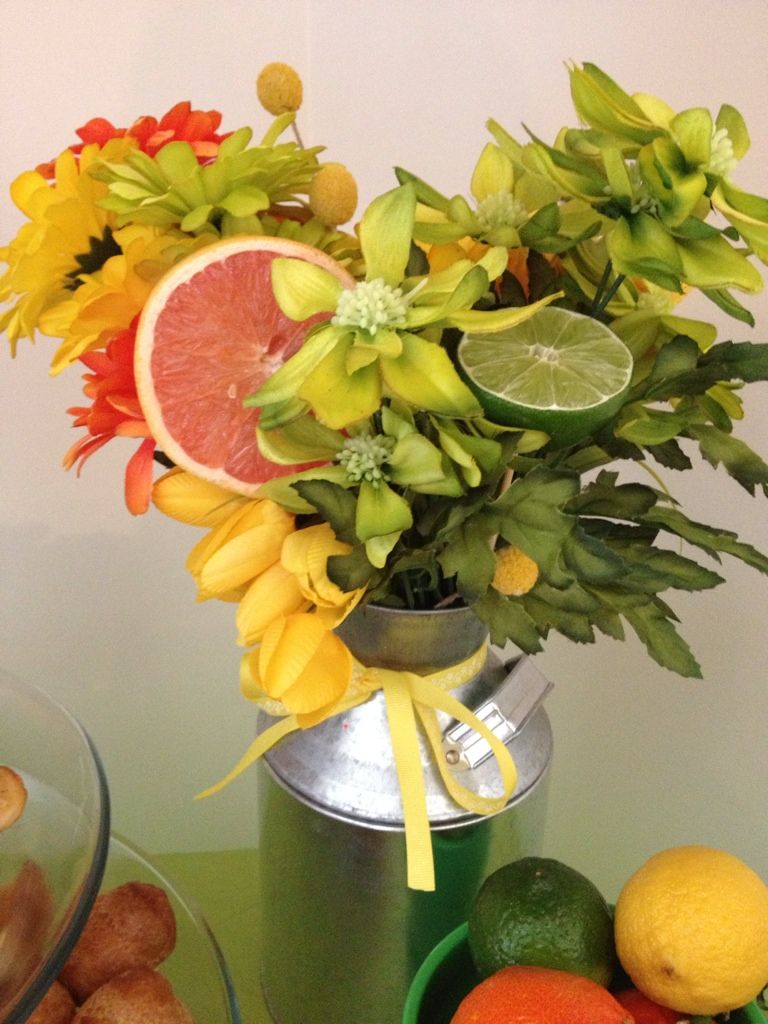 We also decorated with vessels of fresh citrus. It's pretty enough to just sit in a basket, right?
Kumquats in a jar
Finally, we had to make signs for our food - it's tradition.
We also felt we should dress the part and wear some citrus-y colors. Why not?
It was such a lovely party, with great friends, great food, champagne, coffee, and beautiful flowers - we almost forgot it was dreary February.
We're already planning our next party - for my birthday (in July)! You can bet your bippy the theme is a good one.
Happy belated birthday, Xani! We love you!
Cheers,
EP
ps. Here are a few more pictures I had to share: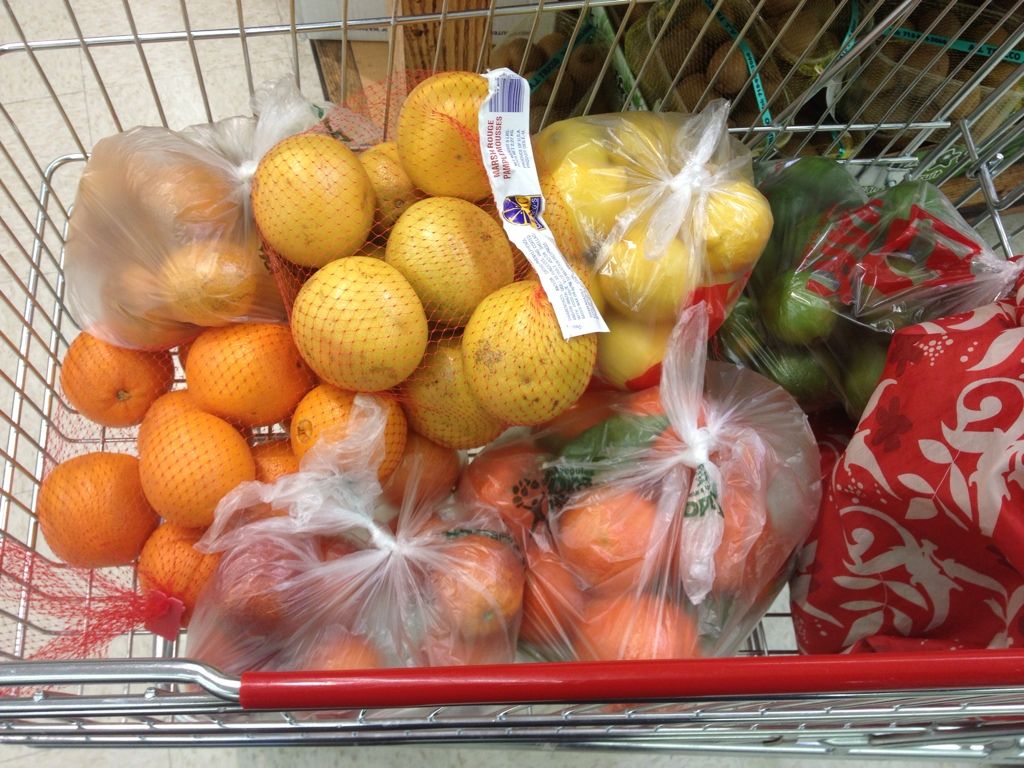 Shopping cart at H Mart - no one blinked when I bought an entire cartful of citrus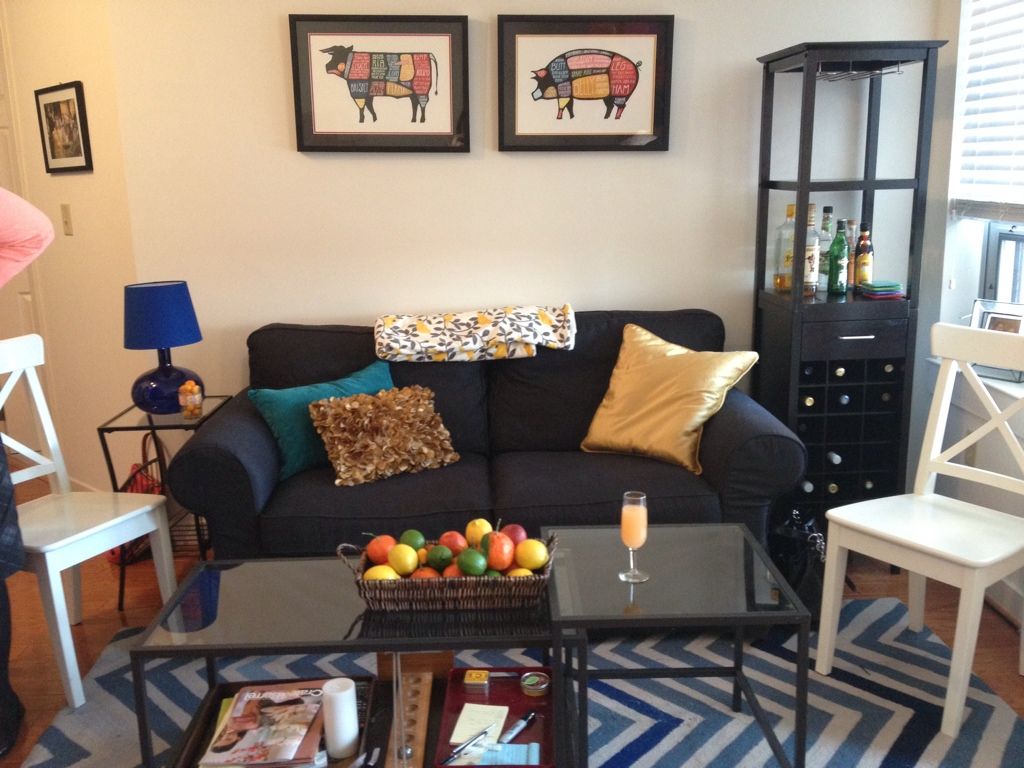 My apartment, all gussied up for a party
(Note the piggy and cow meat cut prints - my favorites)
I surprised the birthday girl with a mini coconut cake!