by Xani
No, I'm not cheering for the Orioles. Well, I am, like everyone else in Baltimore, but that's not what the title references. Instead I'm referring to
RA Sushi Bar and Restaurant
, where I was invited to a Media Dinner for the opportunity to sample their new menu items. RA changed up their menu earlier this summer to include some new, fresh items, and because EP is so busy preparing for her big move (look out Silver Spring!), I brought Dave along with me to the tasting (lucky guy).
RA, as always, has a rockin' vibe, with red globe fixtures providing mood light and pounding music (a little too loud for this old lady, but the rest of the crowd seemed to be enjoying it). The place was pretty packed at 7pm on a Wednesday, with lots of people taking advantage of the great happy hour specials.
Dave and I were seated and were lucky enough to be taken care of by Scott, the General Manager, who was super-attentive and helpfully explained each course to us. And there were a lot! But first, cocktails.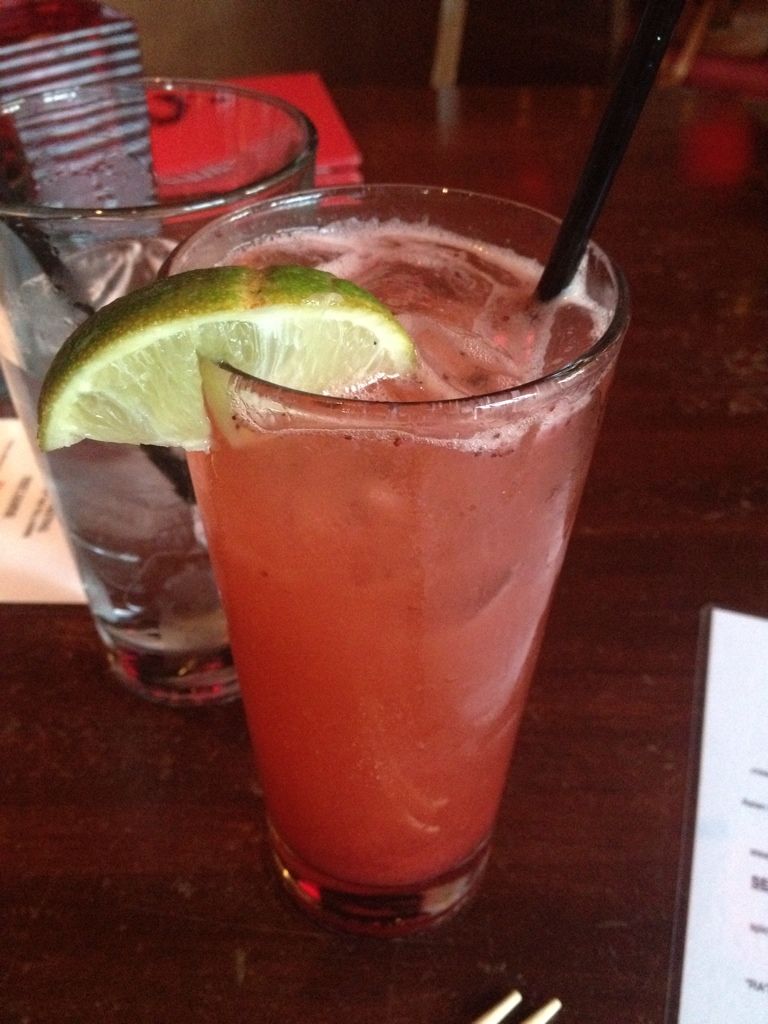 Ginger Blossom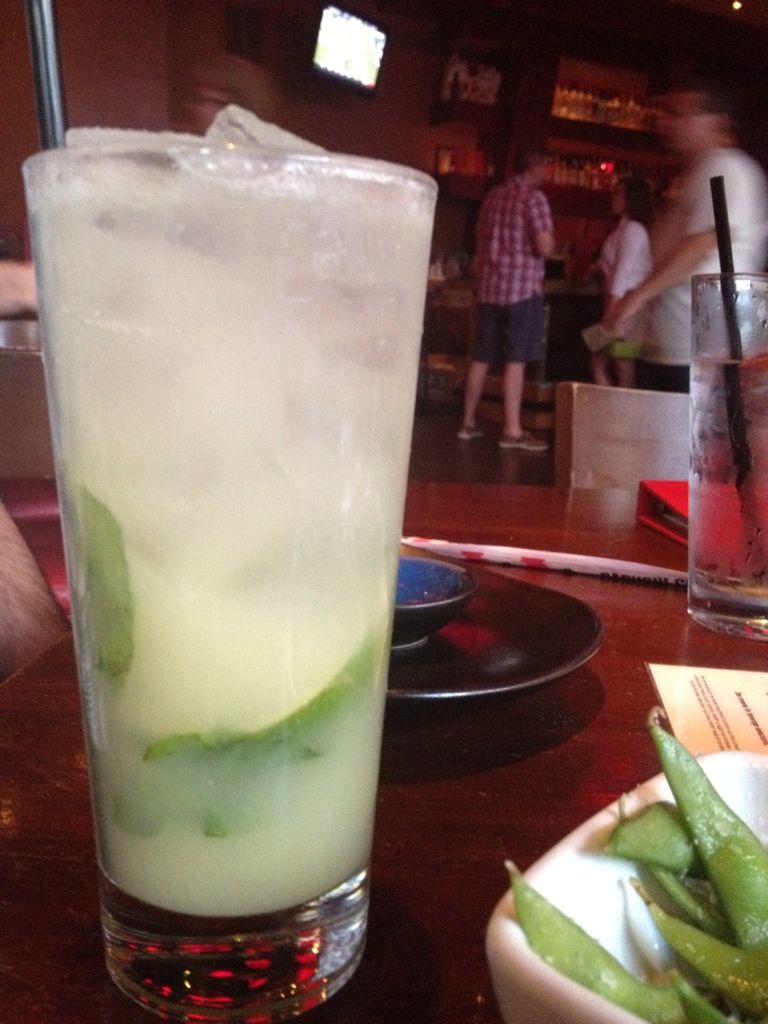 Coconut mojito
I had the Ginger Blossom (Tito's Vodka, fresh muddled strawberry, pink grapefruit, fresh lime and ginger beer), and Dave had the Coconut Mojito (light rum muddled with fresh lime, sugar, soda and fresh mint). The Ginger Blossom was tasty but just a tad too sweet for me, but I'm a sucker for anything coconut and I thought the coconut mojito was excellent. Dave must have liked it too; by the time I went to steal a second taste, it was gone!
Dip not pictured
The first course of food came out right away, and consisted of Edamame Dip, Bonfire Shrimp, and Garlic Edamame. The dip, served with crispy wonton chips (who doesn't love a fried wonton??) was very creamy and had spinach in it-- sortof an Asian take on spinach and artichoke dip? Very tasty. The garlic edamame, which were traditional steamed edamame in the shell, followed by a saute in garlicky butter and Asian seasoning, were also good but messy to eat! Make sure you only order these if you don't mind licking your fingers in front of your dining companions. The bonfire shrimp were lightly breaded and fried and coated in a chili sauce that had just the right amount of heat. I also loved the shisito pepper that came with this dish- great flavor.
Before we could say "we're losing the light!" the next course came out: a sampling of their new crispy Asian tacos.
Last picture before the sun went down
These were awesome! First of all, I was impressed with the creativity of the taco shell itself, which is made from flash-fried rice paper. It was so light and crispy (and not greasy at all), and a perfect vehicle for the yummy fillings. My favorite filling was the chicken, which was a chilled shredded sake steamed chicken with asian vegetables-- the chicken was very moist with incredible flavor, plus that crispy crunch from the shell! Delicious. We also sampled the "RA"ckin shrimp taco (very good) and the Spicy salmon taco, which included guacamole so of course it was great! The spicy salmon taco was the only raw fish served on the tasting menu, but Scott told us there is also a spicy tuna taco on the menu, not to mention their entire sushi menu. So RA definitely does raw, if that's what you are into (which, of course, I am.)
OK, at this point, I admit, I was getting full (those tacos were BIG). But, a food blogger has certain duties, so we pressed onto the next course. Small bowls of Drunken Black Mussels were brought out, along with spoons so we could drink the broth. The mussels were excellent but man were we happy about those spoons! The broth was to die for. The mussels are cooked in garlic, seasoned soy sauce, and butter. I could have drunk a vat of the stuff. Yum!
The final plate contained samples of three new dishes: Salmon with green beans, Black Pepper Teryaki Chicken Wings, and Chili Ponzu Asian Chicken Wings. While everything was tasty, this plate had the least "wow factor" as far as uniqueness. That said, the salmon, served with still-crunchy green beans, was well-cooked, not dry at all, with an excellent spicy yuzu sauce. The wings were nice and meaty and both had great flavor. I especially liked the Black Pepper wings, which had huge black pepper flavor but weren't too spicy- magic!
Dessert- oy, I could barely eat another bite but when they brought out a teeny portion of mochi (ice cream wrapped in sweet rice cake) I couldn't resist. A nice sweet bite to end a delicious evening.
Thanks so much to RA for the great meal-- rice paper taco shells, now why didn't
I
think of that??
Go O's,
X