by EP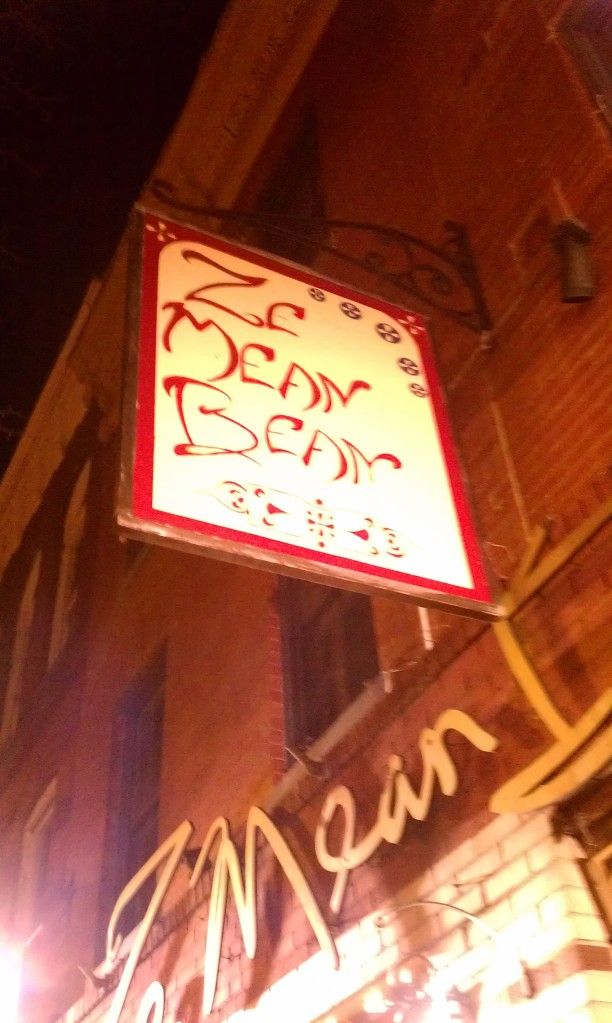 Maybe it's my Russian roots, maybe it's a significantly delayed impact of having a Cabbage Patch Kid as a child, but I am seriously in love with
cabbage
these days. It's not just for summertime treats like cole slaw over a delicious pulled pork sandwich (though that is of course a wonderful iteration). Recently Xani and I enjoyed it raw over crispy fish tacos at
Captain Larry's
in Federal Hill. I enjoy a hearty helping of New Kraut (Ba-Tampte brand) on fabulous half-smoke Polish sausages that our parents procure for us. Seriously, these Manger's brand half-smokes are the
best hot dog I've ever eaten
.
In the kitchen, I have a habit of just slicing it thinly into ribbons (red or green cabbage works for this), tossing it with a little olive oil and salt and pepper, and roasting until wilted and browned in parts. But recently, I've done some more cooking/experimenting with cabbage. First, I made a hearty and wonderful
cabbage soup from Smitten Kitchen
. The recipe actually comes from a wonderful NYC restaurant, Veselka, where Xani, buddy Lauren, and I visited last winter for one of our trips to the Big Apple (we did not have the soup, in fact; we got stuffed cabbage (more cabbage!) and pierogis, instead).
The soup starts by making a pork stock (hey, no one said these were
Jewish
recipes, just Eastern European cabbage recipes), with pork butt, water, chicken stock, dried marjoram, allspice berries, and bay leaves. Then after that cookes for a few hours, you add BOTH sauerkraut and fresh raw cabbage, as well as a potato, some carrots, celery, and onion. The soup is finished with some of the sauerkraut juice. Oh yeah, that's the stuff. It was a hearty, wintery soup that I really enjoyed. Who wouldn't love that double-cabbage goodness? My only complaint was that the instructions do not say to cover the stock while it's cooking for those 2 hours, so it reduced quite a bit and didn't leave much liquid for all those veggies. Ah well, a note for next time.
I also recently used some green cabbage in a spicy stir fry dish, inspired by
this post by Orangette
. It just involves some cabbage, some oil, some soy sauce, something spicy (I used Sriracha since I didn't have the sambal oelek (spicy chili paste) on hand), and high heat. She serves hers with a runny-yolked fried egg; I cooked up some chicken thighs that I marinated in ginger, garlic, soy sauce, and hot sesame oil, and added them to the cabbage. Next time I'll try the egg.
Finally, last night I went to
Ze Mean Bean Cafe
in Fells Point for dinner and drinks with my buddy Mat, also known as the Polish Hammer. Ze Mean Bean not only has wonderful
pierogies
, but their pierogies are made by little old Polish ladies from a nearby church, so you KNOW they are going to be good. Even better news: ZMB has a
pierogi happy hour
every night (Mon-Fri) from 5-7pm featuring $.25 pierogies! So Mat and I, both with Eastern European roots, were excited to meet up for pierogi happy hour and other treats. Other treats featuring -- what else -- CABBAGE.
First, I'll note that this place was hopping at 6pm when I met Mat. Every seat at the bar was taken (that's where you can get the pierogies on the cheap), and the tables were filling up. I noted, specifically, that most of the patrons here were MEN. Ladies, take note.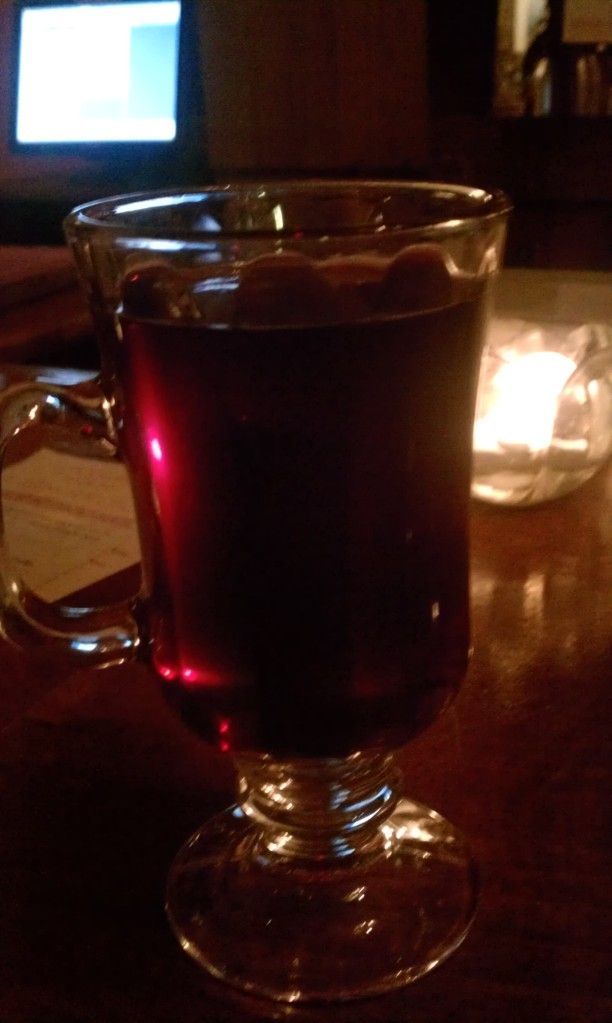 Mulled wine. Mmm mmm good.
Anyway, once settled with drinks in hand (I got a wonderfully comforting and tasty glass of mulled wine, Mat enjoyed a vodka + hard apple cider concoction, pictured below), we ended up ordering practically everything on the happy hour menu. They had their regular pierogies for $.25 in 3 flavors: sweet farmer's cheese, potato, and sauerkraut. I loved them all.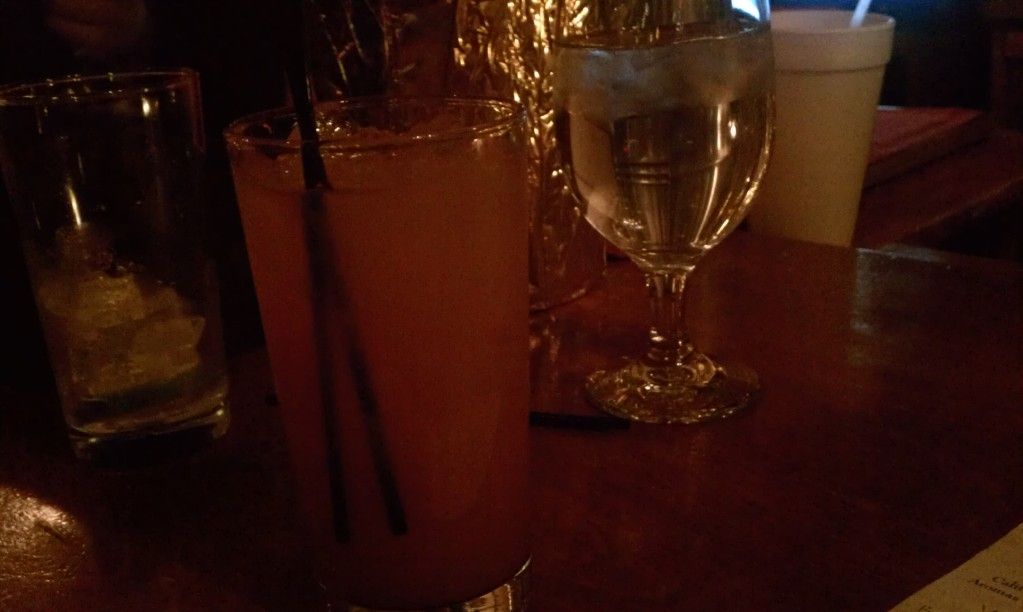 One of the Polish Hammer's drinks that evening
Made by old ladies = delicious
They also had fancy pierogies (made in house, not by our surrogate Polish grandmas) in three flavors: crab and corn, butternut squash, and fennel sausage. These were also very good. All pierogies were served with fried onions and rich sour cream.
Fancy pierogies
We also ordered something called
Duck Holuski
, described as "pulled duck confit, cabbage, brown butter, cranberries, and potato dumplings sauteed with fresh herbs." This was a really interesting dish -- one I couldn't stop picking at, even when I should have stopped eating. One very strong flavor in this dish was thyme, which totally worked with the duck and the dried cranberries. The potato dumplings were a little dense but still good (who doesn't love a potato anything), and the fresh cabbage added crunch. The dish was a little cold for my tastes (or perhaps it was supposed to be that way?) but otherwise was a very intersting dish and relatively light compared to the other offerings.
We also ordered
Bigos
, a "Polish Hunter's Stew" that had smoked pork loin, kielbasa, Polish slab bacon, tomatoes, and sauerkraut. Cabbage (and pork!) strikes again :) This stew was absolutely fantastic. It was porky, with a great tomato base. I honestly didn't notice the sauerkraut flavor that much but I'm sure it added some subtle magic.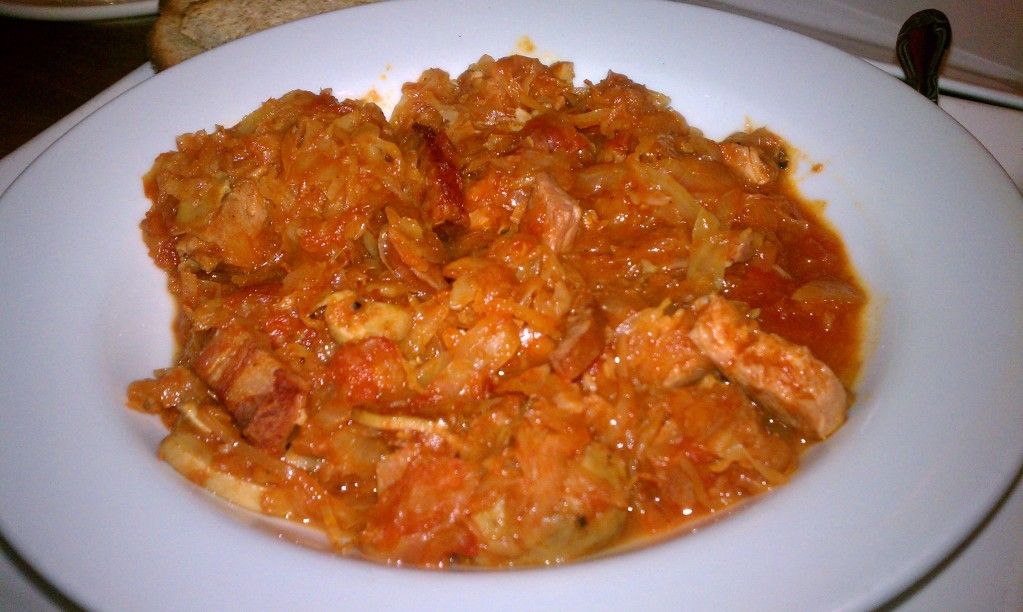 Finally (yes, still more food!), we ordered their
Holupki
, a cabbage roll stuffed with beef, pork, and rice in a tomato sauce. I am a sucker for stuffed cabbage and this one was quite excellent. It was pretty light, and not doused in their semi-sweet tomato sauce.
Overall, an excellent, casual meal at ZMB, and I will definitely be back for their pierogi happy hour and multitude of cabbage-based dishes. The cherry on top was that we ran into fellow Baltimore food blogger Kit of
Mango and Ginger
(and her husband (Mr. Mango?))! It was lovely to see them and chat about all the new restaurants we are excited about trying in the new year.
My final note about cabbage: I have all the ingredients to make stuffed cabbage at home (thanks to the Amateur Gourmet's semi-recent
post
, which used
this Ina Garten recipe
). I have been meaning to make it for weeks now but can't find the time! If I don't get around to it, at least I know what I can do with that cabbage...
Cheers,
EP