by EP
Some sad news to share: my bestie, Rachel, who readers might remember was my companion (and translator) in Paris last spring, is moving back to her hometown of San Francisco :( I know what you're thinking: "EP, this is the perfect excuse to visit and eat lots of SF treats!" I hear your cry. I realize that this is the case, and don't you worry, I will be heading out to CA in a few months for a visit! But until then, my best friend will be across the country instead of an hour's drive away in DC, and I am sad potatoes over it.
Due to her impending departure, we have been making an extra effort to hang out more and do things we've always said we were going to do but never actually did. For instance, a few weekends ago, we visited the
DC Brau brewery
. This is the only brewery in the District and we had a great time touring and trying free samples of their hoppy brews. I highly recommend it as a daytime activity with some fun hipster-watching, and a chance to support a local business.
We also have visited the hip new H Street area a few times over the last month. We recently dined at
Toki Underground
, a hip (and tiny) ramen restaurant, which was excellent, though it was not underground at all; instead, it was upstairs in a crowed room filled with happily slurping patrons. Apparently this place is notorious for having long waits, but Rachel and I were able to walk right in and have a seat at their long bar area with NO wait. A Christmas miracle, indeed. We ordered
chicken potstickers
and
kimchi
to start. Both were great and the kimchi was really spicy.
Potstickers, pretty yummy
Spicy kimchi
Then it was time for the main event:
RAMEN
. I love noodles of any sort but there's something about ramen that is so wonderful and comforting. However, since having amazing,
perhaps life-changing ramen (and other noodle dishes) at Momofoku Noodle in NYC
, it is the standard to which all others are compared (no pressure!). Rachel and I both ordered the
Toki Hakata Classic
, which is described as "Tonkotsu noodle soup with pork loin chashu, seasonal vegetables, 1/2 boiled egg, red pickled ginger, sesame, scallions, nori."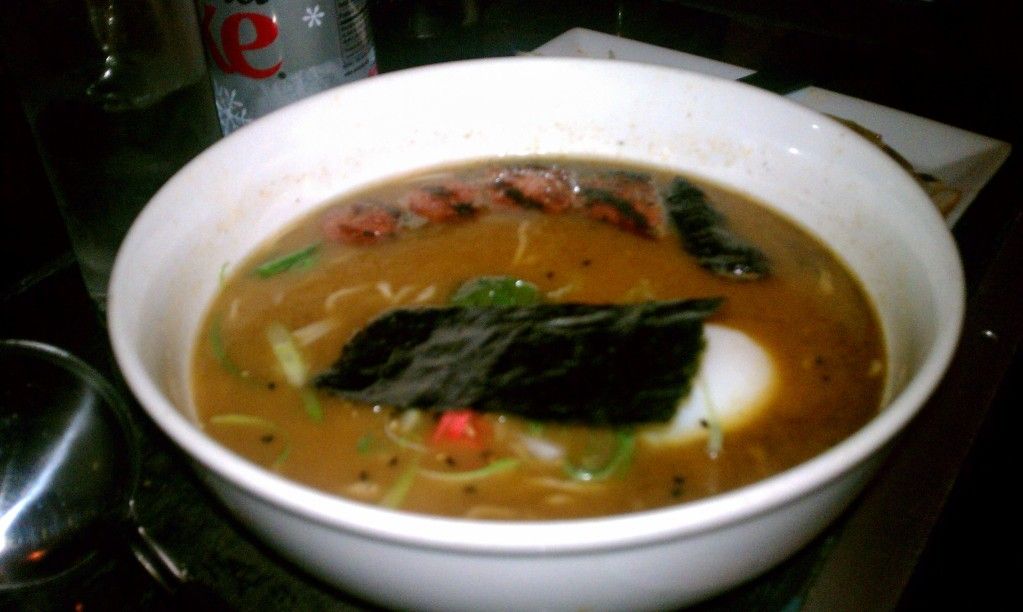 Rachel's ramen (includes grilled sausage on top!)
My ramen, with pork cheek separately
You can also get various "add-ons," some of which are standard, like extra noodle, extra egg, homemade sriracha (!), and chashu pork cheek, and some change daily, like grilled sausage or oxtails. That day, Rachel ordered hers topped with a
grilled sausage
; I got the
pork cheek
add-on. Interestingly, the cheek was served in a separate bowl with separate sauce. I liked this because I had the opportunity to taste the cheek on its own; on the other hand, it belonged on the soup so I had to add it in myself.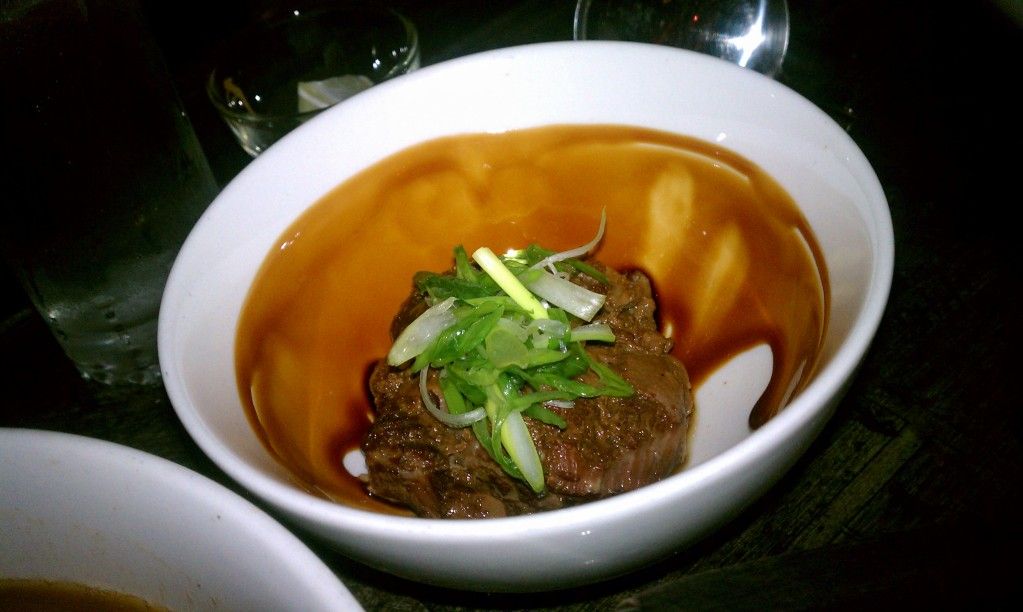 The verdict? The ramen was quite good: it was porky, comforting, rich, savory, the noodles were perfectly chewy, and the pork loin and pork cheek were tender and so flavorful. But I think the most telling sign of how good this soup was occurred the next day, when I went to have the leftovers. I found that when it was cold, the soup had congealed into a near-solid, which goes to show how much gelatin from the pork bones was in it. And for those who don't know: if your stock turns solid when cold, it's a good stock!
Overall, a lovely experience at Toki, and I will definitely be going back soon before the winter is over. Hot ramen on a cold day is a match made in porky heaven.
The second time we visited H St was a few weekends ago and we went to
Granville Moore's
, known for serving moules and frites, almost exclusively. I first heard about Granville Moore's when I saw Bobby Flay challenge the owner/chef on his show, "Throwdown." Honestly, I don't even remember who won the throwdown; I just know that after seeing that show, I have been asking Rachel if we can go there for mussels for approximately 3 years. That's how good they looked on the show! Not to mention the fact that moules frites are one of my most favorite foods of all time.
We went to GM the same day as we visited DC Brau, and we were hungry for some awesome mussels and fries. Unfortunately, our great fortune with wait times (or lack thereof) at Toki was not with us that evening. The host at the door told us the wait was: 3 HOURS. Um, yeah. I get that this place is tiny and cute with limited seats but JEEZ. It was already 8pm by then and while we weren't starving, we certainly didn't want to eat at 11pm (especially when I had an hour-plus drive home to Baltimore ahead of me). We put our names in with the host and headed over to the bar next door to have a drink, kill some time, and determine whether we should stick it out or head elsewhere.
I scoured the Yelp and Foursquare reviews of GM to see if it said anything helpful, such as "the wait is never really that long," or "it's totally worth the 3 hour wait," or "it's NOT worth the wait," -- I was looking for something, anything that would help us make our decision, but most reviews were just about how awesome the food was. We had a couple beers (DC Brau brews for me!), chatted with some nice people, and then Rachel went next door to check on the wait time. Rachel cleverly mentioned that I was from "out of town" AND I wrote a food blog, AND the host already had her number and should call her sometime, so....could we get a table? That shaved about an hour off of our time. In other words, two hours and some shameless flirting later, we were finally seated. (Man, I'm gonna miss that girl.)
There were lots of yummy-looking specials on the menu and the chalkboard, but I had my eye on the prize: moules. We ordered two kinds: first, the
Bleu
, with Hook's bleu cheese, pork belly, shallots, spinach, white wine, lemon, and a drizzle of truffle oil; and second, the
Champignon
, with mushroom cream and herbs.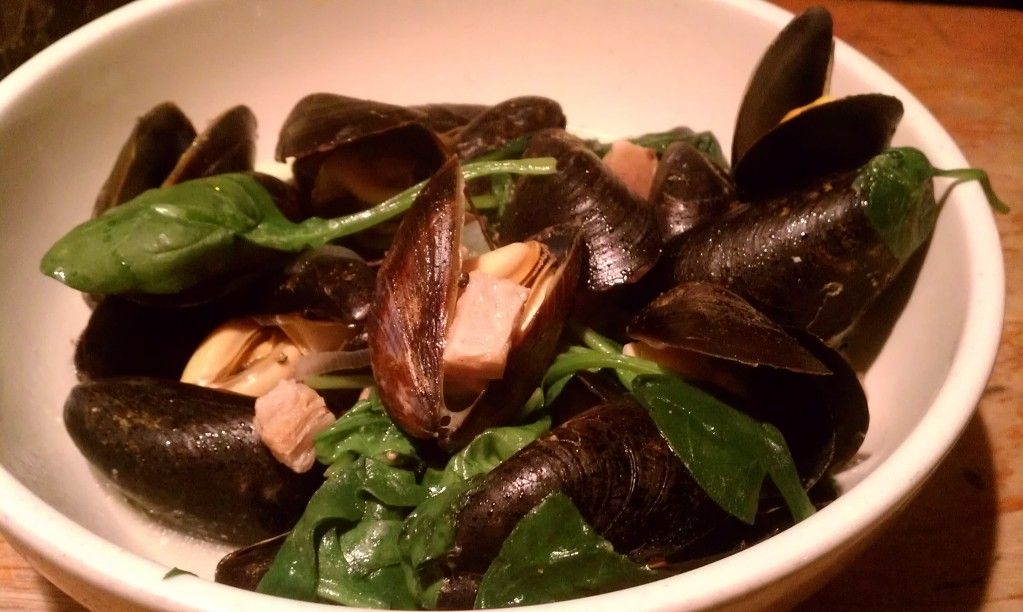 Have you ever seen something as beautiful as a mussel with a piece of pork belly peaking out??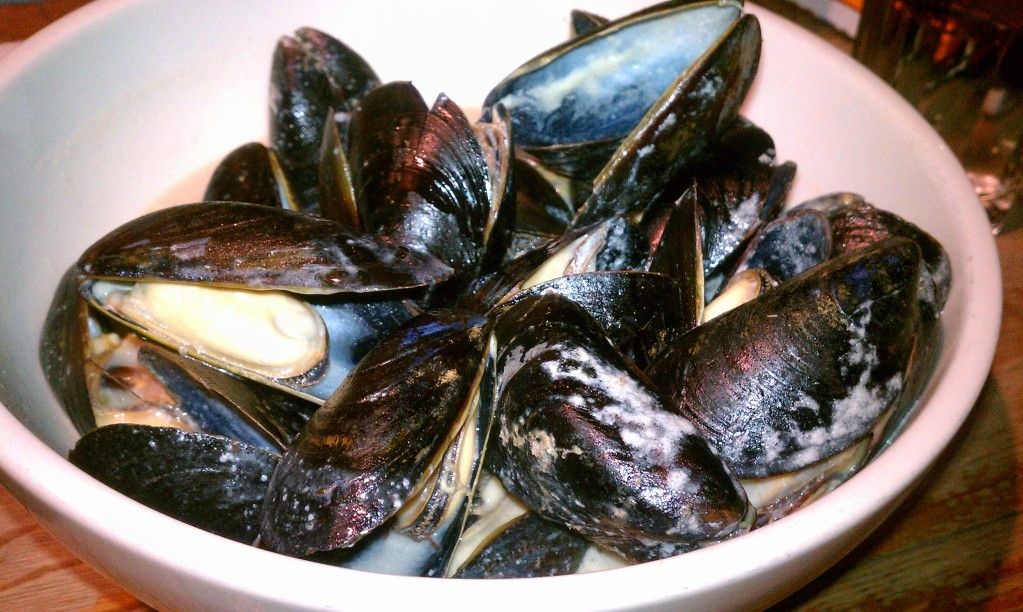 Champignon cream moules
We also ordered some of their crispy, hand-cut, twice-fried
frites
! We ordered them with truffle mayo, chipotle mayo, and of course, ketchup.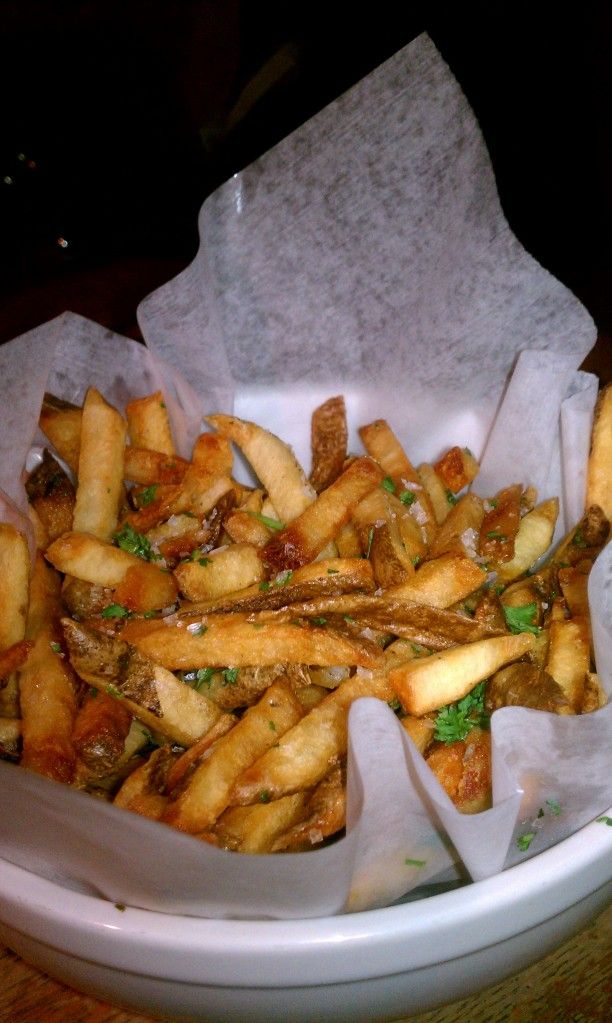 Mmm frites
In short, these were probably the best moules I've ever had. The Bleu especially -- they blew my mind [pun purposely avoided]. The mussels were perfectly cooked, plump and flavorful on their own. And who doesn't love pork belly and truffle oil as supporting characters?? I didn't really taste a lot of flavor from the bleu cheese, interestingly. But generally, this was truly an outstanding bowl of mussels, and I've had a lot of mussels in my time.
The champignon mussels were also perfectly cooked and the mushroom cream was delicate but delicious. We couldn't finish either bowl of bivalves and we knew we wouldn't be able to, but I just really wanted to try two kinds, you know?
The frites were also very, very good. They were crispy and sprinkled with flaky salt, and the dipping sauces were irresistable. My only complaint is that they were rather short for my preference. I know, I know, how picky can I be? Very, apparently. I just love boardwalk-style fries that are, appropriately, the length of a potato. Why cut them in half? In all, though, these mussels were definitely worth the wait!
We have had two wonderful meals on H St, and I'm glad I got to go with Rachel before she left the area. I will miss her dearly but wish her the very best in her next chapter. Of course, I fully expect her to keep a running list of places for us to eat upon my visit to San Francisco.
And to conclude, a few pictures: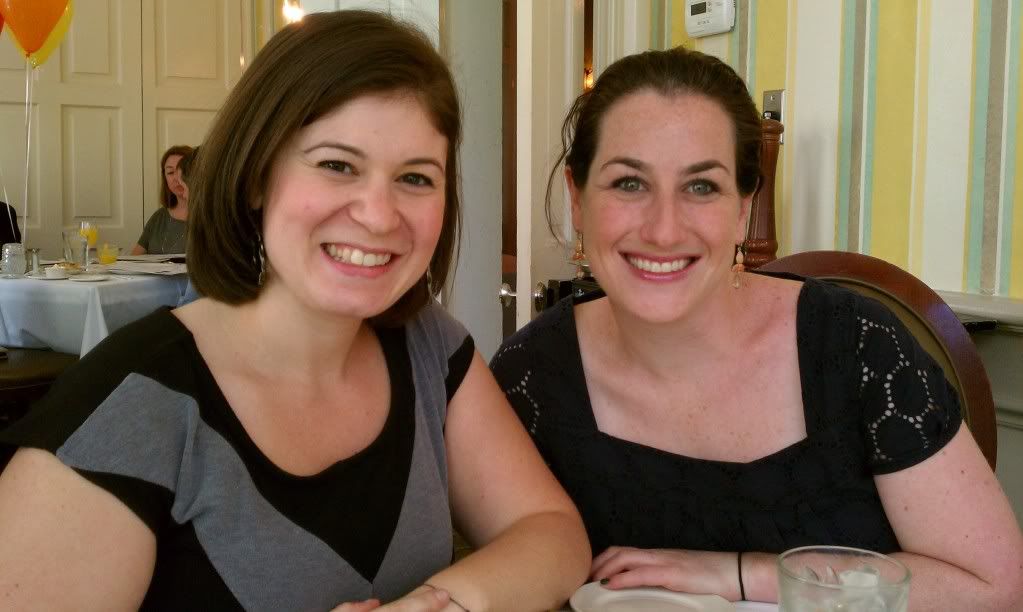 First, a nice one: Me and Rachel enjoying brunch at Commander's Palace in November
This one more accurately showcases our relationship...giggles and snark :)
Also taken in NOLA at Elizabeth's Restaurant
May the frites be with you,
EP