by EP & X
Last week, we were invited to attend a press dinner at one of our favorite Baltimore spots, the
B&O American Brasserie
. Long-time readers will remember that we've been many times and always enjoy the seasonal menu, interesting cocktails, playful desserts, and beautiful space. And last week was no different! We enjoyed a number of outstanding dishes while chatting away with other Baltimore food bloggers and journalists including Dara of
Dining Dish
and Nakiya of
Taste of Baltimore
.
We started with champagne (much, much needed after the stress of work these days), but we had to try some of the bartender's amazing and always interesting cocktails. Xani got The Cadizian, for which the B&O bartender won the title in a recent cocktail contest where the featured spirit was sherry. I got the "Law Dog," which featured Grey Goose, Galliano, grapefruit juice, and orange syrup. Yum yum yum (and a little tipsy).
Xani's drink; EP & Nakiya chat in the background
For our first course, we were treated to a variety of great tastes:
We tried a very interesting item from the Charcuterie menu, which was Shrimp Noodle "Scampi," served with lemon butter, parsley puree, and garlic chip. The noodles were very tender and made of shrimp themselves, and had a subtle shrimpy flavor.
Then from the Small Plates menu, we tried a variety of items:
Baby Beet Salad with goat cheese and pistachio - we love a beet, and goat cheese, so this was a winner


Decadent Deviled Egg with truffled Maryland crab, soft boiled egg, caviar, and mustard - this egg was a highlight of the whole meal! We loved the play on a deviled egg that used a soft-boiled egg instead - it made it that much more decadent. Well, the caviar and the truffles added some luxury as well...which is why we loved it.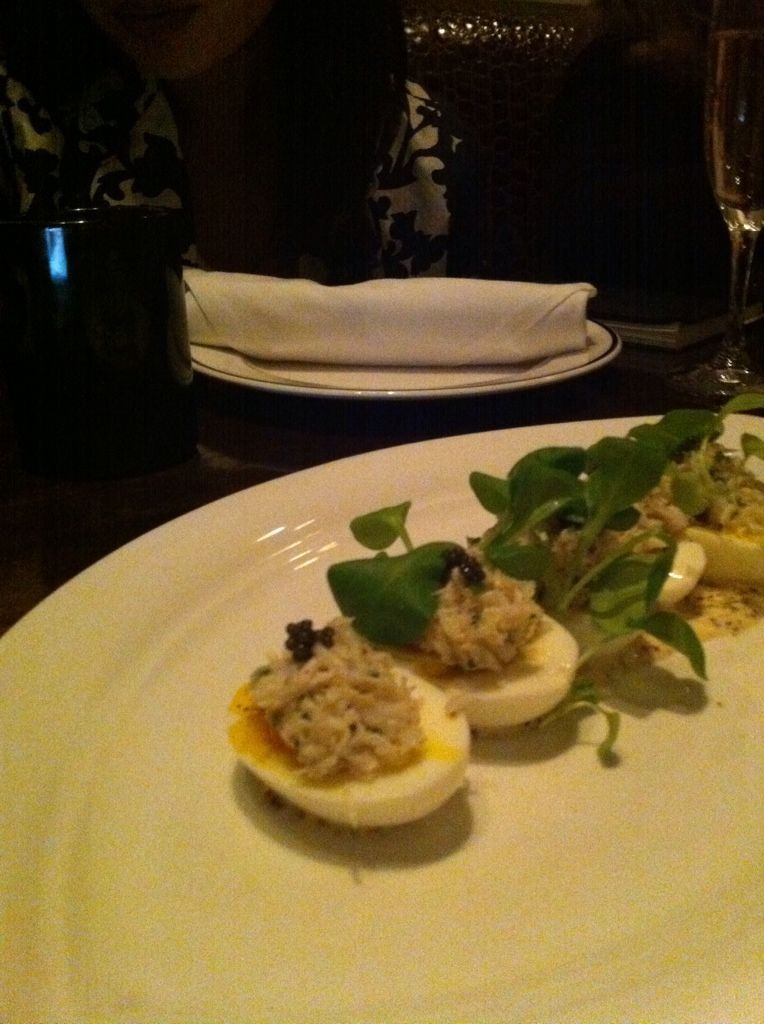 Some of the best deviled eggs ever
Wild Mushroom Ravioli with shallot confit, cauliflower, preserved lemon, and kale - these ravioli were lovely and well cooked, and had a nice mushroom flavor




Smoked Pork Belly with golden raisin soubise, tamarind, and pickled pears - this dish was absolutely irresistable. We tried so hard to only have a taste (as we knew other dishes were coming), and I had to practically sit on my hands so as to not gobble up the whole plate. The pickled pear paired (ha) with the fatty pork was seasonal and a lovely contrast.




Slow Cooked Pork Ribs with smoked chili bbq, pickled pear - more meat! We loved these ribs as they were spicy and sticky and meaty. They were a little hard to eat with a knife and fork (duh) but we didn't feel comfortable picking them up and going to town on them (like we wanted)....we're ladies, after all.
We also had the opportunity to enjoy several of the chef's offerings from the Main menu:
Rockfish with pumpkin seed "risotto," smoked bacon, raab, and butternut squash - a local Maryland fish, we're always happy to see rockfish on the menu. The most interesting part of this dish, however, was the pumpkin seed "risotto," where pumpkin seeds (aka pepitas) were sauteed and broth added, in the style of risotto. Good flavor but the seeds did not get as soft as a traditional rice-based risotto. Al dente, indeed!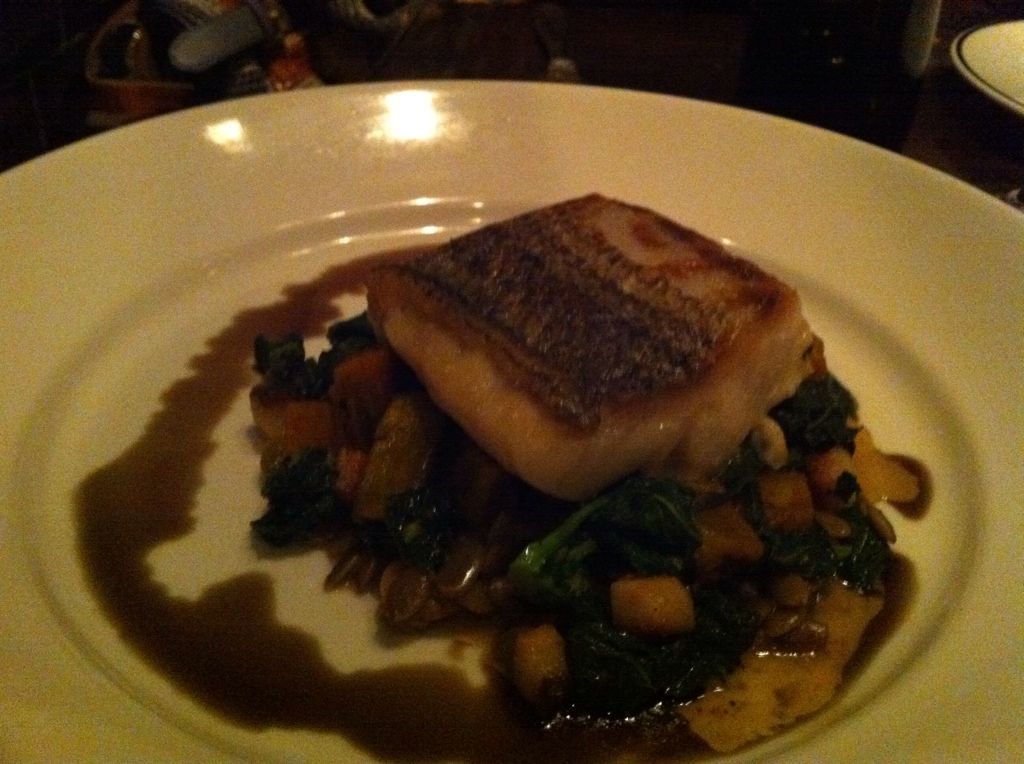 Hudson Valley Duck Breast with speck, chestnut, candied turnips, braised red cabbage, and a spiced cider reduction - this dish was the inspiration for our Thanksgiving turkey roulades this year (Xani visited B&O earlier this fall), as it was a perfectly cooked duck breast wrapped in speck (ham). It was salty and savory, which went well with the turnips and cabbage.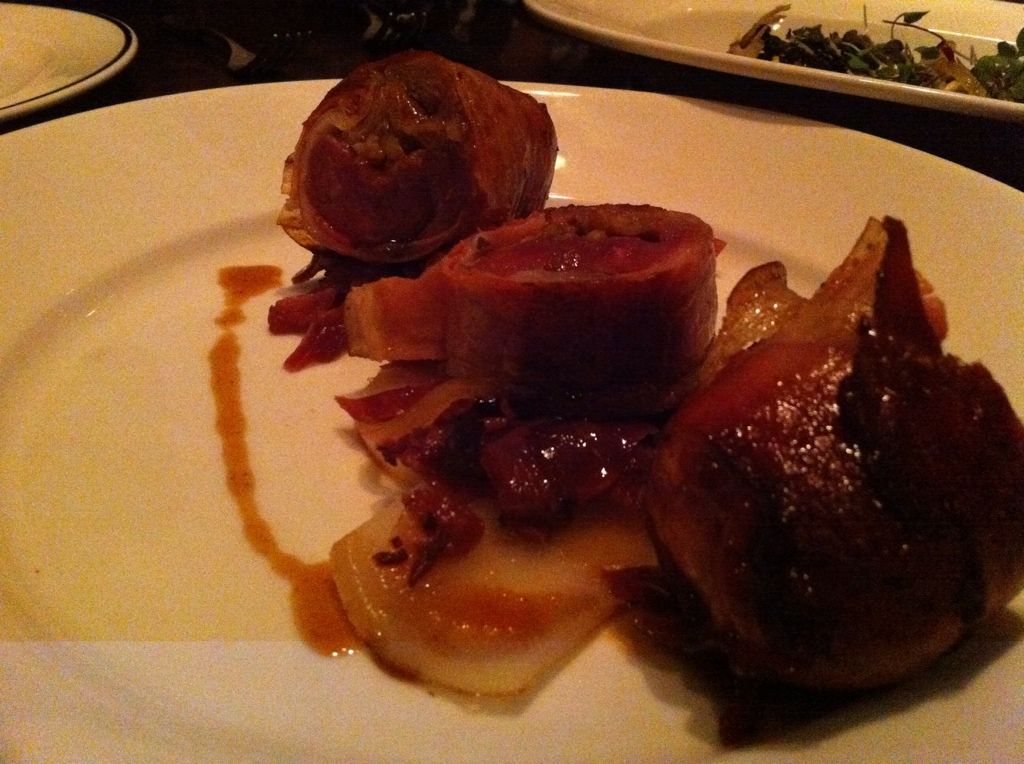 Diver Scallops with jerusalem artichoke, cauliflower, pear syrup, pickled chanterelles - the scallops were a highlight of this course and the whole meal. They were super-sweet and beautifully cooked. I also loved the cauliflower and the jerusalem artichoke puree. A great bite!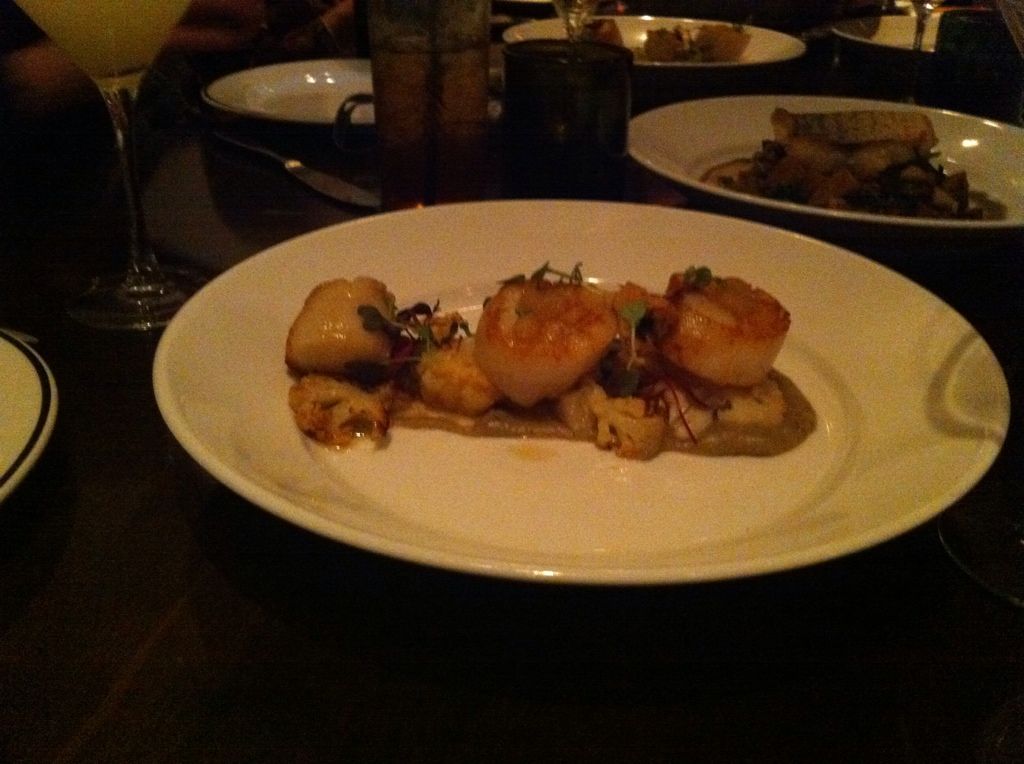 Short Rib with fingerling sweet potato, brussels sprouts, bacon - this was the other major highlight of the mains. The short rib required no knife as we were all taking portions (the meal was served family style), it was so tender and wonderful. The fingerling sweet potatoes were delicious (who doesn't love a sweet potato fry??) and we loved the brussels sprouts at the bottom of the pan. In fact, Nakiya and I both audibly gasped when we saw the little green leaves hiding at the bottom - food nerds! (sorry, no pic, we were so excited to eat it!)
Finally, it was time for dessert!
Maple Creme Brulee with molasses shortbread - although we are not usually creme brulee fans, this was a great presentation and very seasonal.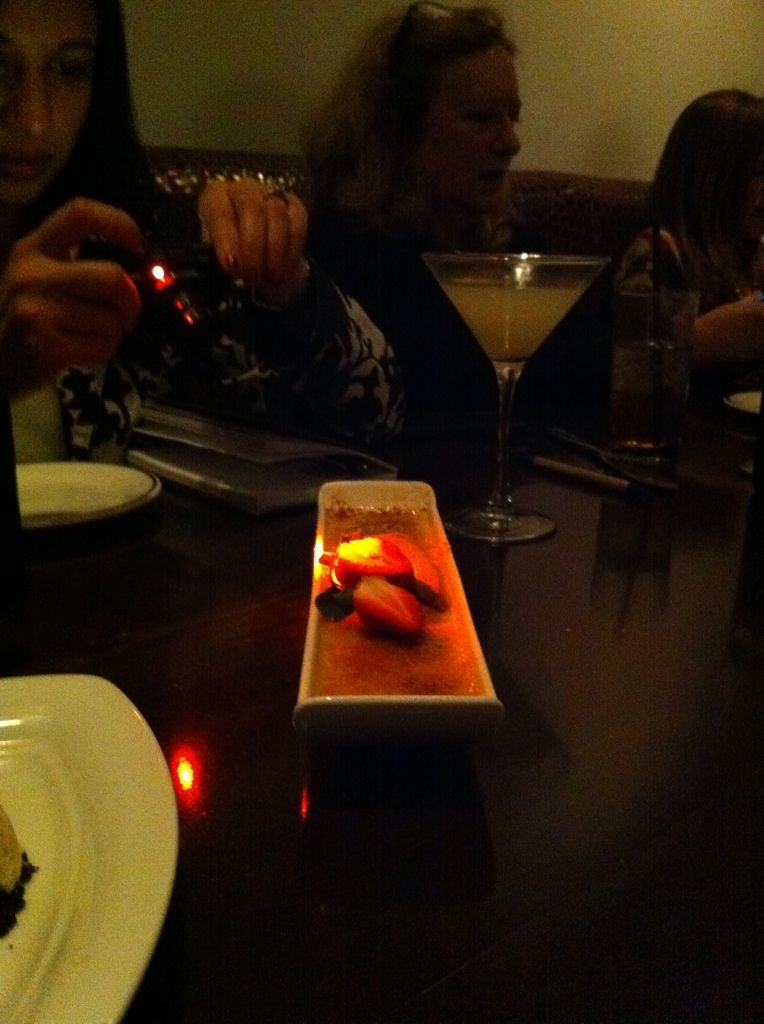 Pumpkin Bread Pudding
with creme anglaise, cinnamon ice cream - also very seasonal and comforting, and we liked the warm pudding with the ice cream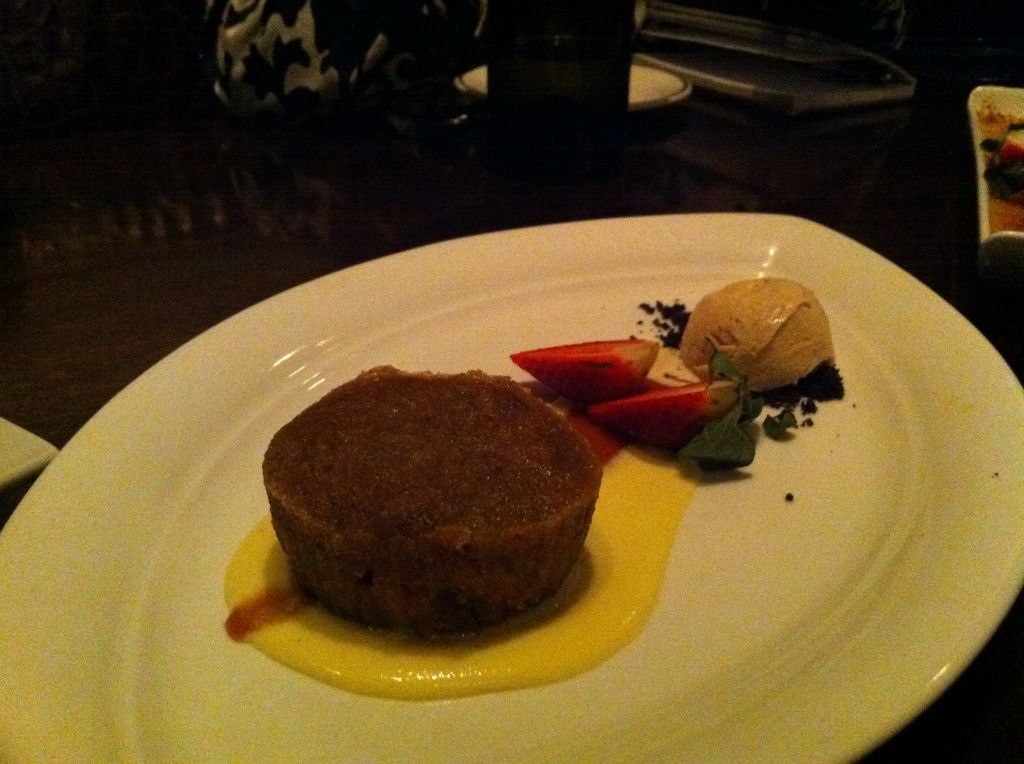 Pecan Cobbler with whipped creme fraiche - this was a decadent dessert, as the cobbler probably had some sort of fruit in it (pear?) but there was so much buttery, nutty topping, it was hard to tell. Not that we're complaining!
Butternut Squash Donuts with cinnamon glaze, toasted hazelnut, and espresso milkshake - these were absolutely awesome. Best dessert of the night, hands down! Plus, we love any dessert that resembles coffee and donuts! The last time I was at B&O, the chef had red velvet donuts on the menu, which were awesome....but these were even better. And an espresso milkshake?! Note that the donuts are available on the breakfast and brunch menus (and the brunch menu has a pork belly hash...holy crap, let's go to brunch).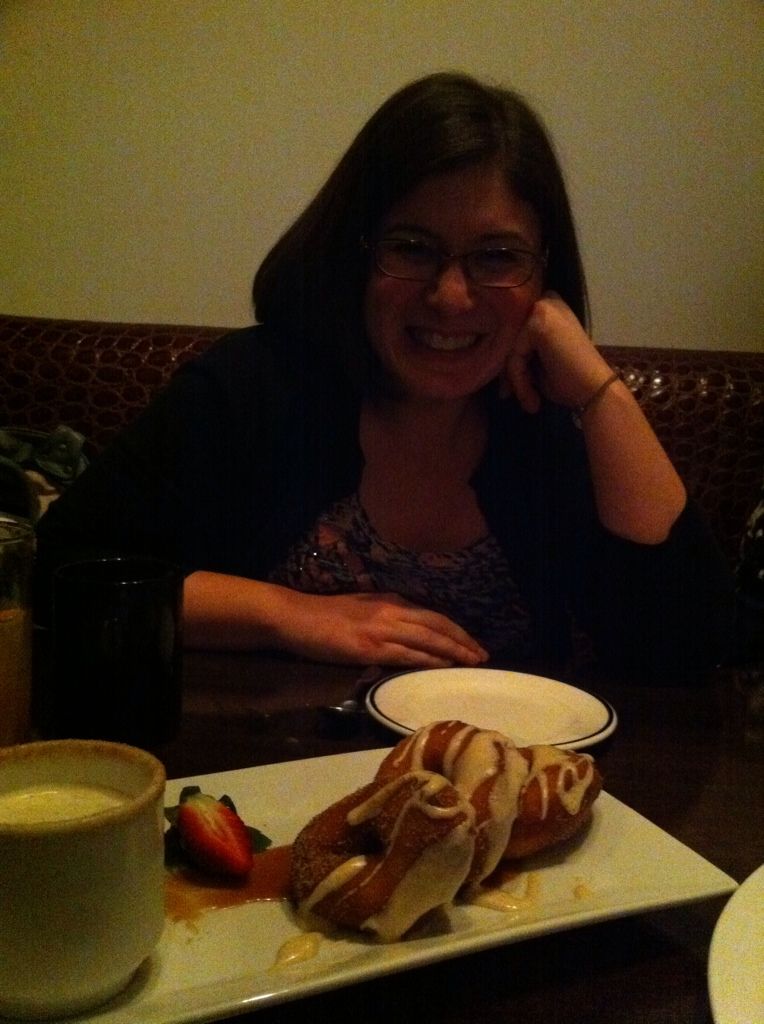 Thrilled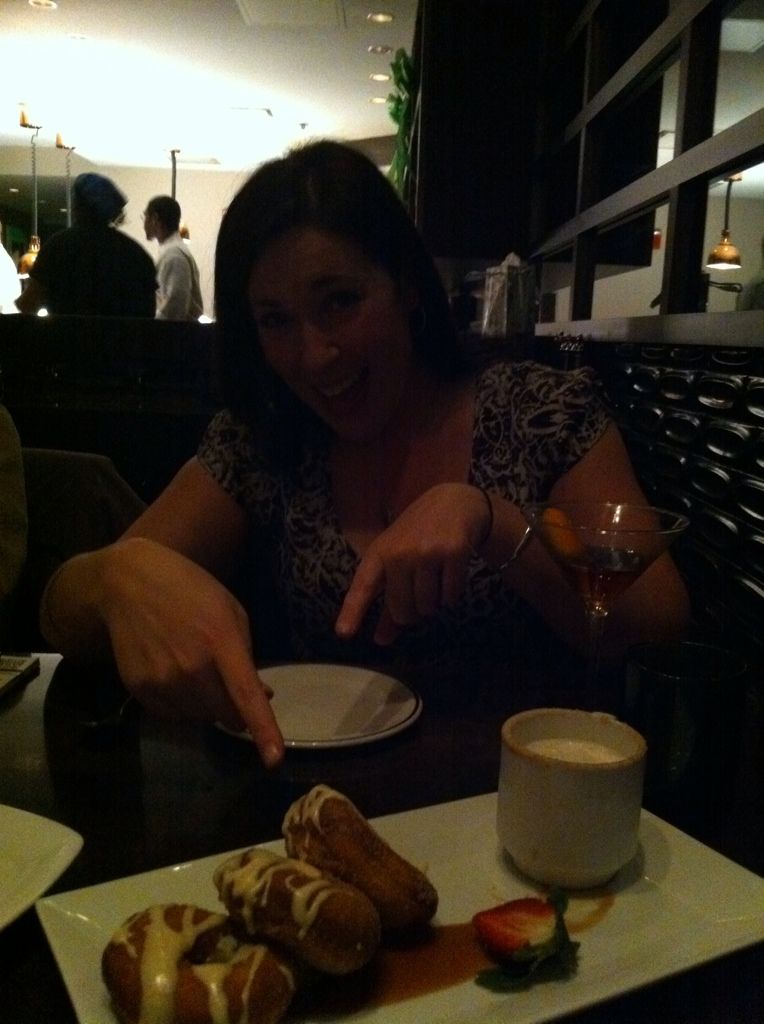 BCD represent!
It was another wonderful meal at B&O! We can't wait to get back. Thanks to Amy Burke of Profiles PR for including the BCD girls!
Butternut squash donut wishes and espresso milkshake dreams -
EP & X

* Fabulous bloggers featured in this post received the meal gratis. This is just like at the end of every episode of the Millionaire Matchmaker.