by EP
As Xani described in our teaser
Thanksgiving post
, we had quite a meal planned for this year's Turkey Day. I think, of all the things we made, only one dish was something we've made before: our beloved Grandma Irma's mashed potatoes. (For you grammar nerds, "beloved" in this case is modifying both our grandmother and the potatoes.) For the other, new dishes, we had some great successes and some moderate successes. No failures, in our opinion. We were certainly full by the end, but the multi-course meal allowed us to have some time between courses and enjoy each dish, and each other. I think we toasted with every course (and every new cocktail/type of wine) - l'chaim!
As a refresher, here was the menu:
Amuse Bouche of Raw Local Oyster with Pomegranate Mignonette
Salad of Mixed Greens, Apple, Bacon, Cornbread Croutons and Buttermilk-Herb Dressing
Main Course: Turkey Thigh Roulade with Chestnut Stuffing, Irma's Potato Puree, Roasted Brussels Sprouts with Capers, Walnuts, and Anchovies, Cranberry Conserve, Gravy
Dessert: Trio of Tartlettes- Parsnip-Buttermilk Pie, Frangipane Tart with Pears, and Pumpkin-Apple Butter Pie with Cranberry Glaze (those last two recipes are courtesy of the fabulous Bistro Poplar, where we were lucky enough to enjoy a wonderful baking demo a few weeks ago.)
And now, enjoy the meal and its preparation through a series of pictures:
Brussels sprouts mise en place: shallot, garlic, capers, anchovies (walnuts and sprouts not pictured)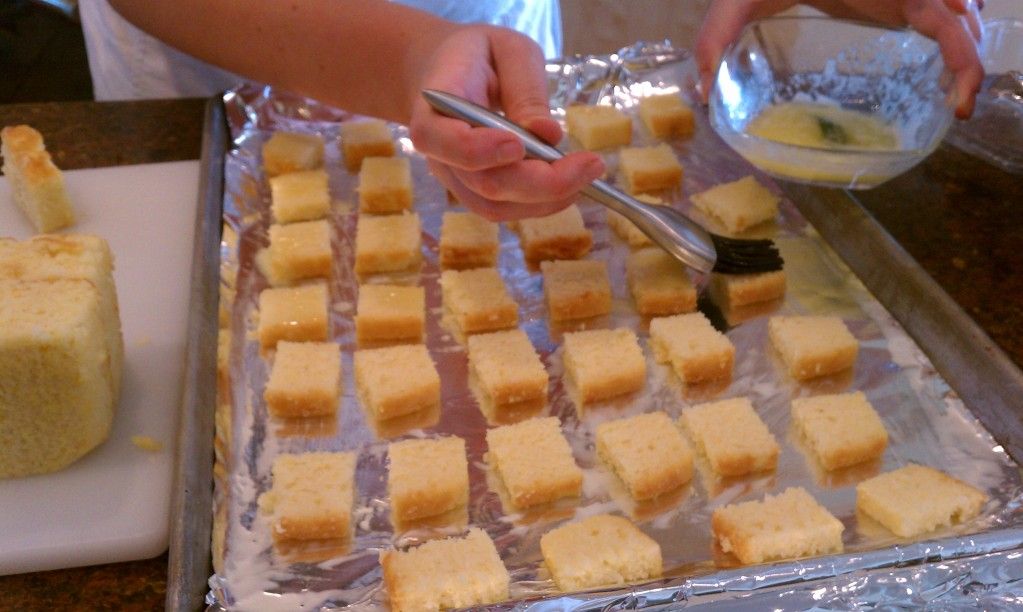 Cornbread croutons being brushed with sage butter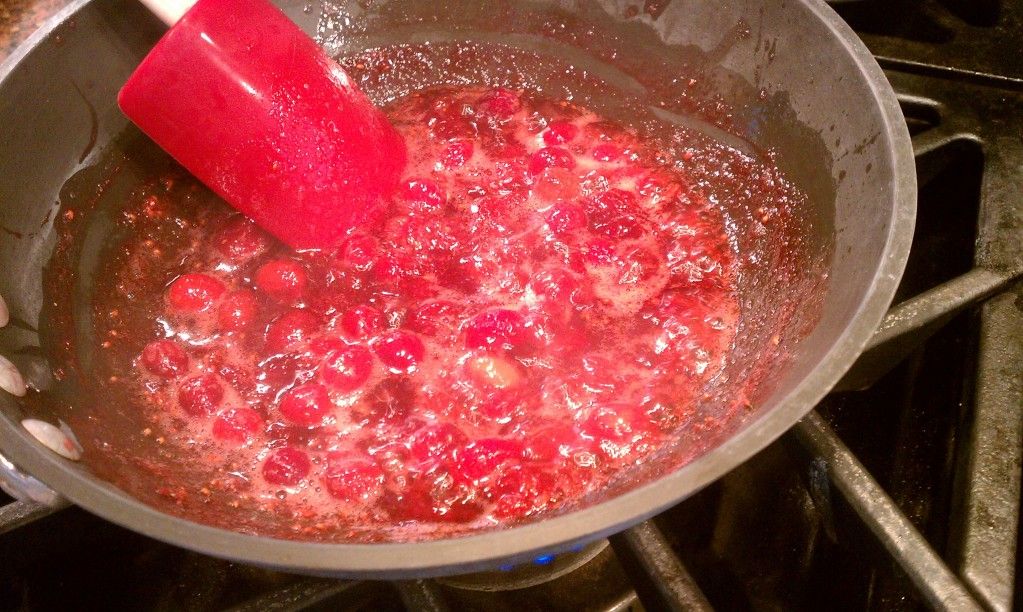 Popping cranberries for the conserve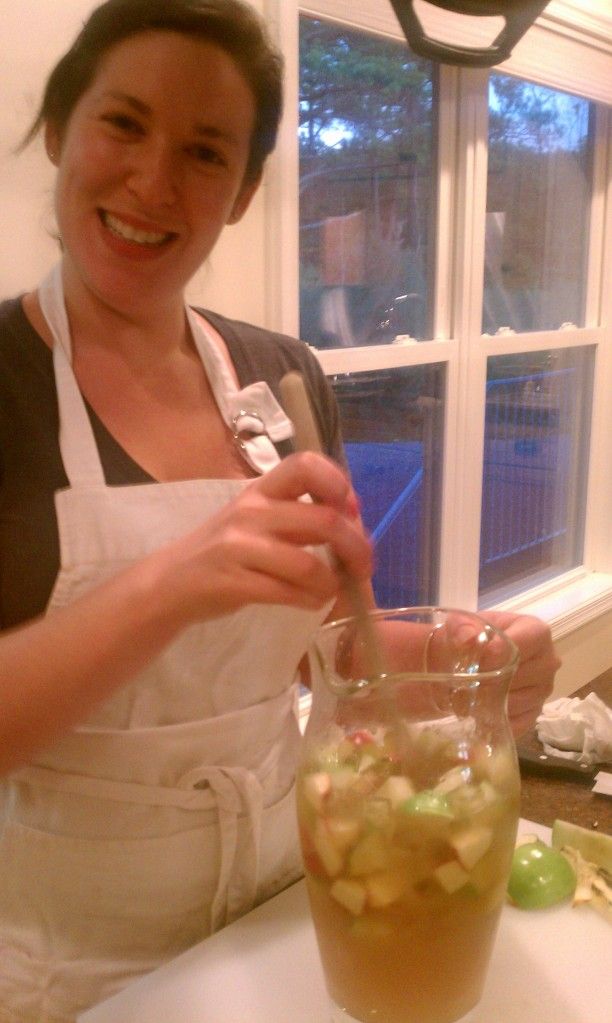 Xani happily mixes the Sparkling Apple Cocktail after a full day of cooking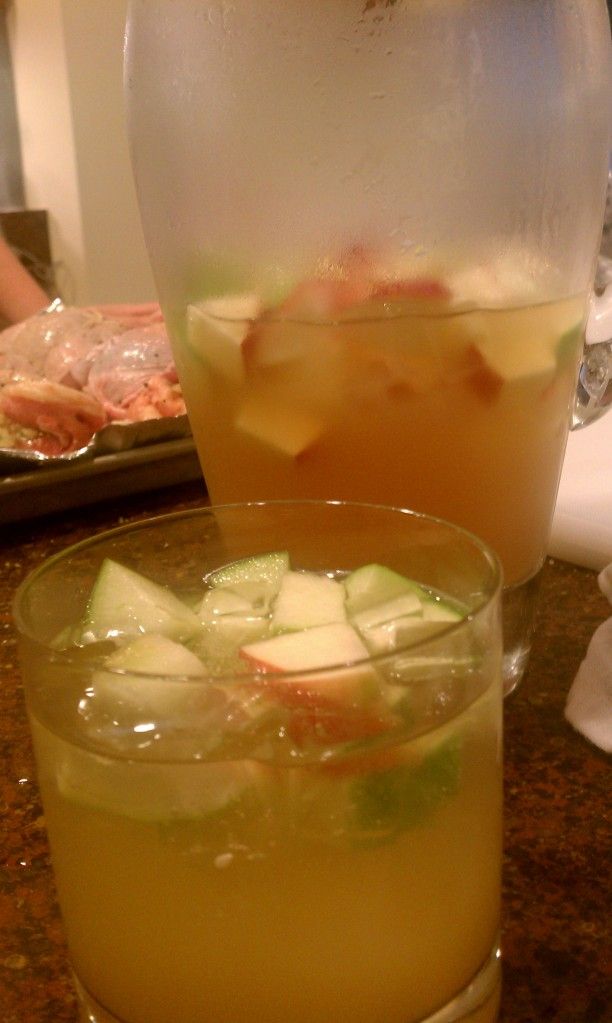 This cocktail was amazing, everyone loved it. With red and green apples, it'd be good for Christmas too!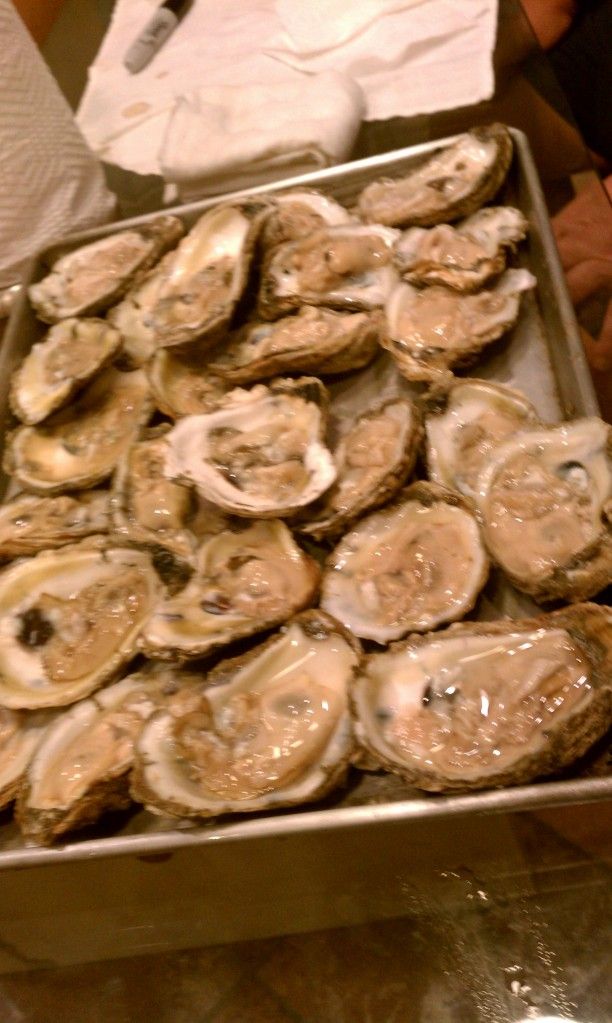 Oysters for the first course.
Over the course of the weekend, we made a good dent in the 100-count box of oysters Dad picked up
Oysters with pomegranate mignonette (made with fresh pom juice!)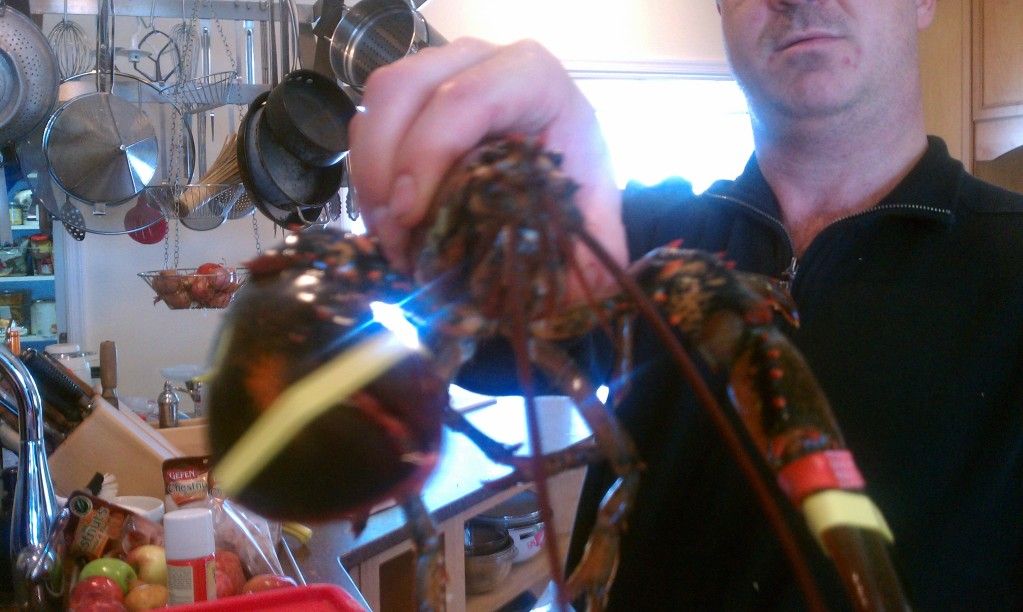 Obligatory "lobsters attack" shot. These weren't scary though - only 1 lb each!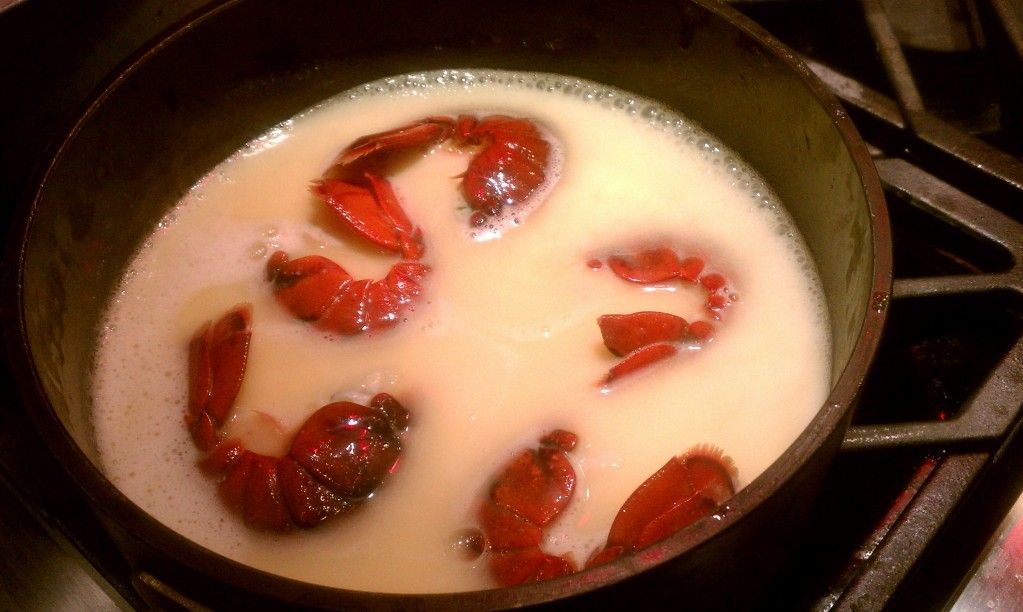 Lobster tails poaching in maple butter. Jealz.
Plating the soup course - butter-poached lobster tails on sweet potato bisque
Turkey roulades! We used deboned thighs and a chestnut stuffing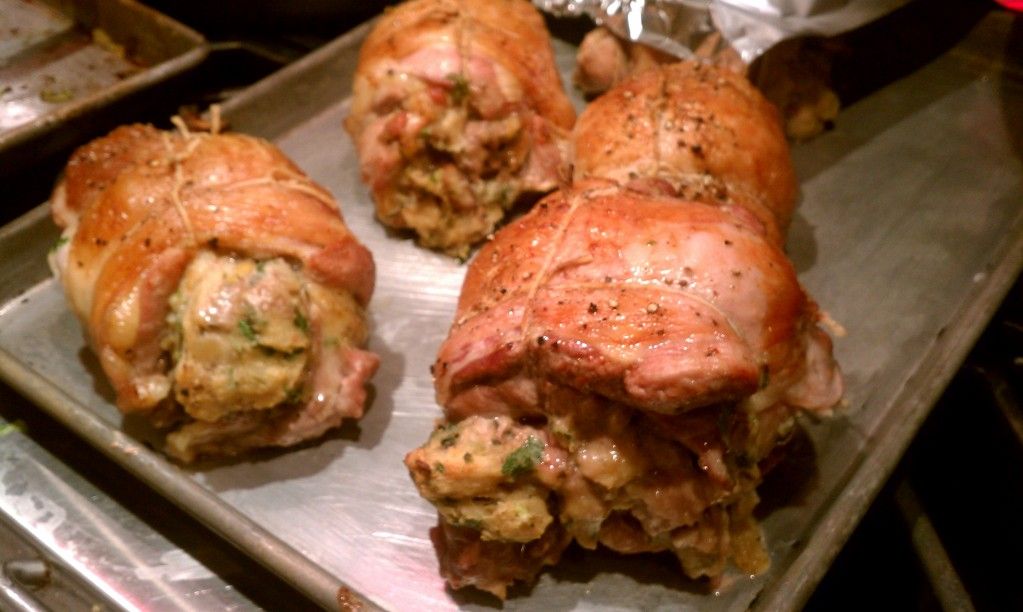 Cooked and crispy! Lovely dark meat for everyone
Completed plate!
Turkey roulade with stuffing atop mashed potatoes (with chicken fat), shredded brussels, cranberry conserve (gravy and America's Test Kitchen dinner rolls not pictured)
Perhaps the biggest "burden" of the meal was our dessert. As mentioned above, instead of making three pies for 5 people (insanity), we made 36 mini tarts (normal). Thanks to
Savory Simple
for inspiring us with her post on
Thanksgiving Pie Petit Fours
! We made a dozen of each of three kinds: (1) buttermilk parsnip pie, (2) pumpkin-apple butter pie with cranberry glaze, and (3) frangipane tart with pears. We figured we would serve one of each kind per person, and we should allow for mess-ups, so we made a dozen of each. Also, we just happened to have 36 tart shells so that played a small role...
We also used two kinds of pastry:
p

âte brisée
(a flaky, traditional pie dough that's not too sweet), and
pâte sucrée
(a much sweeter dough, sort of like a sugar cookie when baked). We used the brisee for the pumpkin-apple butter pie, and sucree for the other two. We par-baked the shells for the pumpkin-apple butter pie and the parsnip pie, but we did not for the frangipane, per the recipe's instructions. In the end, we should have par-baked them all. Since the tarts were so small, they didn't bake for very long, so the crust on the frangipane tarts did not set up as nicely as we would have liked. Lesson learned! They were all fantastic though, and it was perfect to have just two bites of each with a cappuccino (thanks Dave!) after our feast.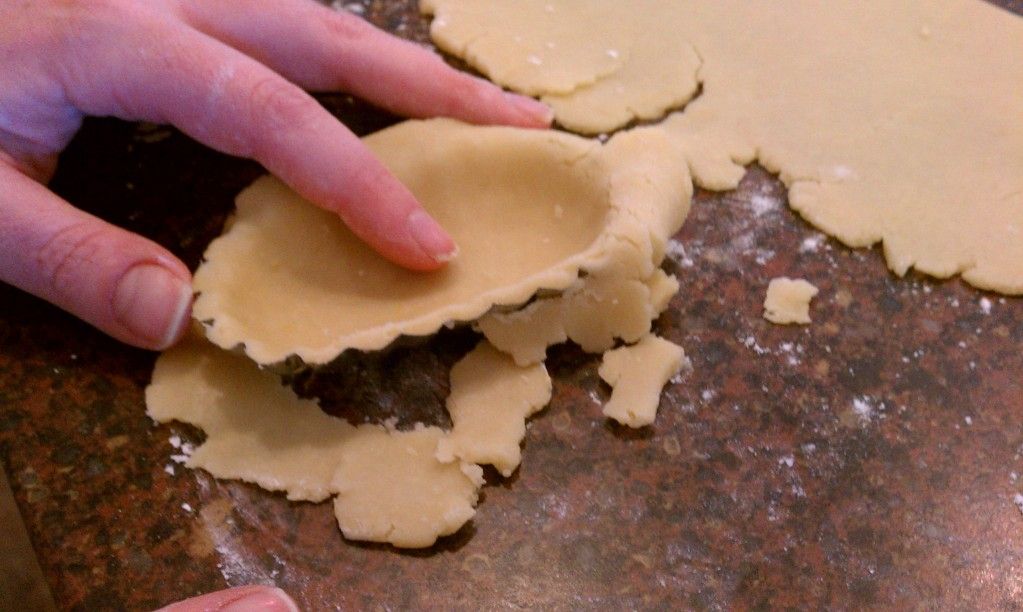 Fitting the dough into the teeny molds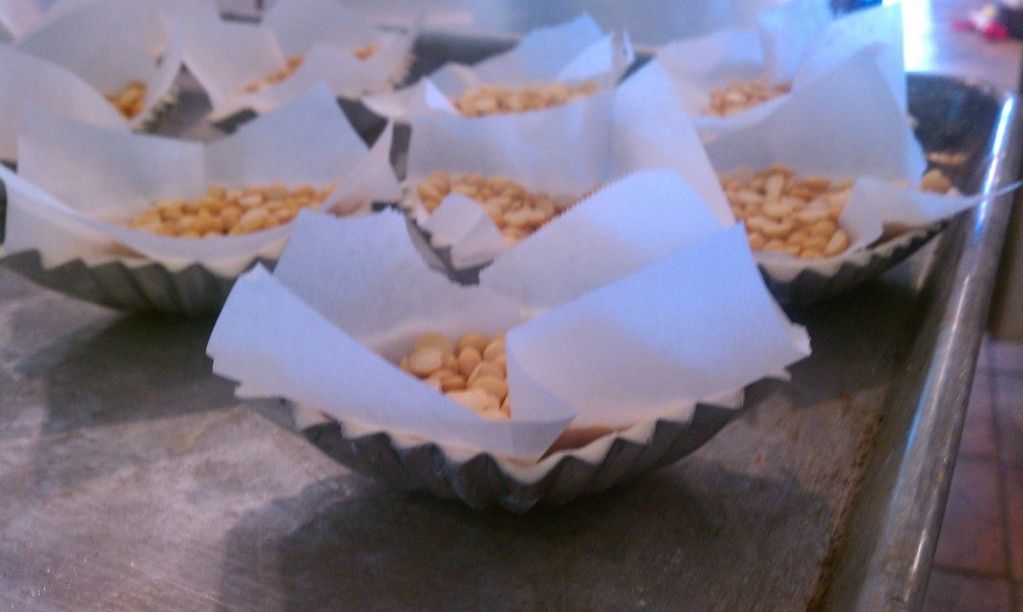 Par-baking with the help of yellow lentils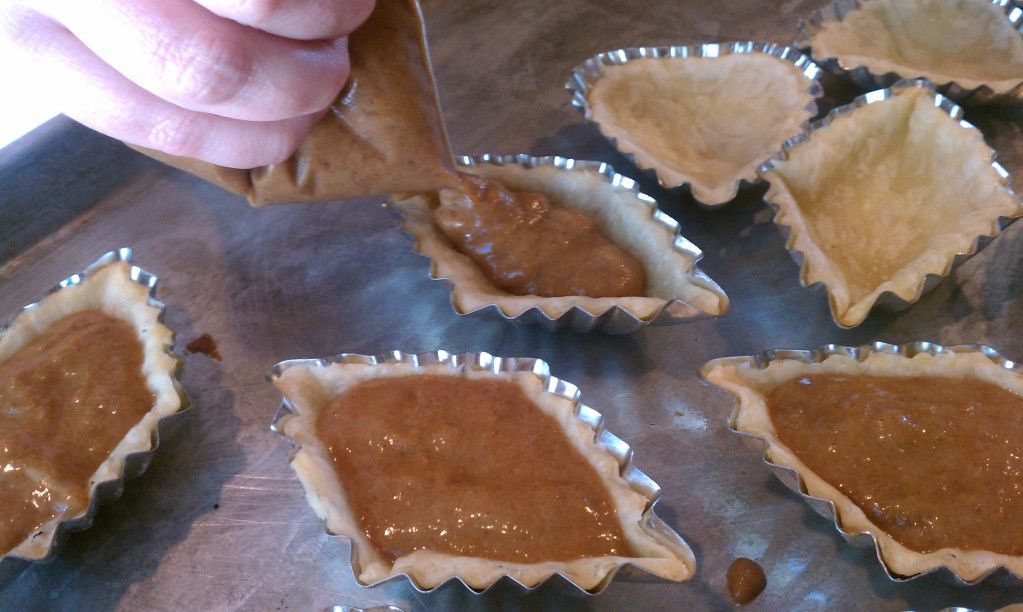 Filling the par-baked shells with pumpkin-apple butter filling (the apple butter was homemade, BTW)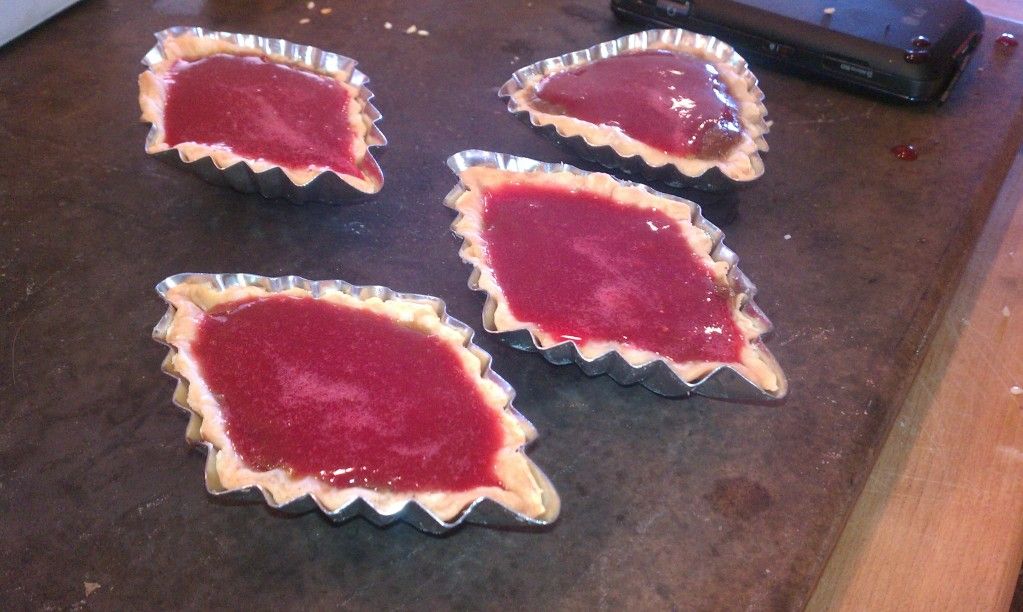 Tarts with cranberry glaze, about to go into the fridge to set up.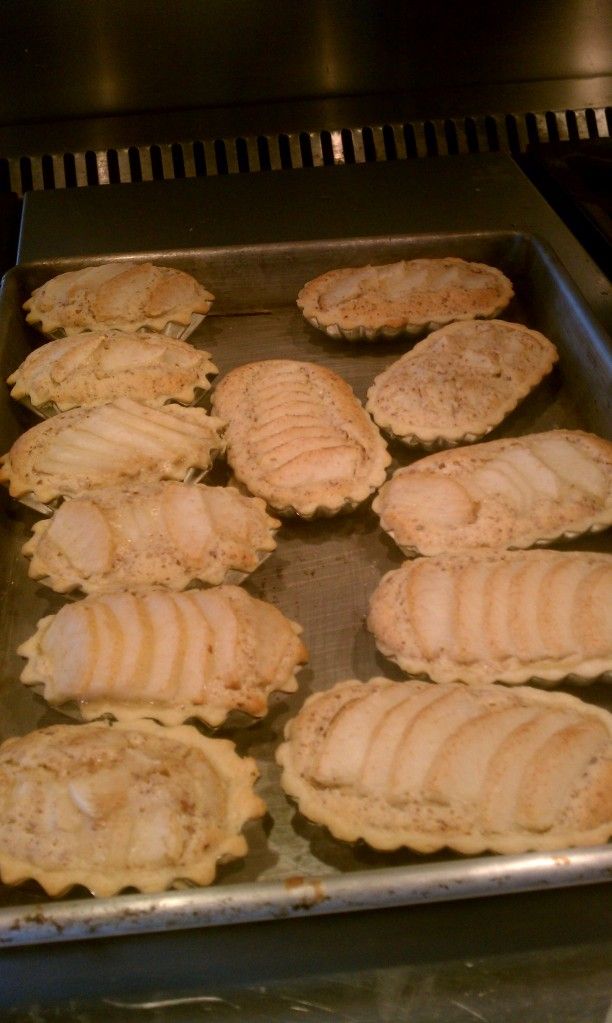 Frangipane tarts with pear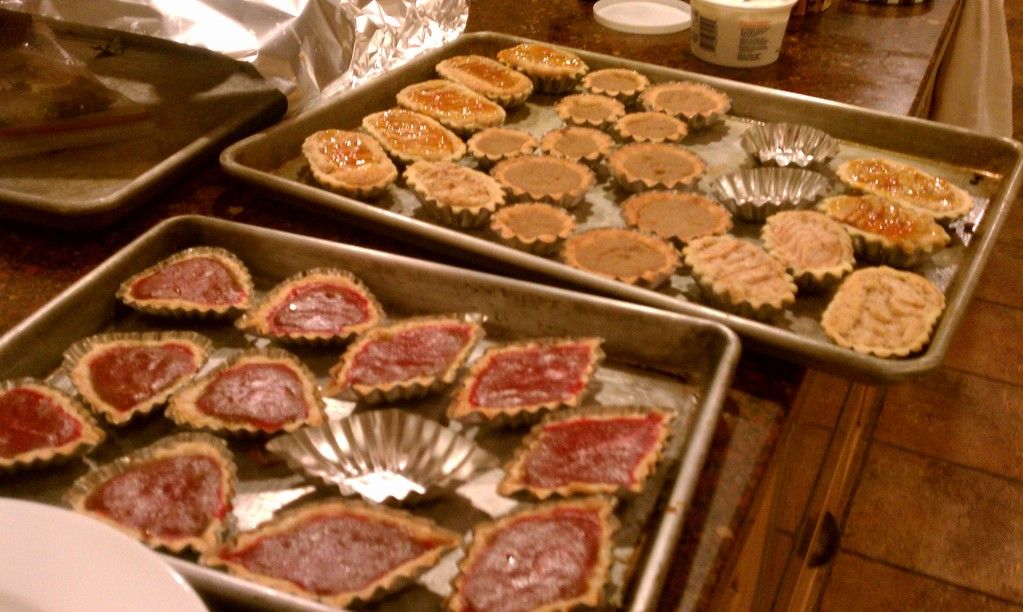 Ready for plating!
Final dessert plate! Clockwise from left: pumpkin-apple butter pie with cranberry glaze, buttermilk parsnip pie, frangipane tart with pears (brushed with apricot jam at the last minute). The red of the cranberry glaze was such a lovely hint of color when there's so much "brown" in Thanksgiving foods.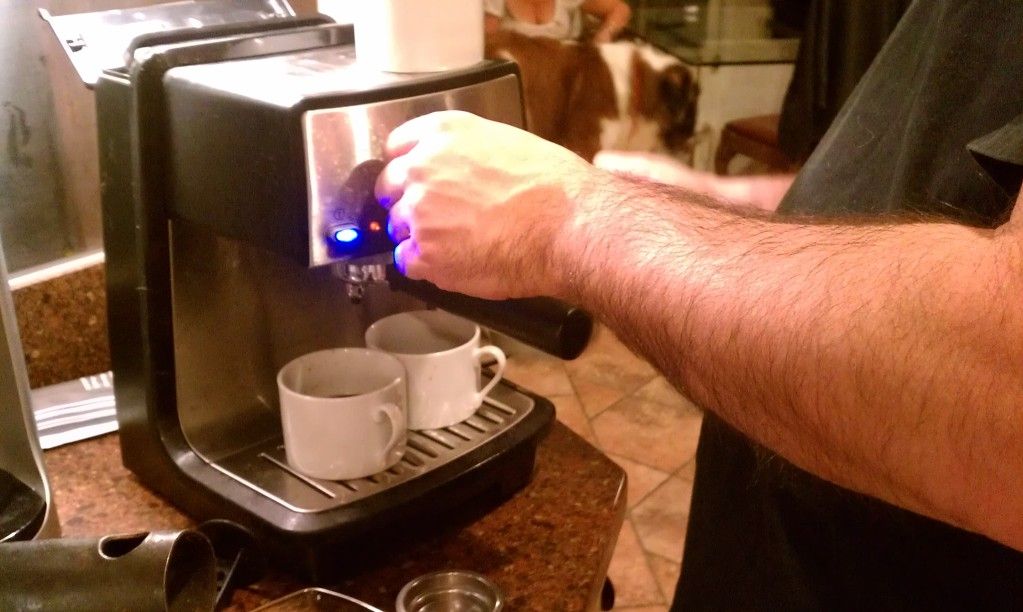 Baristo Dave whips up a few espressos and cappuccinos to have with dessert
Cappuccino! Just like in Paris.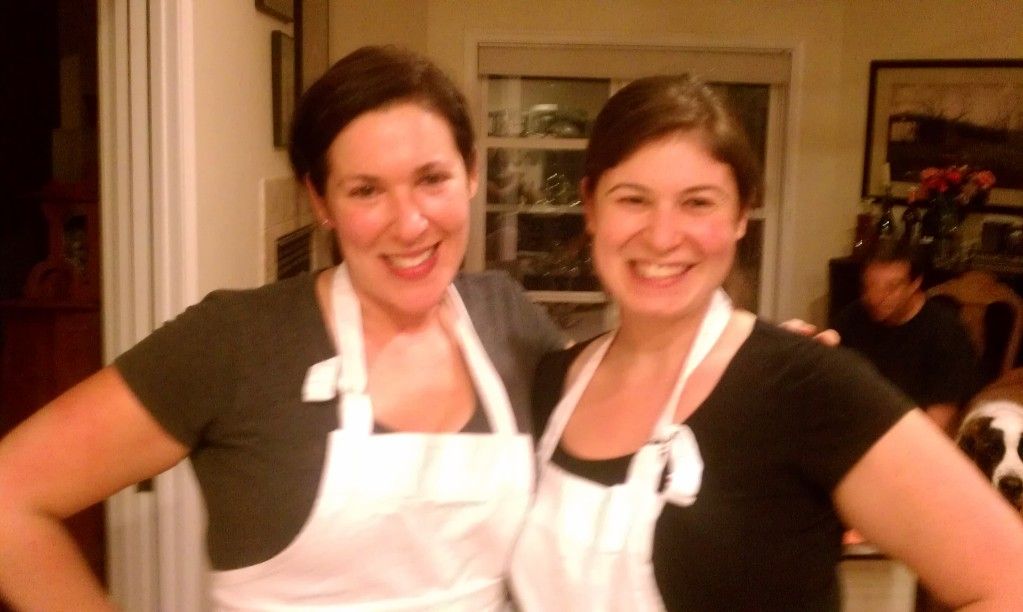 Happy Thanksgiving from the BCD girls!
And that's it! It was a lovely holiday with family, filled with fun culinary challenges and lots of alcohol. In the end, we had only 1 broken glass, 1 small fire (dishtowel + gas range), and a few minor burns that, in all honesty, just make you feel tough, right?
Happy holidays!!
EP
And, because we can't help it, a few pictures of Gellie and his new buddy, Eddie: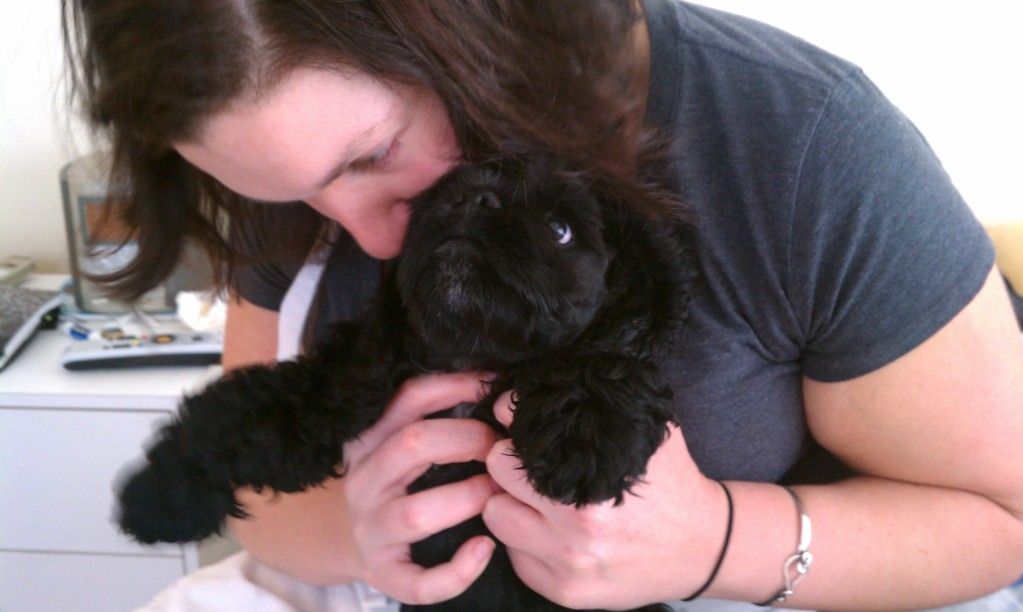 Eddie loves his mama (though he looks a wee bit terrified here)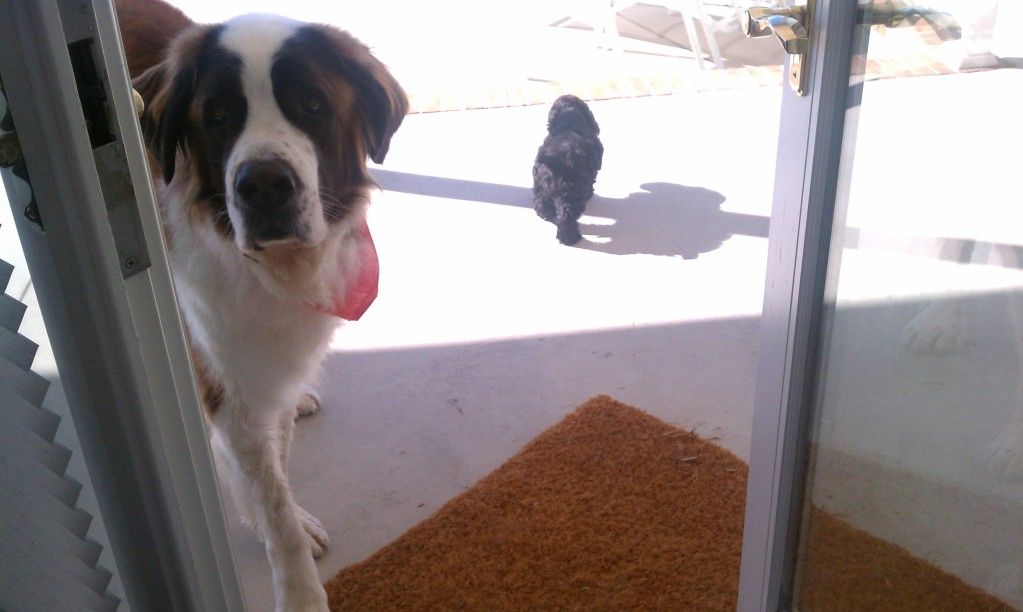 Coming and going