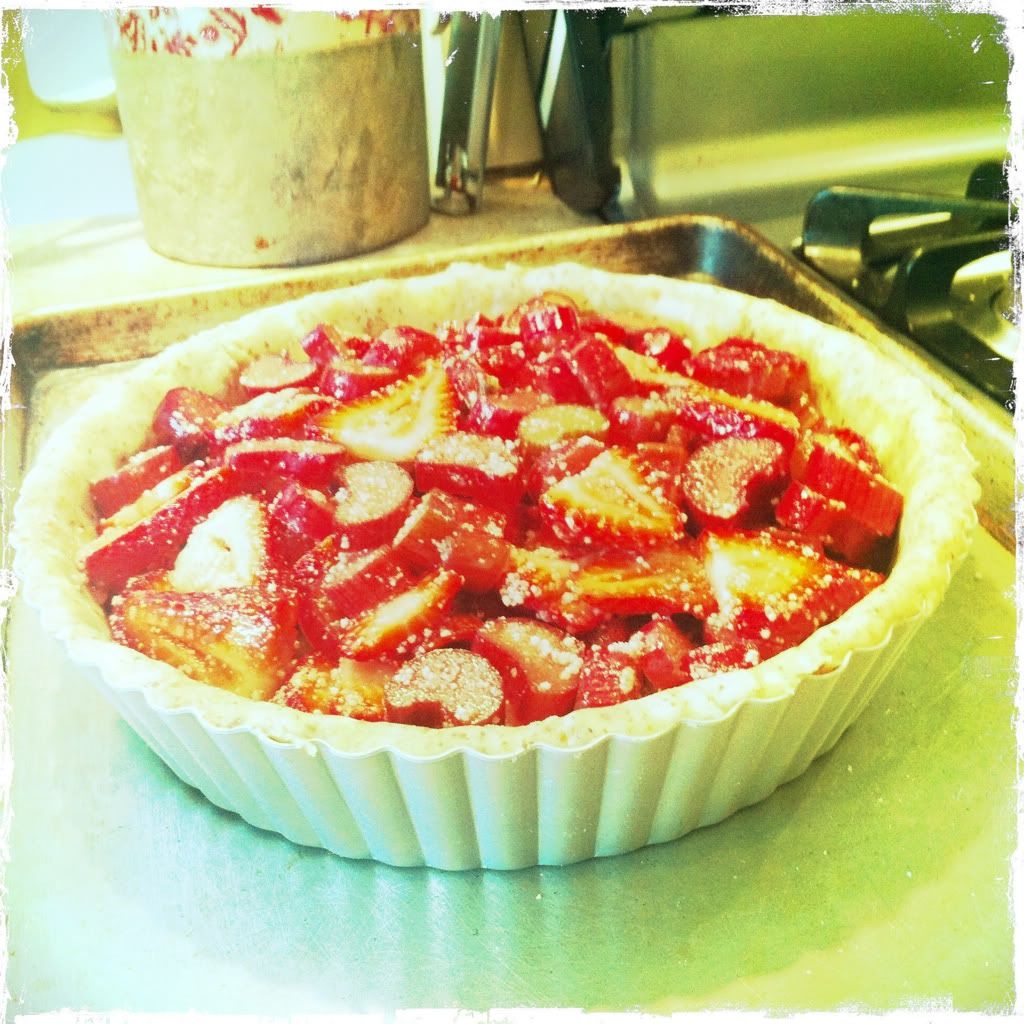 by Xani
As some of you may know,
EP and I are lawyers
. So are our parents, and so is Dave, my boyfriend. I mention this as background/explanation for why, on Sunday night, after many, many cocktails, and many, many pounds of lobster, the five of us were discussing not family memories, not the fate of the O's season, but copyright infringement and the intricacies of changing, using, re-printing, and selling a recipe.
This is normal for us. In fact, Dad recently purchased
this little torture device
so that, when we run out of our own hypothetical questions, we now have literally thousands of legal quandaries at our fingertips. Joy. But this past Sunday we were discussing a real-world scenario involving pie.
You see, we had just finished an amazing, belated Father's Day dinner. We drank champagne, slurped uni shooters (not for the faint of heart, as they included uni, ponzu, tobiko, sake, hot sauce, and a raw quail egg yolk), ate the season's first green tomatoes, pan-fried with remoulade sauce, then tucked into 12.5 pounds of lobster and my best-ever batch of onion rings. And then, it was time for pie.
Earlier in the day EP and I had set to work creating this dessert. We knew we wanted to make strawberry-rhubarb pie, and we were inspired by a fantastic version we had at Woodberry Kitchen a few weeks ago, which featured a crumble topping. I had already researched recipes, finding that my beloved
smitten kitchen had an intriguing filling recipe
that promised to solve the runniness-problem that often plagues a SR pie, but, it featured a double crust. An
epicurious recipe
had the crumble topping I was looking for, but required the bottom crust be blind-baked and the filling cooked on the stove top, steps I really didn't want to mess with. And, of course, I already have a pie crust recipe I love, so I knew I wouldn't be using either of these recipes' crusts, I'd be going with
Ruhlman
. So, we essentially decided to wing it, picking our favorite aspects from these various recipes and stitching them together as best we could. Did we make a new recipe, or what?
In the end, what we made, was a damn good pie. Possibly one of the best I have ever made, and it was an amalgamation of three recipes/techniques, and our own guesswork/instincts. Is it different enough from the "inspiration" recipes to be a whole new entity which I could copyright, publish and sell? What is the threshold for changing a recipe and making it your own? If I use 1/8 teaspoon less salt in a recipe than called for,and make no other changes, have I changed the recipe enough to call it "different"? Is it enough to say this recipe was "inspired" by other authors and give them credit in this way?
All good questions, but coming up with the answers is harder. I probably should have taken Intellectual Property law!
The good news is there are no immediate plans to copyright or sell this recipe, or any other that we've created/adapted over the years. So, it is with pride and a strong hope that no one tries to sue me, that I present to you X & EPs Rhumbleberry Pie, inspired by
Deb of smitten kitchen
,
Michael Ruhlman
, and a
Bon Appetit recipe from 1989, as re-published by epicurious.com
.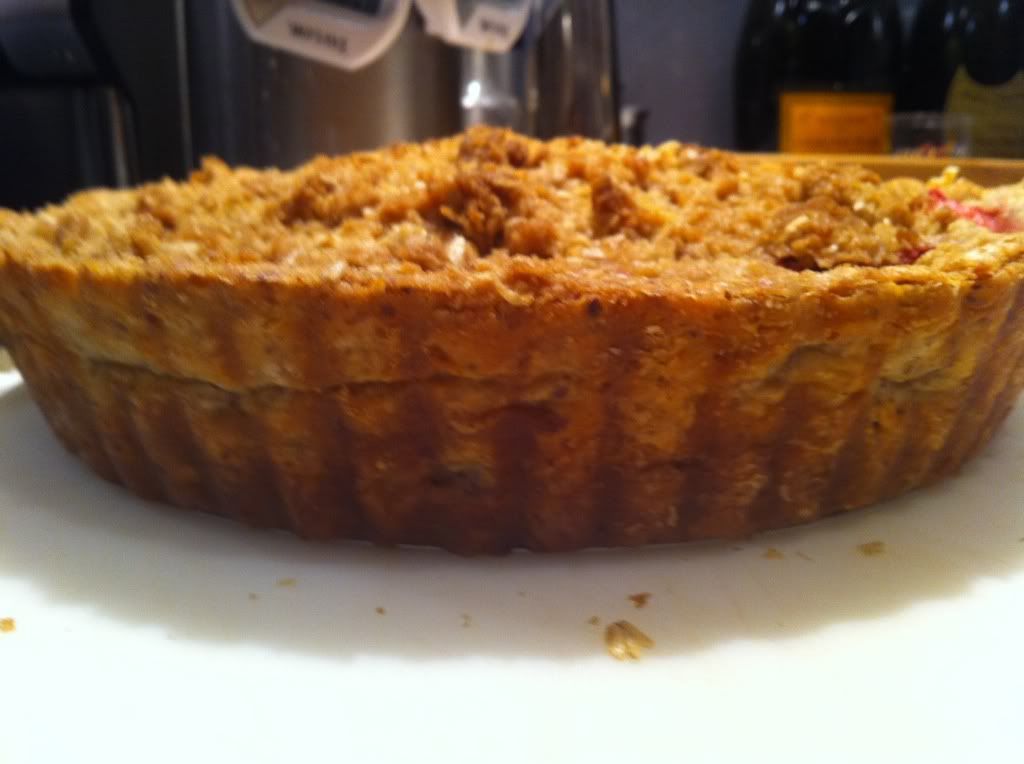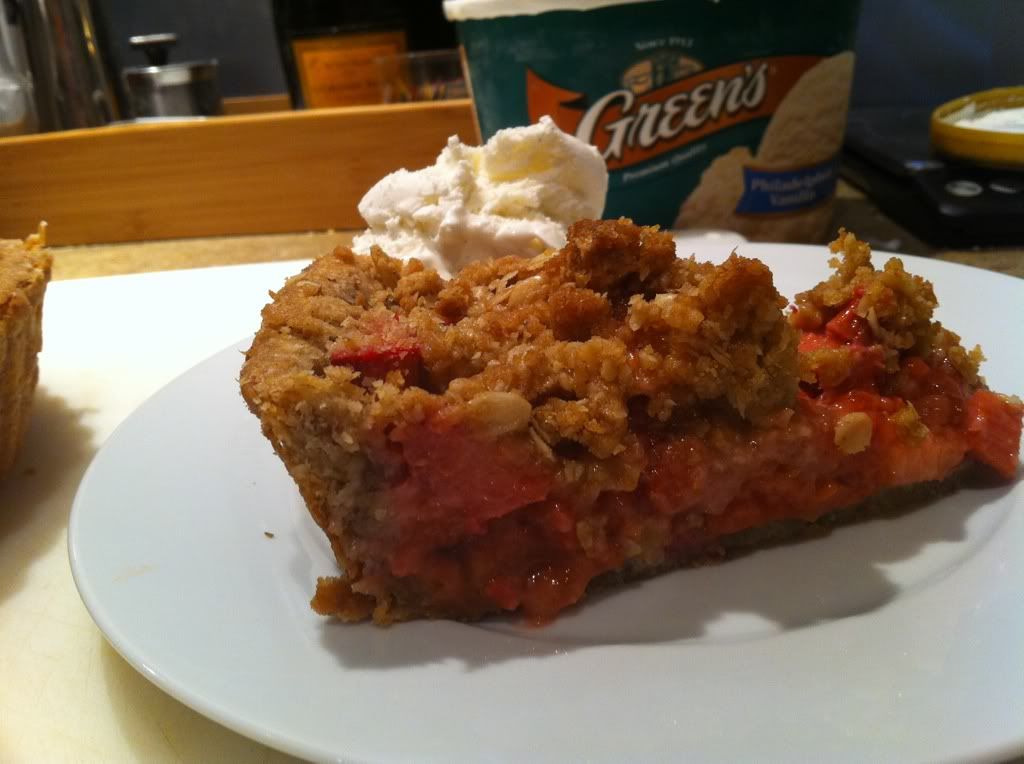 Final result, if you are lucky!
Rhumbleberry Pie
Crust
:
10 oz flour (about 2 cups)
1 cup fine almond meal
10 oz cold butter, cut into small pieces
2 Tbsp sugar
large pinch of salt
1 large egg
splash of vanilla
5oz ice water (or as needed)
Filling
:
3 1/2 cups (about 1 1/2 pounds, untrimmed) rhubarb, in 1/2-inch thick slices
3 1/2 cups (about 1 pound) strawberries, hulled and sliced if big, halved if tiny
1/2 cup granulated sugar (you can use even less if your berries are very sweet)
1/4 cup light brown sugar
1 tablespoon lemon juice
1/4 teaspoon salt
1/4 cup quick-cooking tapioca
Topping:
2/3 cup plus 2 tablespoons rolled oats
1/2 cup all purpose flour
1/2 cup firmly packed golden brown sugar
1/4 teaspoon cinnamon
6 tablespoons chilled unsalted butter, cut into 1/2-inch pieces
For crust:
Combine the flour, almond meal, sugar, salt and butter and cut or work the butter into the flour till the butter is in pea-sized chunks. Add the egg and vanilla and mix gently. Add ice water bit by bit until the dough has just come together (you will probably not need very much). Do not overwork the dough! Shape it into a disc and refrigerate at least 20 mins, or up to a day.
Preheat oven to 375 degrees.
Roll the dough out until it's about 3/16th of an inch thick. Transfer to a 10 inch, 2 inch deep pie-plate (I used
this fluted one with removable bottom
). Press off the excess dough. Chill the pie plate and dough for at least 20 mins.
For topping:
Combine 2/3 cup oats, flour, sugar, and cinnamon in processor. Add butter and cut in until crumbly. Transfer mixture to medium bowl. Stir in remaining 2 tablespoons oats.


For filling:
Stir together rhubarb, strawberries, sugars, lemon, salt and tapioca in a large bowl. Spread filling into prepared, chilled pie crust. Place pie plate on a wire rack on a baking sheet. Loosely cover with aluminum foil and bake for 25 minutes, or until fruit is just beginning to soften.
After 25 minutes, cover par-baked pie with crumble topping. (For larger chunks of crumble, squeeze mixture in your hands to form large chunks, then place on pie. This recipe creates plenty of crumble, but it will all fit on the pie if you really pile it up!). Return pie to oven, bake for another 20-25 mins until pie is bubbly and topping is deep golden-brown. Remove from oven, let cool on a rack for several hours. Juices will gel once pie is cool. Slice and serve at room temperature.
And there it is! A delicious summer dessert with flaky crust, sweet-tangy filling of the perfect consistency, and sweet, crumbly topping.
X