by EP
A few weeks ago, I got an email from a reporter at the
Daily Record
, a business/legal newspaper asking if I would be interested in being interviewed about the blog for their weekly story about lawyers with interesting hobbies. I, being an honest and loving sister and co-blogger, politely replied that I write the blog with my sister, and we are a package deal, so to speak. And oh by the way, we are both lawyers. Cha-ching! Entertainment GOLD.
We ended up having the interview at one of our favorite restaurants in Baltimore:
Salt Tavern
. As Xani
mentioned last week
, we were very excited to get back to Salt, and for such a fun reason! We arrived early in the dinner shift and were seated at, as the Chef said, the best seat in the house. A great corner table in the bar area overlooking the bustling streets of Butcher's Hill, but with a great view of the funky decor (and signature green lighting) of Salt.
We sat down with Danielle, our interviewer, and chit-chatted a bit, immediately finding that we have a friend in common (hello, Jewish Geography!). As we perused the menu, our waiter brought some freshly baked bread with a tomato jam/compote, which was really flavorful and a great way to start off our meal.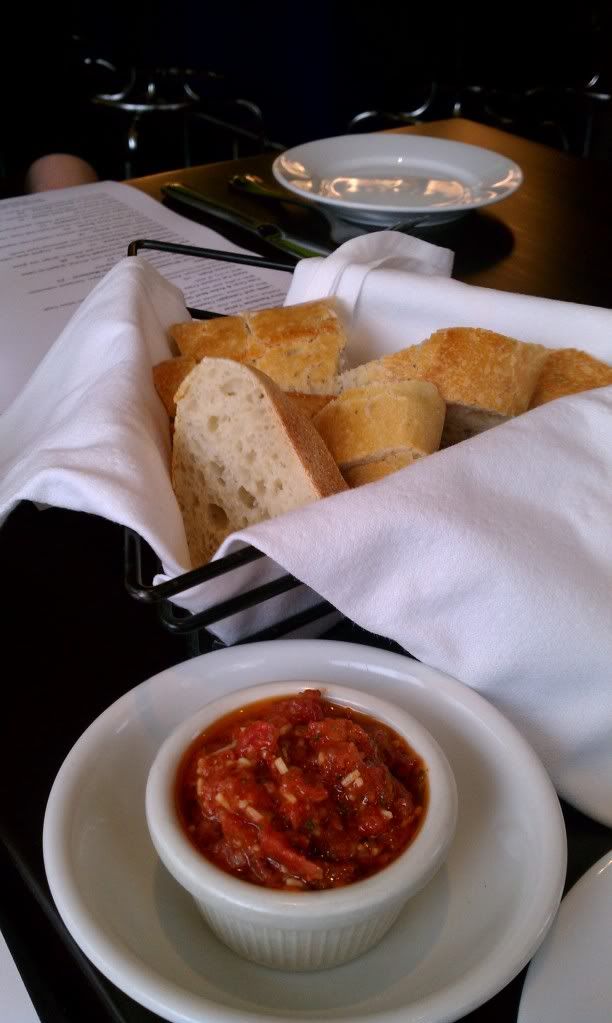 After a very detailed explanation of the menu, which has recently been changing to reflect the changing seasons (thank GOODNESS, anyone else tired of winter?), we decided on three starters:
Lamb and Taleggio Cheese Ravioli
, with mint gremolata and toasted pine nuts
Fluke and Meyer Lemon Ceviche
, with red onion, aji amarillo, avocado, jicama, red pepper, sweet potato, boniato chips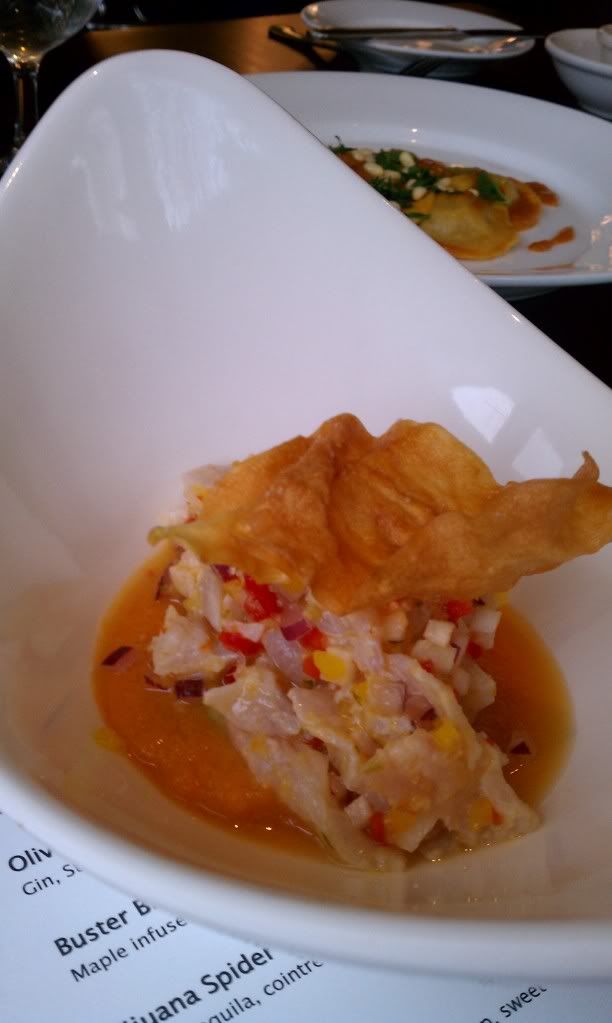 Duck Fat French Fries
, with a trio of aioli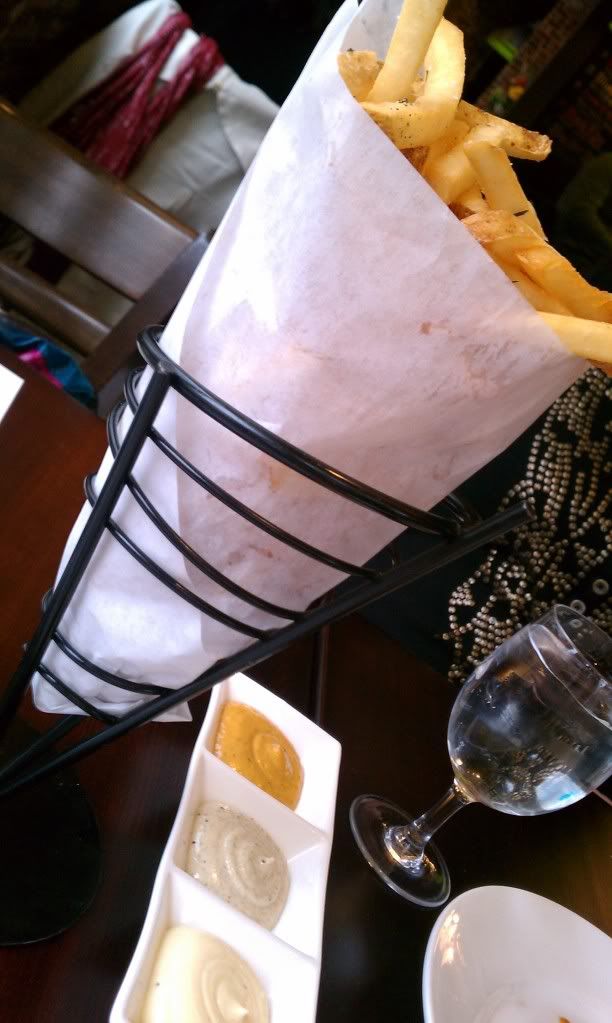 We were sad indeed upon reaching the bottom of this paper cone
The ravioli were good, hearty, and you could tell the pasta was freshly made. They were cooked to a nice al dente. The ceviche was really fresh with bold flavors, plus the fish was served on a little sweet potato mash, which was a nice touch.
But let's be honest, the fries were the star. Who wouldn't love boardwalk-style fries, cooked in duck fat, and served with a trio of aioli (truffle, malt vinegar, and chipotle)? These were executed perfectly and totally irresistible.
For our second course, Danielle ordered the
Crispy Skin Duck Breast
, with pork and mango fried rice, braised baby bok choy, and cherry orange and Asian pear compote.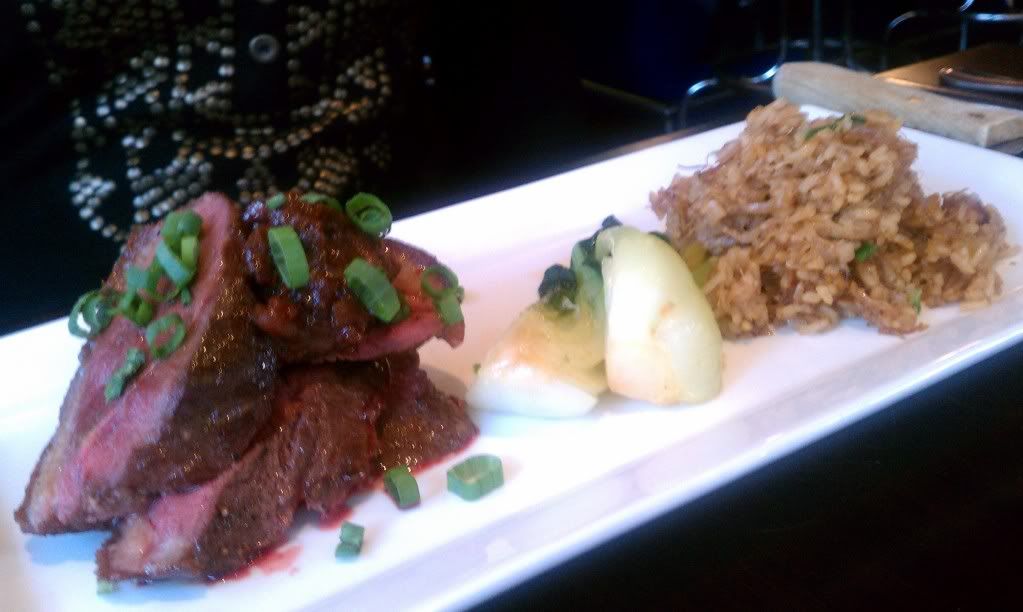 Xani ordered one of the house specialties, the
Coriander and Pepper Crusted Tuna
, with a ginger soy glaze, seaweed salad, and spicy tuna potstickers.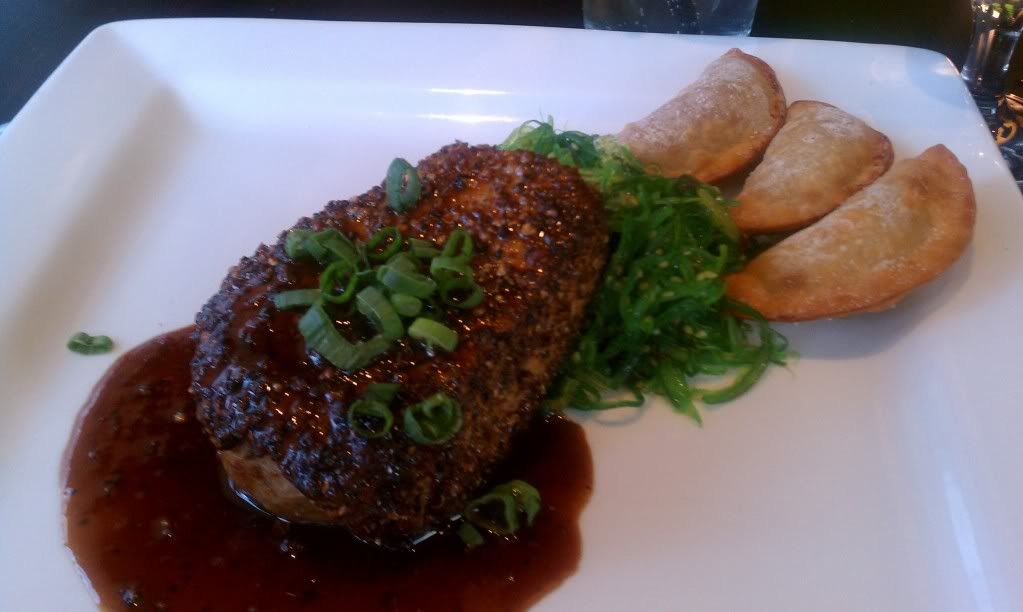 I ordered the
Pan-Seared Halibut Fillet
, with creamy quinoa, crispy sriracha rock shrimp, and grapefruit salsa.
Danielle reported loving her dish (and knowing she was going to be in trouble with her accupuncturist, who wanted her to avoid rich foods - joke's on you, accupuncturist!). Xani and I also really liked our fishes, and of course, swapped in the middle so we could try each other's.
The halibut was perfectly cooked and had a nice crust on the outside, plus I loved the grapefruit salsa, as I have recently started eating a grapefruit almost every day. But my favorite part of the meal was the spicy, blue cornmeal-crusted rock shrimp! I had to really restrain myself from popping them all into my mouth before the swap with Xani. She would not have been happy...
Xani's tuna was a generous portion, plus it was really flavorful and cooked to a nice rare center. The spicy tuna wontons were a nice play on the tuna theme as well.
Finally, it was time for dessert. We were full from so many wonderful dishes, but one of the dishes on the dessert menu was
lavender-honey donuts with coffee ice cream
. Coffee and donuts for dessert? A must-have for these girls.
The donuts were golf-ball sized, soft and doughy (in a good way) in the middle, crisp and hot on the outside, drizzled with one of the most flavorful honeys we've ever tasted. (And Xani doesn't even
like
honey.) And then there was the coffee ice cream. As an ice cream addict generally speaking, this was definitely up my alley. Strong and sweet and cold against the hot doughnuts, a perfect balance. At one point, I realized there was more ice cream hiding in the little vessel and I gasped, "You guys, there's MORE ICE CREAM!" Ahem, what a great first impression I make.
Chef Ambrose came out and greeted us, and we showered him with much-deserved praise. We had such a lovely meal and can't wait to get back, as there were lots of dishes on the menu we wanted to try (e.g., the
Tongue and Cheek Sandwich
, with braised beef cheeks, pickled lamb's tongue, and pot roast vegetable puree).
Thanks to Danielle and the Daily Record for taking note of our little dog-and-pony show. It's been almost four years since we started writing it and we're so glad to have a great hobby that we can do together, where we can talk about food all we want without getting weird looks from our friends....
OK folk, it's Xani here, I'm hijacking this lovely post from EP because, well, she's in PARIS enjoying her vacation. But, as promised, our article dropped today, and of course we want to share it with you all!
If you are a Daily Record subscriber, you can see the article
HERE
. If not, Danielle authorized us to share a portion of the article with our loyal readers. Enjoy!
Sister lawyers, foodies blog about cooking and dining in Baltimore
Posted: 6:00 pm Sun, April 3, 2011
By
Danielle Ulman
Daily Record Legal Affairs Writer
Sister lawyers and food bloggers Xani (left) and Erin Podolny dine recently at Salt in Butchers Hill, Baltimore.
An excerpt:
On an annual family trip to Detroit for Passover that spring, Xani, now 32, announced that she drinks her coffee black so she can have a doughnut, and the name and tagline for the blog were born. "Actually, I heard that there is a coffee-and-a-donut dessert here, which we're totally getting," says Erin, 28, a lawyer for the U.S. Department of Health and Human Services' Office of the General Counsel.
And they do indulge in the goat cheese doughnut holes drizzled with lavender honey — an item they say is "hot right now" — served with a tiny cup of rich coffee ice cream.
They declare it "delicious."
"That's one of the biggest challenges with blogging, is how many different ways can you say 'That was awesome'?" Xani says. "Or say 'That was the best "X" I ever had.'? You can't use that too often, because then people won't believe you."
Another stumbling block is making time to write thoughtful — and often silly or witty — blog posts about the food they're making or enjoying at restaurants.
"It's a challenge," says Xani, an associate director at the University of Maryland, Baltimore Center for Health and Homeland Security.
"The blog doesn't pay us any money, so it's hard to prioritize it over work or other commitments, and there's only so much time and energy and sometimes the blog kind of falls to the bottom of the list and then our friends are, like, nagging us, 'You never blog anymore.' 'Well, you never pay me to blog, so, sorry buddy,'" she says.
Unlike lots of other bloggers, the Podolny sisters have jobs unrelated to blogging. Erin also spends five nights a week swing dancing around Baltimore. If they never had anything to do but cook, eat and blog, the sisters say, they would do it all the time.
"I'm sure that's how it is with lots of people with hobbies — you know, sometimes you don't have time to build a ship in a bottle," Xani says, sending Erin into a fit of giggles.
Like that? Want more? Subscribe to the Daily Record or pick up a (GASP) paper copy of today's edition.
Thanks to Danielle for a great article and, as always, thanks to our friends, family, and readers for your support. Without our readers, we'd have no blog!