by EP & X
Recently, we had the opportunity to attempt some challenging baking techniques, and whaddya know? They turned out alright! I think it was the combination of luck, some skill, and way too much time watching cooking shows/reading food blogs.
Experiment One: The Cake
After
EP learned to make macarons in Paris
, we wanted to try our hand at them at home in the US of A. Unfortunately, the day we wanted to make them, it was really humid outside (not good for the delicate, high-maintenance macarons) and we had a few things come up so we didn't have hours and hours to spend.
So we were left with lots of egg whites and lots of egg yolks, which we had separated in preparation for the macarons. Xani did some research and decided we should make a cake. A fancy cake, with layers and filling and frosting! We ended up making a
yellow layer cake with a blood orange curd filling, a swiss meringue buttercream frosting, and candied lemon garnish
.
Xani made the curd in advance with all the egg yolks (the blood oranges were not very bloody, and the curd was supplemented with lemon juice, so I guess its more of a citrus curd). Then we got together and attempted the yellow cake recipe in that month's
Real Simple
. While the cakes baked, we tried our hand at the Swiss Meringue Buttercream (SMB) frosting. Xani found
this article
, which did an amazing job of explaining the three types of meringue buttercreams (French, Swiss, and Italian) and provided a step-by-step guide for how to make the SMB (also, we want to make EVERY cake on that website, especially
this one
). The SMB came out beautifully and it was delicious. Needless to say, we had our fair share of "tastes" -- you know, to make sure it wasn't poison.
Then it was time to assemble. We evened out the cakes as best as we could (harder than it looks, folks!), layered on the orange curd, topped the cake with the other half, and then started frosting (ditto!).
leveling
spreading
a bit lopsided, but still tasty
lotsa frosting! the parchment paper scraps are removed after frosting,
and with them, any frosting smears on your cake stand!
smooth
done!
We topped the cake with candied lemon peel (another recommendation from Real Simple), which made for a lovely presentation. The cake was so delicious - great rich cake, bright citrus-y filling, and thick creamy frosting. OMG good.
Lesson learned: something with that much butter in every component is better when it's served at room temperature!
Experiment Two: The Bagels
For Mother's Day, we rarely go out for brunch and usually make dinner or brunch at home (see our
very first blog post!
). This year, we attempted homemade bagels.
The recipe on Michael Ruhlman's blog
made it sound so easy, we had to give it a try!
We made the starter the night before, and then started the dough the next morning, a few hours before we were set to eat brunch. We mixed the dough and let it rest.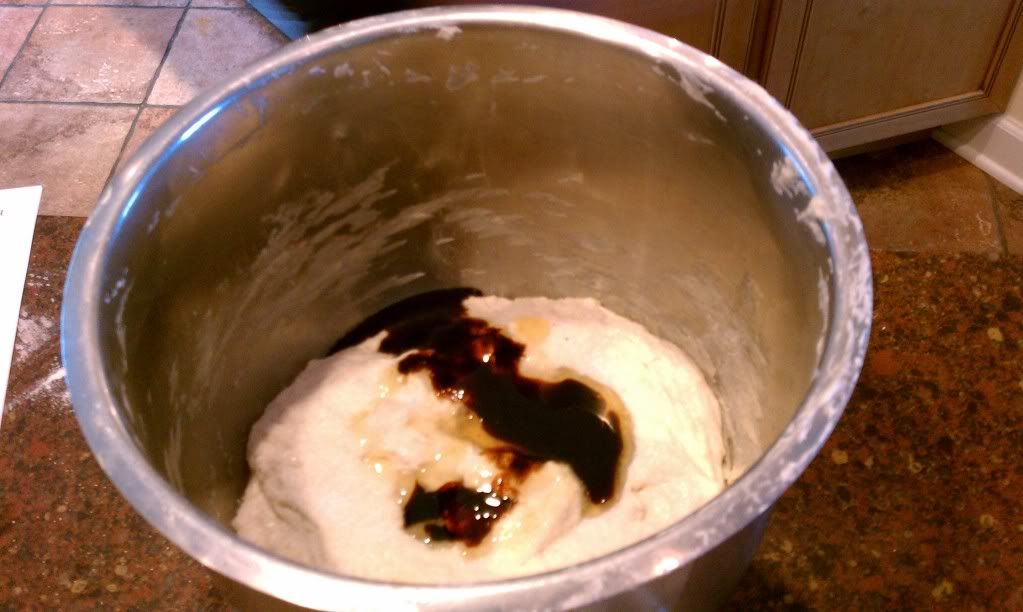 The starter plus molasses (instead of malt syrup)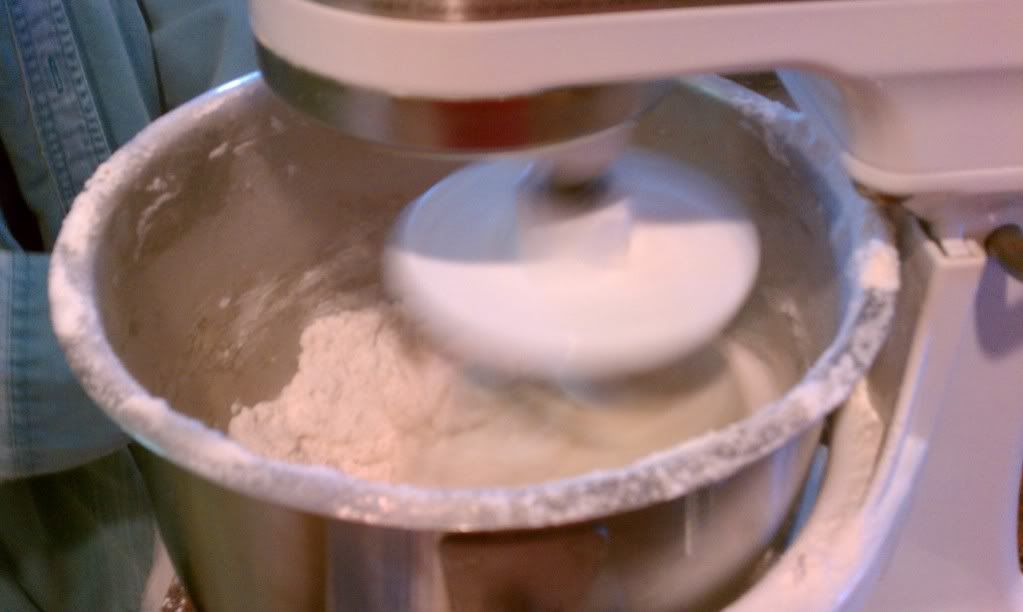 Flour mixed in and spilling everywhere, also, possibly killing the KitchenAid, which began to smoke with the effort of kneading the stiff dough.
Then we shaped the dough into 4 oz balls and let those rest. Man, these bagels are so lazy, always having to stop and rest.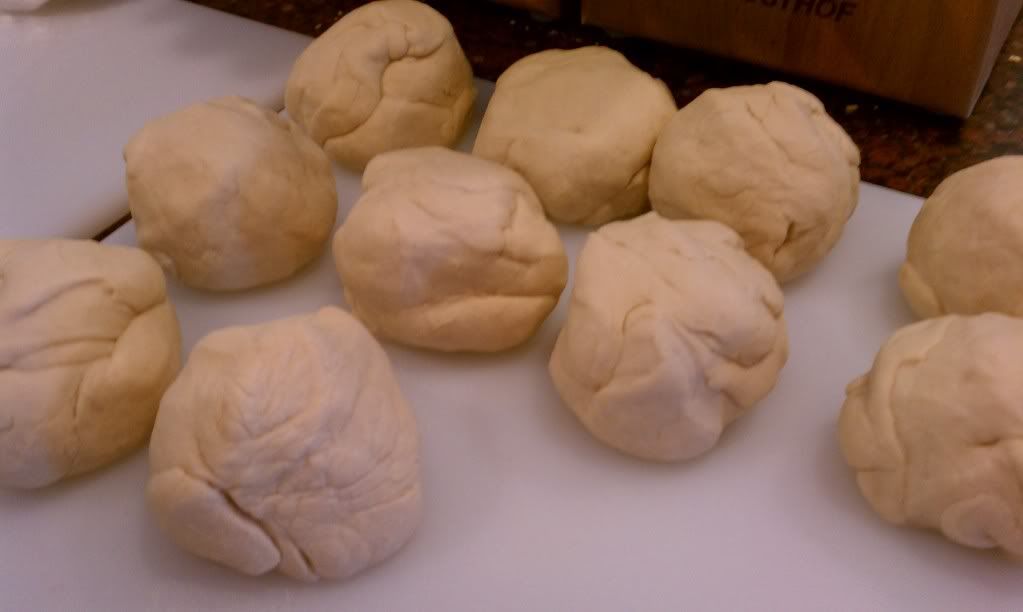 4 oz dough blobs, resting before the next phase
Then it was time to shape the bagels! We flattened out the balls of dough and then developed a "method" of getting the hole in the bagel...
Punch a hole with your thumb...
And TWIRL!!
Ready to rest and then be boiled
Then we boiled them in water (with baking soda)...
Everybody in the tub
And then we topped them with an egg wash and a topping (sesame, poppy, salt, everything), and baked them until golden brown.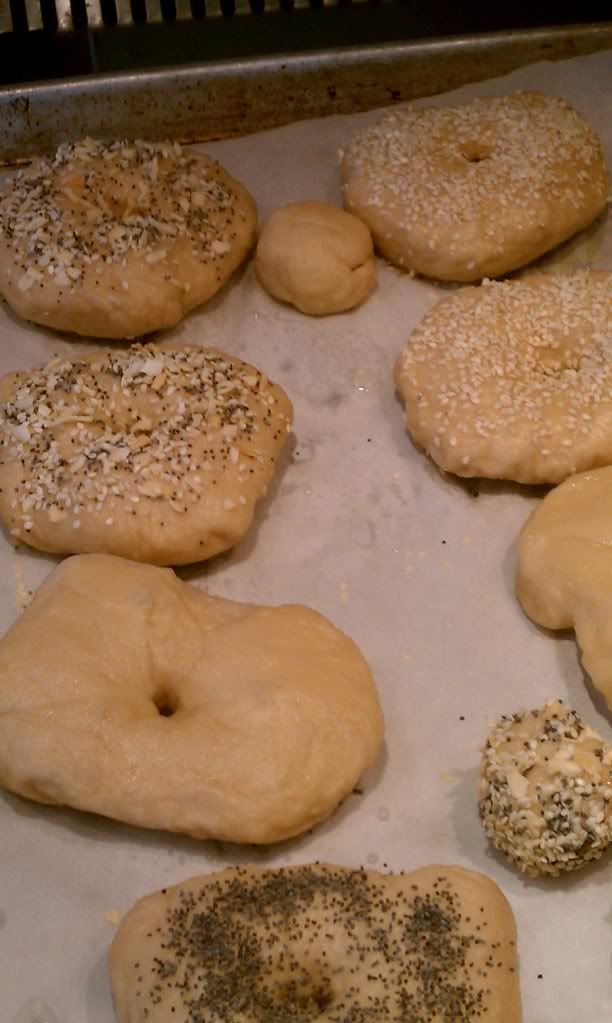 Post-boiling and topping, pre-baking
Finished product! Looks like a real bagel!
The result, after all that work? They were chewy and pretty good, but not the best. We realized at the end that we should have baked them longer -- we left the last batch in the oven for almost twice the time the recipe said, and those were the best ones. By then, we were basically done our brunch of bagels + lox + homemade scallion cream cheese. Lesson learned for next time! Or maybe we'll just pick up a dozen at H&H the next time we go up to NYC...
Happy baking,
EP & X