by EP
Pizza: possibly the world's most perfect food. Good for breakfast, lunch, and/or dinner. Be honest - you know cold pizza cures what ails you.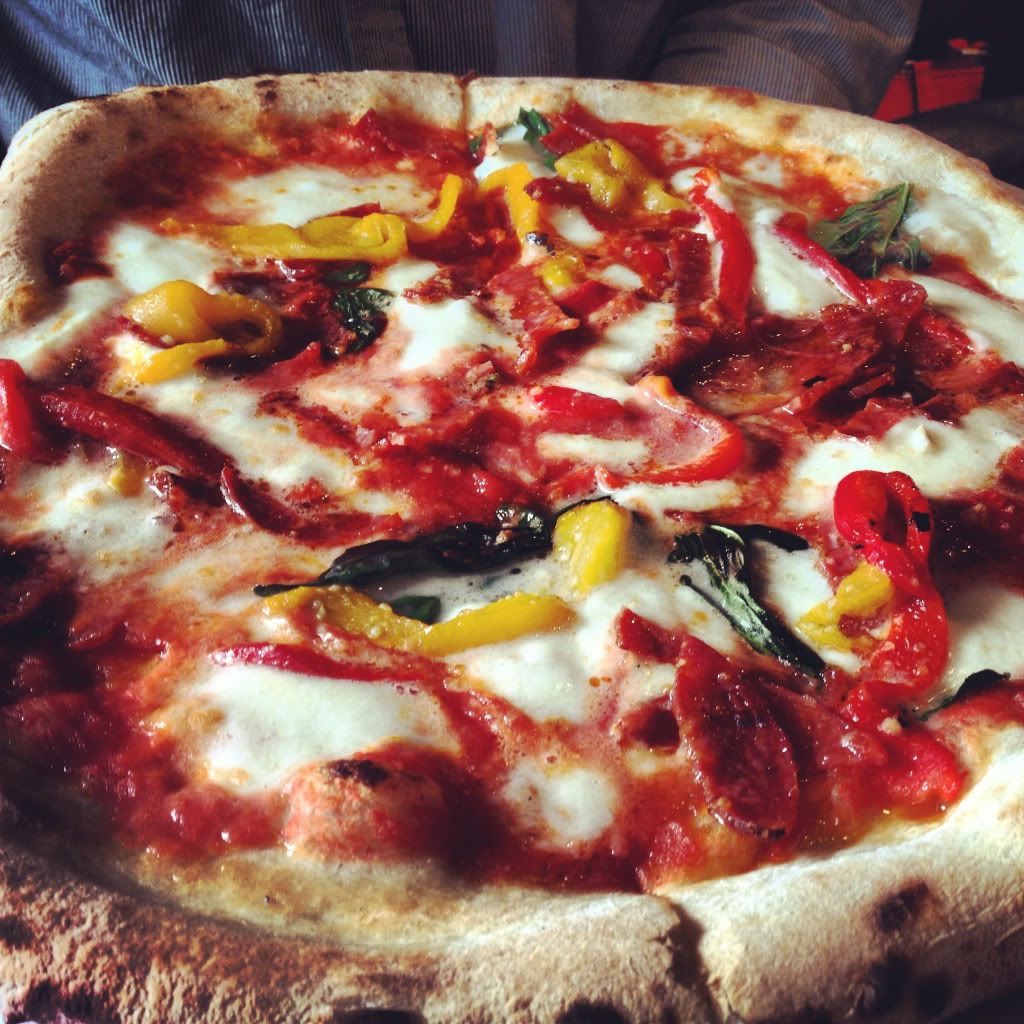 Pizza Pizza!
I've lived in DC for nine months now and I've spent that time on the hunt for good pizza. It's kind of a cliche amongst DC food-lovers that there's "no good pizza in this town," but I'm happy to report that I've found a few solid spots in my local travels. Below I've outlined both the hits and the misses, and like Xani did years ago with her
burger rating scale
, I've given the places below a rating from 1 to 10 slices, 10 being the best.
As for ground rules, in my opinion, a great pie has a thin, chewy crust [let's not even get started on Chicago-style deep dish, which I love but certainly am not finding, or even looking for, in our nation's capital]. This crust is paired up with fresh, flavorful toppings (no soggy crust please). I am a lover of both "regular" and white pizza, so tomato sauce is an important -- but not necessary -- component, in my opinion.
1. Graffiato - 10/10 slices!
I've blogged about Graffiato before
, where we had a lovely meal shortly after I arrived in DC. More recently, I met up with a law school buddy for a weeknight meal (turns out Graffiato is a dangerously close 10 min walk from my office). Among other dishes, we ordered the "White House," featuring mozzarella, taleggio, ricotta, prosciutto, and black pepper honey.
This pizza was, in a word: magnificent. I had had so many mediocre slices in my travels (see below) that I was truly surprised at how good it was. The crust was chewy, slightly charred, and held up against the multiple cheeses and toppings. The prosciutto was slightly crisp and greasy (in a good way) from its time in the oven. The combination of the salty cheese and meat and the black pepper honey was killer. I could not stop eating this pizza.
I'm curious to try the other pies on the menu, but this one was so good, I'm not sure I can help but order it again. Bonus points for great cocktails, yummy small plates, and attentive but not annoying service.
2. Menomale - 9/10 slices!
I had the pleasure of dining at Menomale with dear friends Veronica and Josh. They met the owners at another food-related event, shortly before the restaurant opened, and have been loyal patrons since. They invited me to join them a few weeks ago for a Sunday night pizza dinner.
Love these guys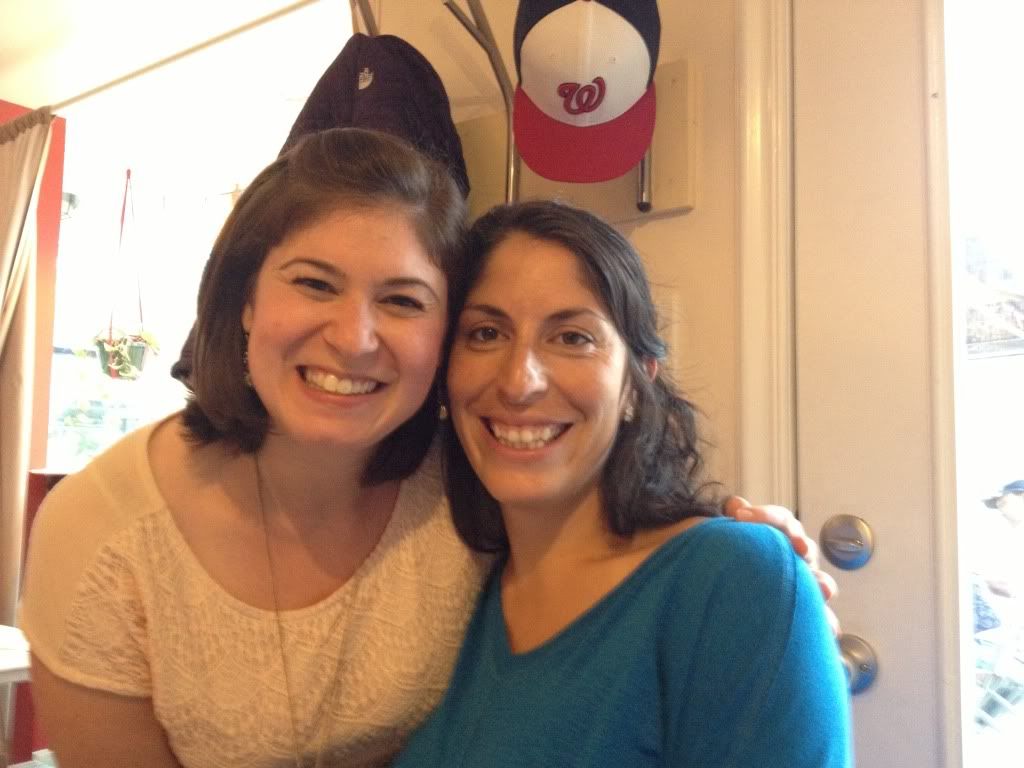 We ordered three pies: Quattro Formaggi, Diavola, and Brooklandissimo. All three had what I was looking for: thin, crispy-chewy crust, fresh ingredients, and lots of flavor.
Brooklandissima
: Roasted zucchini, roasted eggplant, roasted peppers, artichokes, gorgonzola, fior di latte mozzarella, garlic, basil.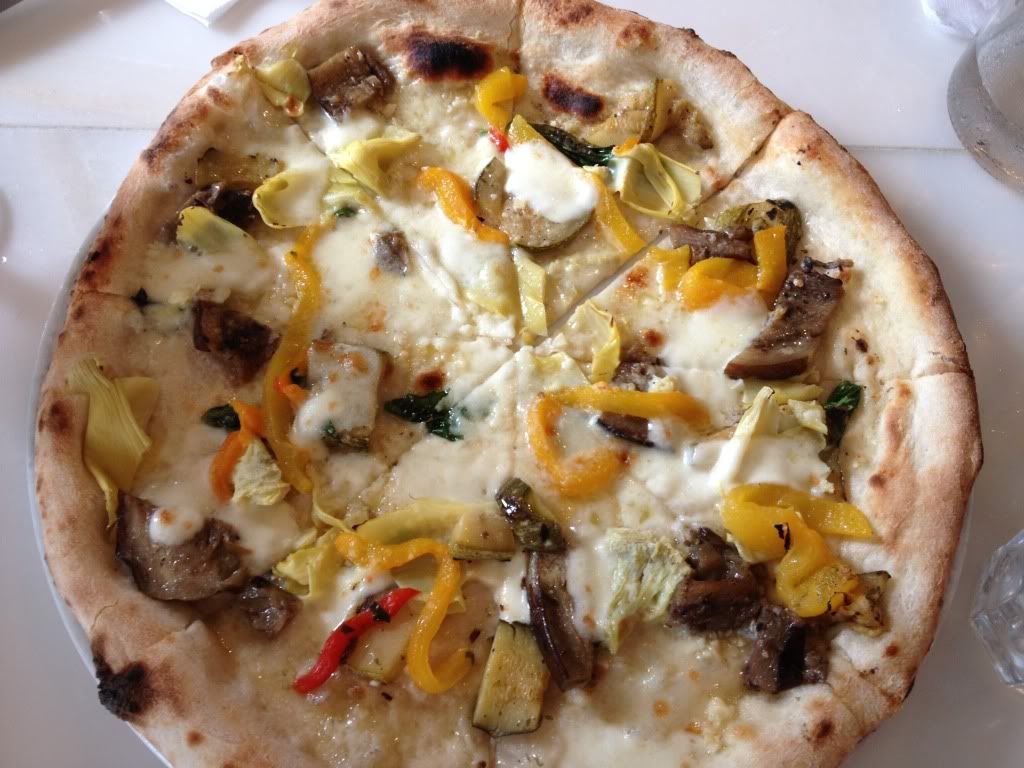 Quattro Formaggi
: DOP San Marzano tomatoes, Fior di latte mozzarella, goat cheese, parmigiano, gorgonzola, fresh basil, evo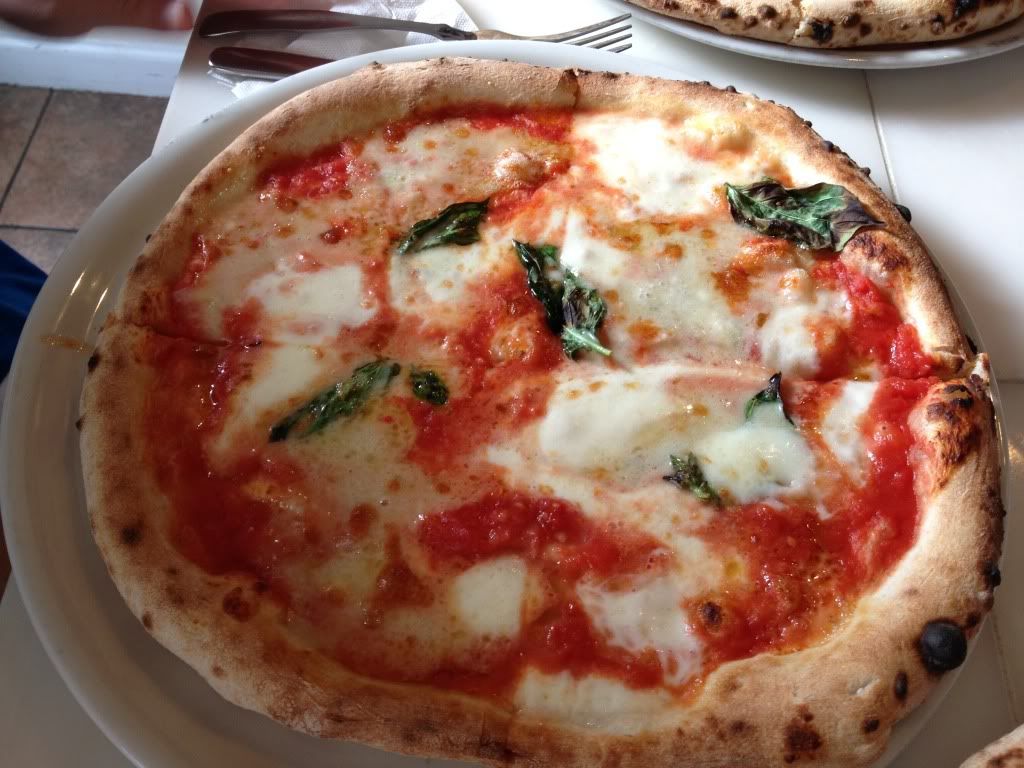 Diavola
: DOP San Marzano tomatoes, Fior di latte mozzarella, mozzarella di bufala, basil, spicy salami, red peppers, crushed red pepper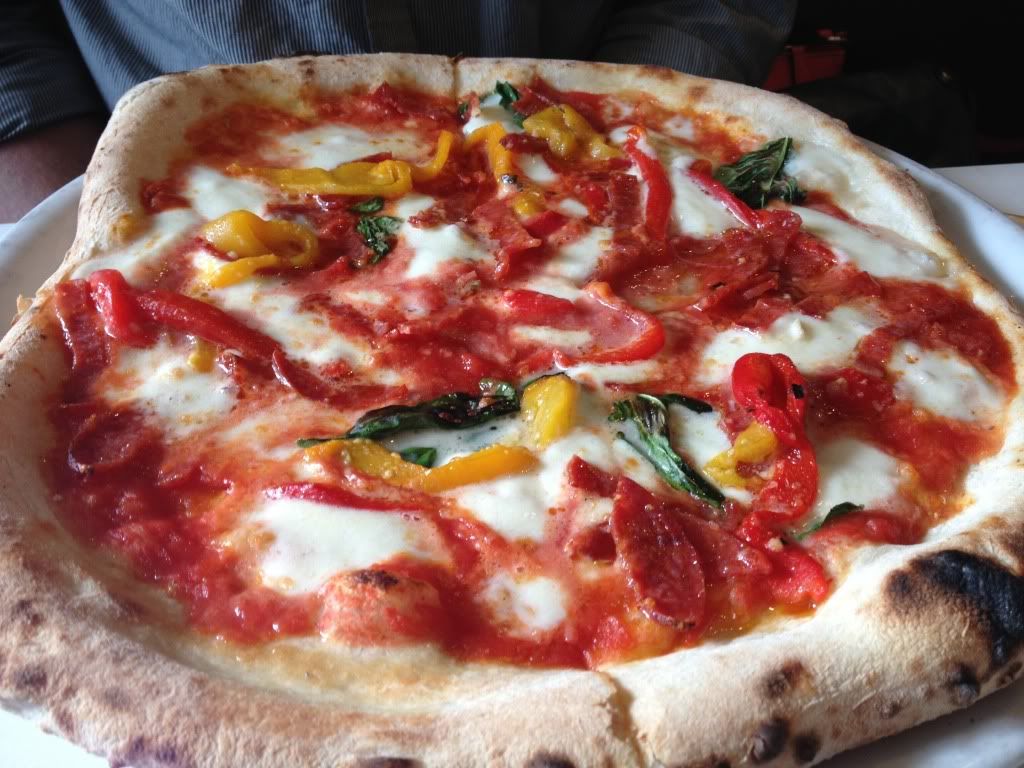 All of these were excellent but my favorite was the Diavola - spicy, porky, cheesy, irresistible.
Points for interesting cocktails, cute decor, and a menu/website with proper Italiano. Points deducted for mixed service (some good, some bad), and a cocktail that was too weird to the point of not being tasty.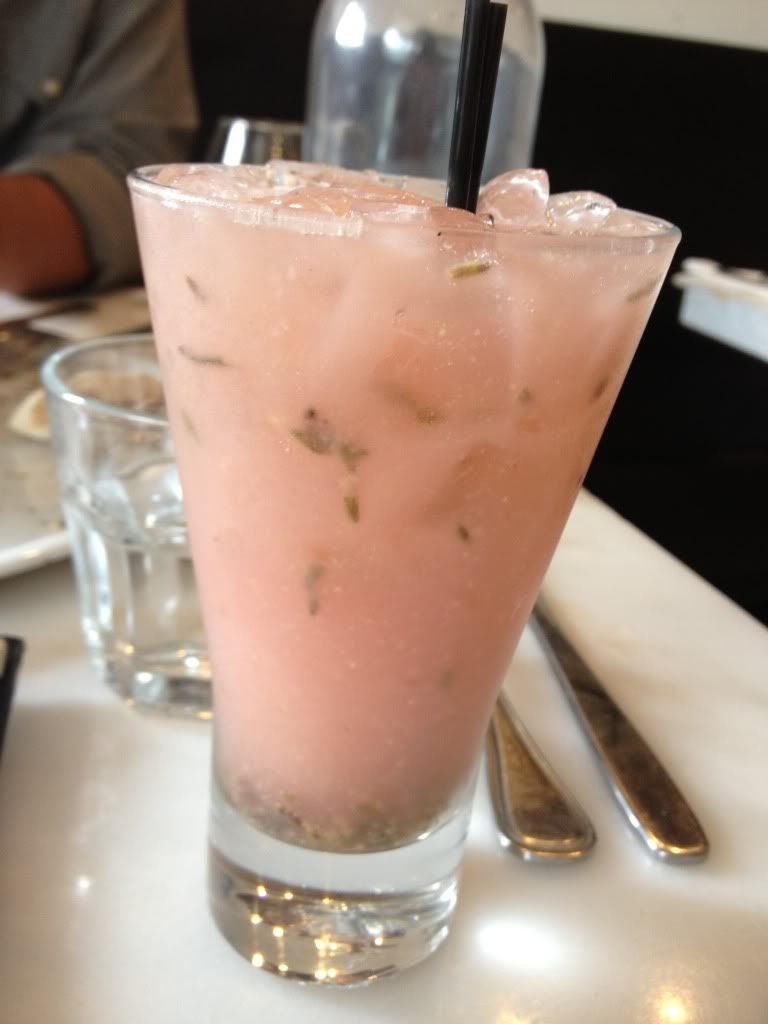 Tasted like mustard. Seriously.
3. Red Rocks - 6/10 slices
I've found myself spending lots of time in Columbia Heights, and really enjoying it. Several good friends live in the neighborhood, it's near where I go swing dancing each week, and there are some great places to eat and drink. One night, when BFF Rachel was visiting from California, she and I had dinner at Red Rocks. I had had my eye on Red Rocks since it has a lovely outdoor patio overlooking a busy intersection of the neighborhood.
We ordered the
Funghi
(fontina, fresh garlic, crimini mushrooms, caramelized onions, parsley) and the
Red Rocks Sausage
(tomato sauce, sausage, fontal cheese, sweet and hot peppers, parsley).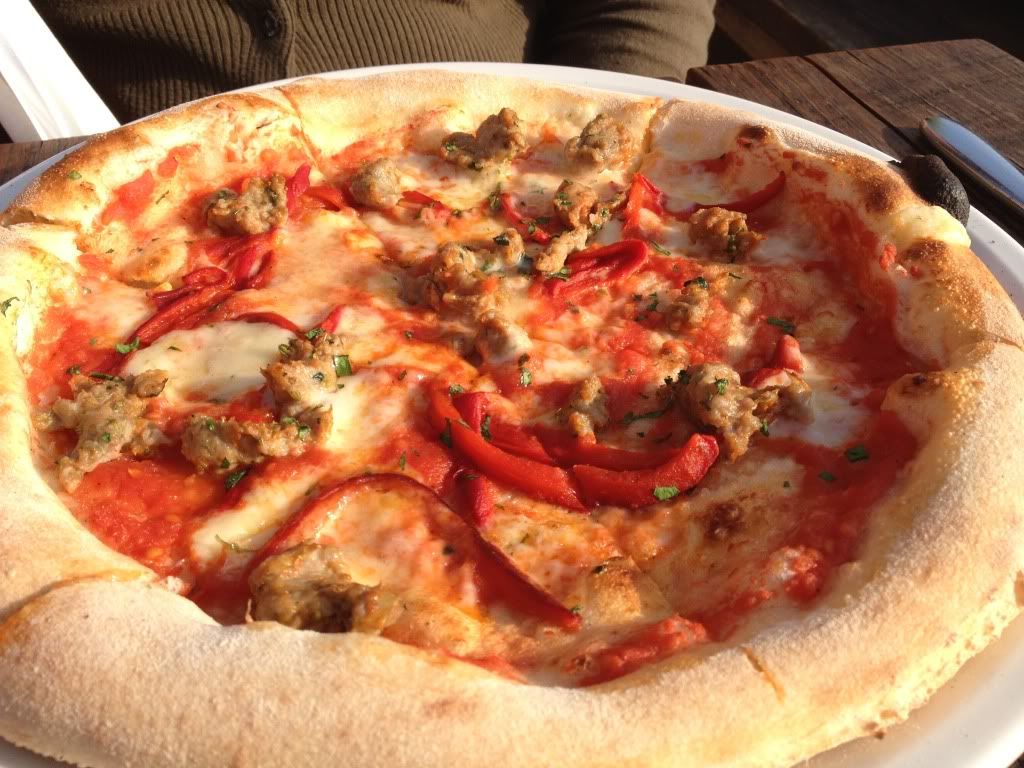 Both were good, the Funghi slightly better. These pizzas were better than average but not anything to call home about. One thing that
was
worth calling home about, however, was their bruschetta. Cleverly, the crostini were spread with goat cheese, and then the tomato topping. This not only added a layer of deliciousness from the creamy, tangy goat cheese, but it also provided a barrier between bread and tomato, preventing sogginess. Smart and tasty!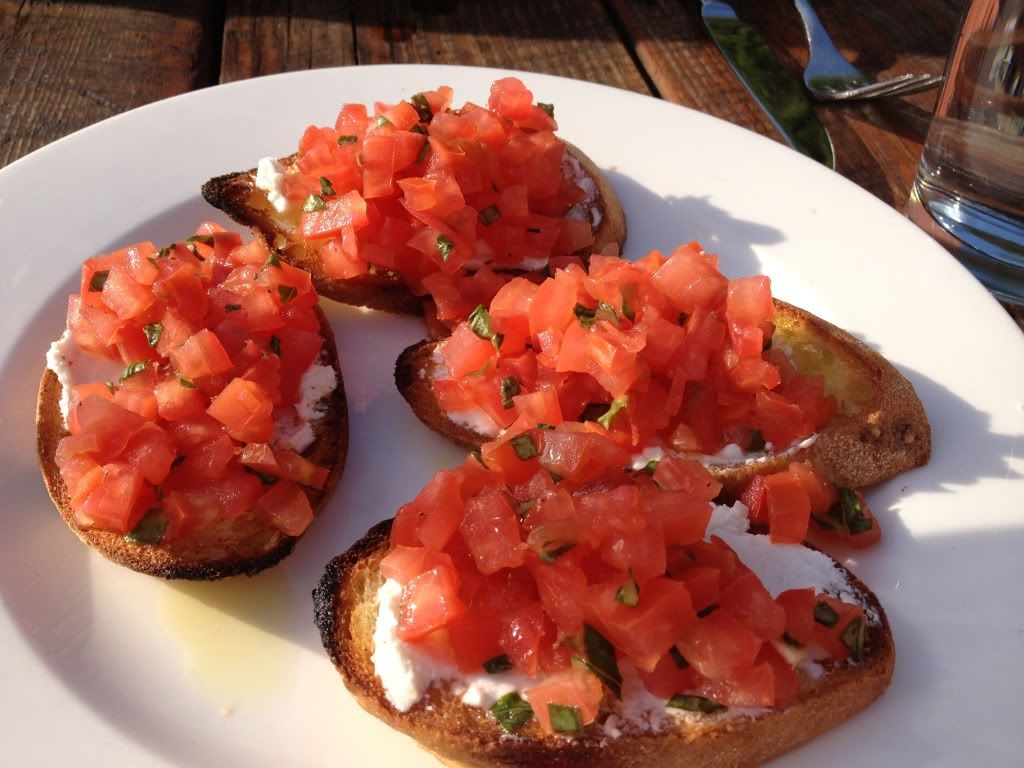 Welcome back to DC, Rach!
On the other hand, points deducted because their outdoor patio, seemingly a signature feature of the restaurant, requires climbing several half-flights of stairs and is therefore not handicap-accessible. Poor form.
4. Volt Range - 7/10 slices
I recently went to Volt Range, Chef Brian Voltaggio's newest spot, located in Friendship Heights. We ordered many different dishes and had quite an experience (including the fact that the First Lady was dining there when we were there!!), but that's for another post. Let's talk about the pizza.
We ordered the pizza featuring "salumeria, preserved tomatoes, buratta." A salumeria is a shop that sells sausage, cured meats, etc., so when I saw this as a pizza topping, I wasn't sure what to expect. What arrived at the table was a pizza topped with so many kinds of pork, prepared in all different ways, it was pretty much a salumeria on top of dough!
The pizza was very flavorful from the fresh buratta cheese, tomatoes, and all that porky goodness: chunks of roasted pork, different kinds of cured meats like soppressatta, and fresh sausage. Flavor explosion. BUT, the crust was Sog City from all those toppings. The outer crust was fine but the soggy middle was disappointing. I understand it is a delicate balance to make the crust thin enough to be Neopolitan-style, but thick enough to hold up to the toppings - that is what makes a great pizza, and a great pizza master.
5. Pacci's - 7/10 slices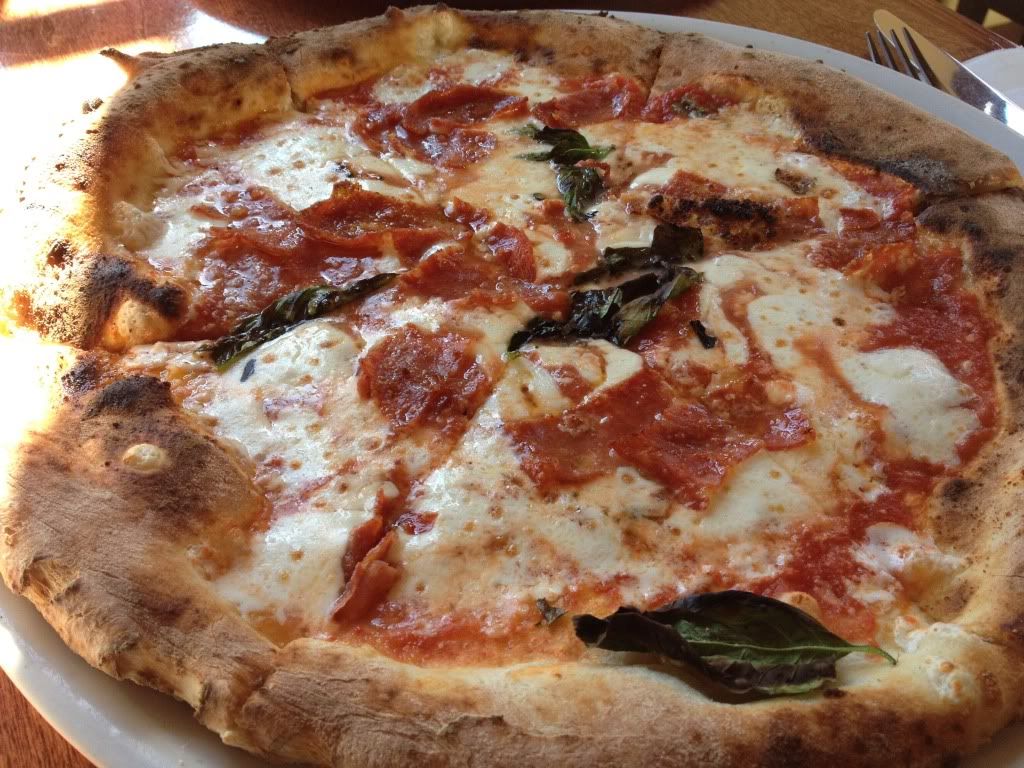 La Diavola at Pacci's
Pacci's is my local Neopolitan-style pizza shop, located just a few blocks from my apartment. It's a cute place, with nice waiters who let me sit for too long chatting with my dinner companions. The pizza is okay, not life-changing. The flavors of the toppings are nice but the dough is a little...floppy. But, I learned a way to improve this situation via a tip from my good friend Jamie: if you tell them to make the dough "crispy," they leave the pizza in the oven a little longer, and it's a much better pie.
Al Tartufo at Pacci's
Bonus points for their awesome calzones, which I think are actually better than the pizza. Perfectly cooked dough, good toppings, and nice marinara for dipping. Also, they are gigantic so you may get more than one meal out of them.
6. We, The Pizza - 3/10 slices
I was excited to check out Spike Mendelssohn's pizza joint, We, The Pizza, down on Capitol Hill. You know I love a clever name. I am sorry to say our experience was totally disappointing. My friend and I ordered a pepperoni pizza - I wanted to try a classic. We went upstairs, sipped on ginger sodas, and caught up (he had just gotten back from a stint in the Peace Corps).
Time passed...about 45 min, in fact. My buddy went to check on the pizza and found out that a large group of kids (on a field trip, if I recall) had ordered a bunch of pizzas and ours got caught up in the mix. An understandable mix-up but, come on.
Once the pizza finally arrived, it was hot and lookin' good. Unfortunately, that's where the good news stopped - the pizza was so salty, I could barely eat it. I am a lover of salt but this was just too much. Maybe it was a fluke but that combined with the fluke in our order/wait time made it a thumbs down experience.
7. Comet Ping Pong - 3/10 slices
Perhaps my opinion is tainted by the fact that I was on a terrible date, slogging along through forced conversation, but I did not like the pizza at Comet. The crust was so thin and crisp that knives could not cut through it, and my teeth were barely better. As I was on a date, I wanted to use a knife and fork to appear more lady-like (emphasis on
appear
), but it was near-impossible to cut.
We got two pies, including the "Yalie" - fresh clams, garlic, melted onions, thyme, parmesan, lemon. I recall it had some nice flavor but it was no
clam pizza from Franny's in Brooklyn
, which I still remember so fondly, all these years later.
The other pizza I've forgotten. I must have blocked it out along with the rest of the evening.
More points off since the parking SUCKED. But I remember the service being nice and a good selection of interesting beers.
8. Ledo Pizza
There is a Ledo Pizza 1 mile from my home, on Georgia Avenue. I have blogged about my love of Ledos before:
here
, in our Guide to Baltimore Eats, and
here
where I had pizza twice on New Years Day 2010 - a high point of the year, to be sure. I haven't been to the one near me since I moved to town, as I feel compelled to try other pizza places (among other culinary explorations). But someday I will. And its rating will surely be 10 slices (squared)!
So which places am I missing? Which places should I give a second chance?
Pepperoni wishes and mozzarella dreams,
EP