by EP
Last week, to welcome me to DC, my wonderful friends Mark and Craig (you might remember them from
the amazing trip to Chicago last winter
to celebrate Craig's birthday) took me out to dinner. We went to a restaurant I'd be hearing about through the DC bloggers for years it seems:
Graffiato
. Graffiato is owned by Mike Isabella, of Top Chef fame, and I had heard absolutely wonderful things about it and was pumped to finally go for myself.
I met Mark, Craig, and Craig's aunt Jeannie in the bar area while we waited for a table. Of course, we enjoyed some bubbly while we waited - what kind of fool waits without a cocktail in hand?! After a brief wait, the hostess lead us to our table (and even took our drinks for us so we wouldn't spill as we walked up the kinda-steep staircase).
Our waiter was adorable and wonderful, and he had been Mark and Craig's waiter before in the past -- he even remembered that Mark had a nut allergy! He was friendly enough to the ladies at the table, but truth be told his energy and enthusiasm were geared towards the gentlemen. This is when we realized he was very likely gay and was totally flirting with Mark. No matter, we used it to our advantage and had a great time and great service.
Mark and Jeannie, ready to eat!
Anyway, onto the food and the drinks:
Drinks
: Arguably the best "bite" of the night were our cocktails. I had a "D.C. Mule," a play on a Moscow Mule featuring highwest vodka, grapefruit juice, and their amazing 5 Spice Ginger Beer. Craig got "The Waterfront," a play on a Dark & Stormy, featuring coriander-infused rum, mango, and the same ginger beer.
D.C. Mule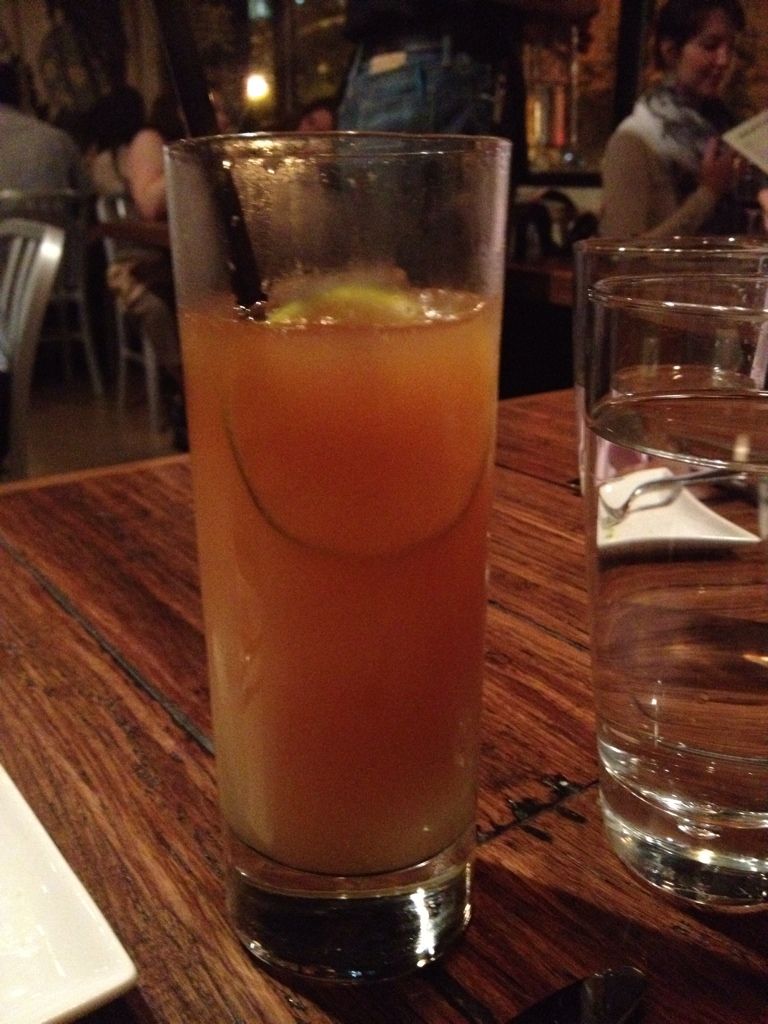 The Waterfront
These cocktails were so delicious and had it not been a work night, I would have had
several.
The ginger beer made both of them - hands down the best ginger beer I've ever had. Those spices were perfectly present but not too strong, and totally worked with the other ingredients in both cocktails. Bravo, Mr. Mixologist.
Mark enjoyed some wine (recommended by our extra-friendly waiter) and liked it so much our waiter brought the bottle so Mark could write down the name -- er, take a picture of it.
Food:
The food at Graffiato is Italian/Mediterranean-inspired. Everything's familiar but it's got a nice little twist to it. It's also served as small plates, which I liked because it gave us an opportunity to try LOTS of stuff. Let's get started:
We started with the
Flatbread & Pepperoni Sauce
, made famous by Mike on the Top Chef All-Starts finale. It was basically like a tomato sauce, in which you dipped the bread, that tasted heavily of pepperoni. No complaints here, pepperoni is obviously delicious and I have fond childhood memories of noshing on wheels of it while cooking with the family.
Then we had the
Broccolini
, with
spicy pepper relish, walnut, and feta. This was pretty underwhelming. The dish was served cold (not sure if that was intentional; if nothing else it was not expected) and we had the relish on the side because it had walnuts in it and as you now know, Mark has an allergy. So, perhaps it would have been better all put together.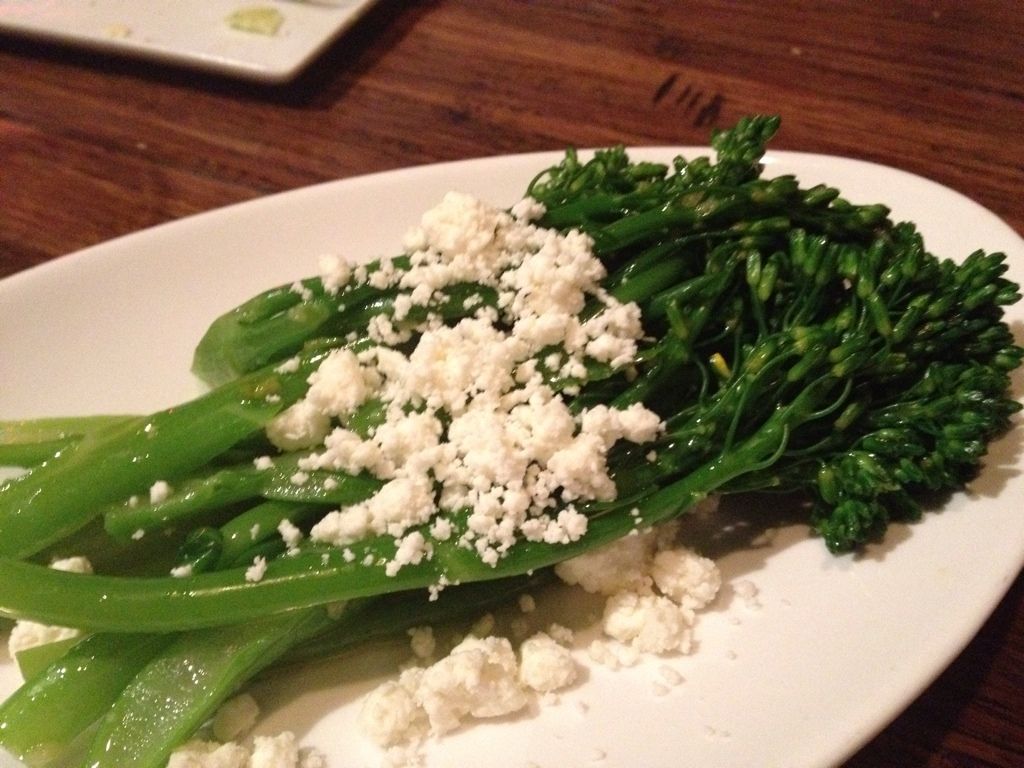 No fear,
the Baby Beets
with house ricotta and orange was quite lovely, especially the ricotta. Homemade ricotta is so hot right now.
Also great was the
Caesar
salad, studded with bits of white anchovy and cream cheese croutons. Yes, bits of fried up cream cheese, which took the place of both bread croutons and the parmesan cheese. Delightful!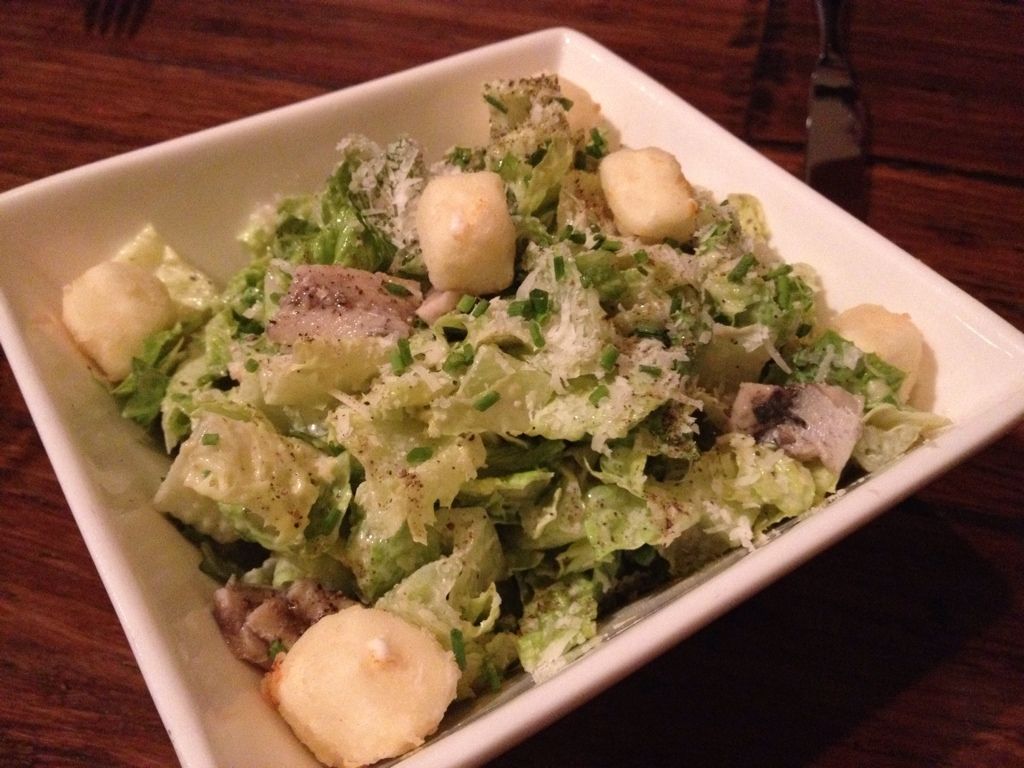 One of the best dishes we got was the
Charred Octopus
with potato, black garlic, olives. This dish really freaked out Craig's aunt but that meant more for us! We dove in. Unlike other octopus I've had, this was not chewy at all - it was meaty and tender, and the charred flavor was great. It was served atop mashed potatoes dyed black with squid ink - a sformato, I think? I didn't get the proper name of the Italian mashed potato dish but it was awesome. (Also, foods dyed with squid ink is SO Halloween - must try to incorporate that this year!)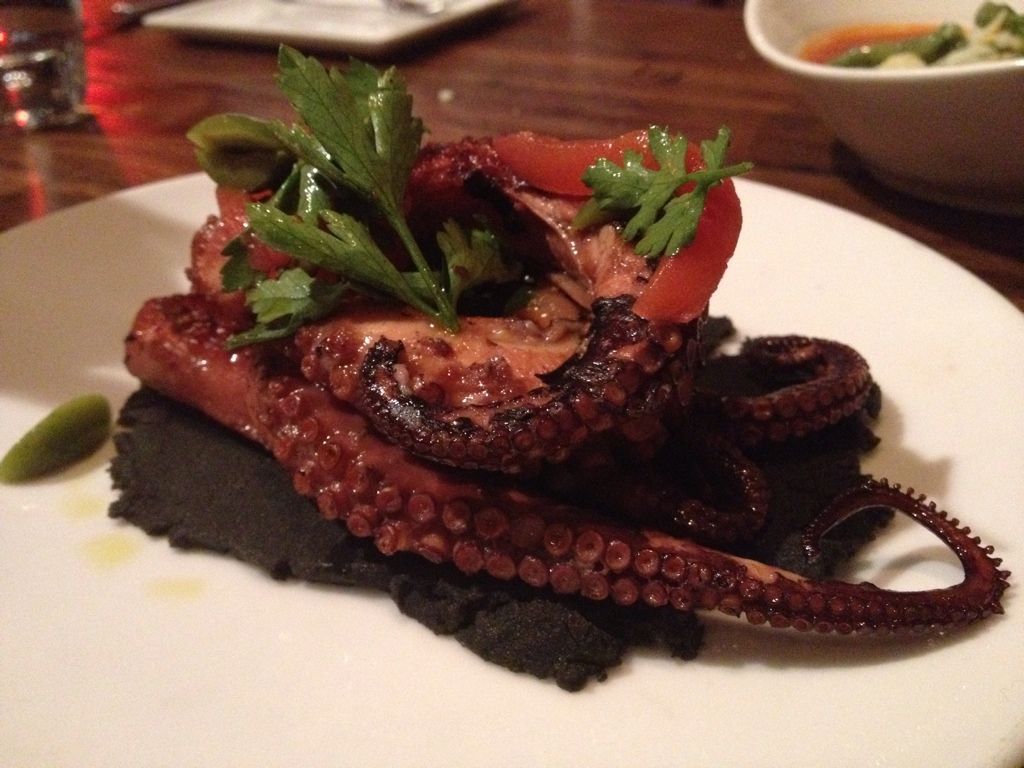 The star of the show!
Then we enjoyed some pasta dishes. First we had the
Hand Cut Spaghetti,
with olive oil poached cherry tomatoes and thai basil. Very nice, simple dish, al dente pasta, and the little tomatoes popped in your mouth.
The
Arugula Cavatelli
with crab, tomato, and chili, however, was another story. It was more than al dente - it was undercooked. I'm not sure if it's accurate/proper to say I like "really" al dente pasta (like saying someone is "really" pregnant - they are or they aren't!), but I do, and even this was too much for me. We probably should have told our waiter but we were enjoying the other dishes on the table so we didn't want to make a fuss about it.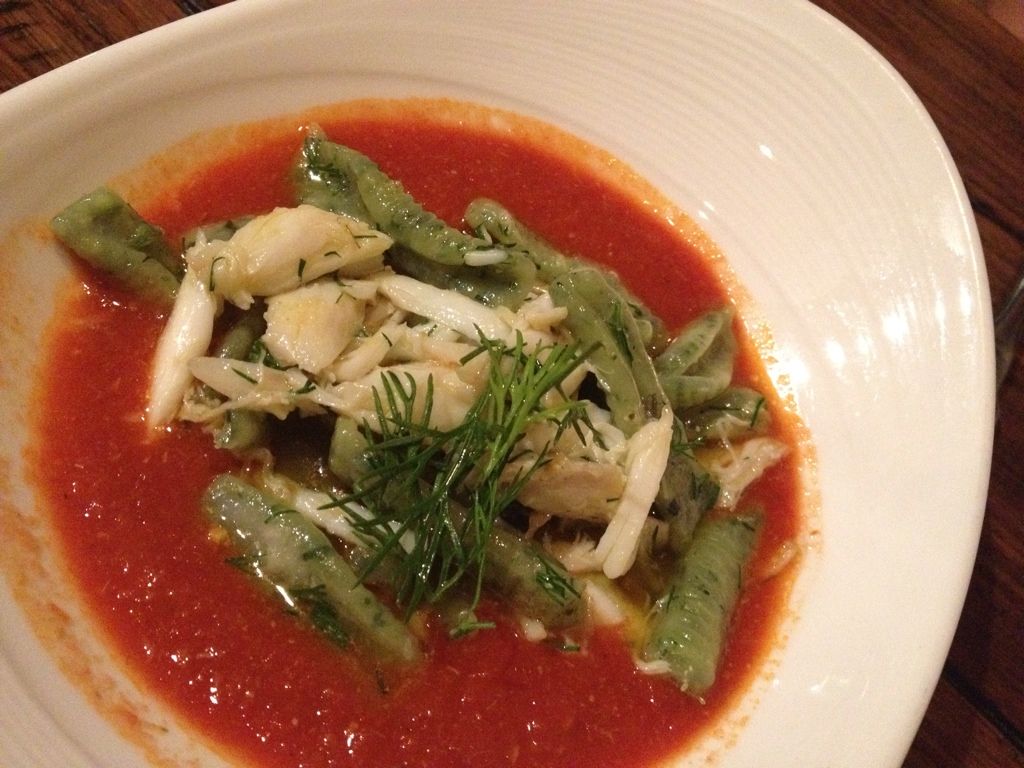 Finally, we got to the protein of the evening. We enjoyed a
Roasted Chicken Breast
with fennel, apple mostarda, and sweet potato. The chicken was nicely cooked with crispy skin, and the apple and sweet potato tasted like fall.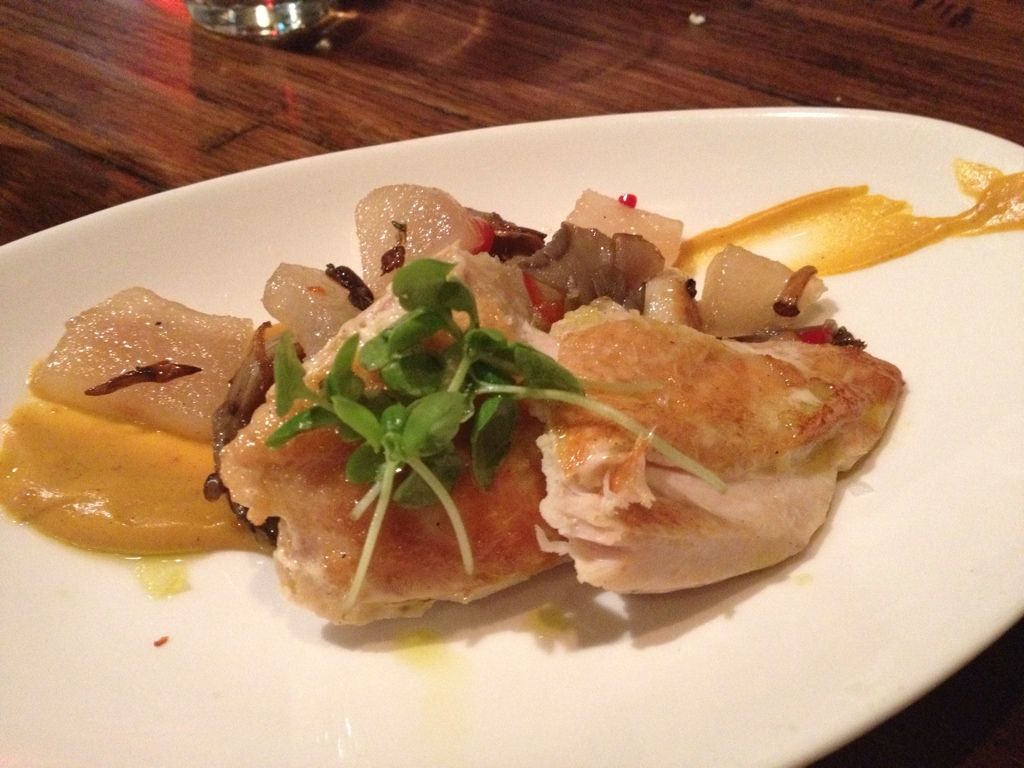 Then we had the
Crispy Lamb
with yogurt, cucumber, and tapenade. This was the best meat dish of the night, in my opinion. The lamb was tender and crispy, well-seasoned and savory, and the mint and yogurt went so well with it. I wished we'd gotten another one!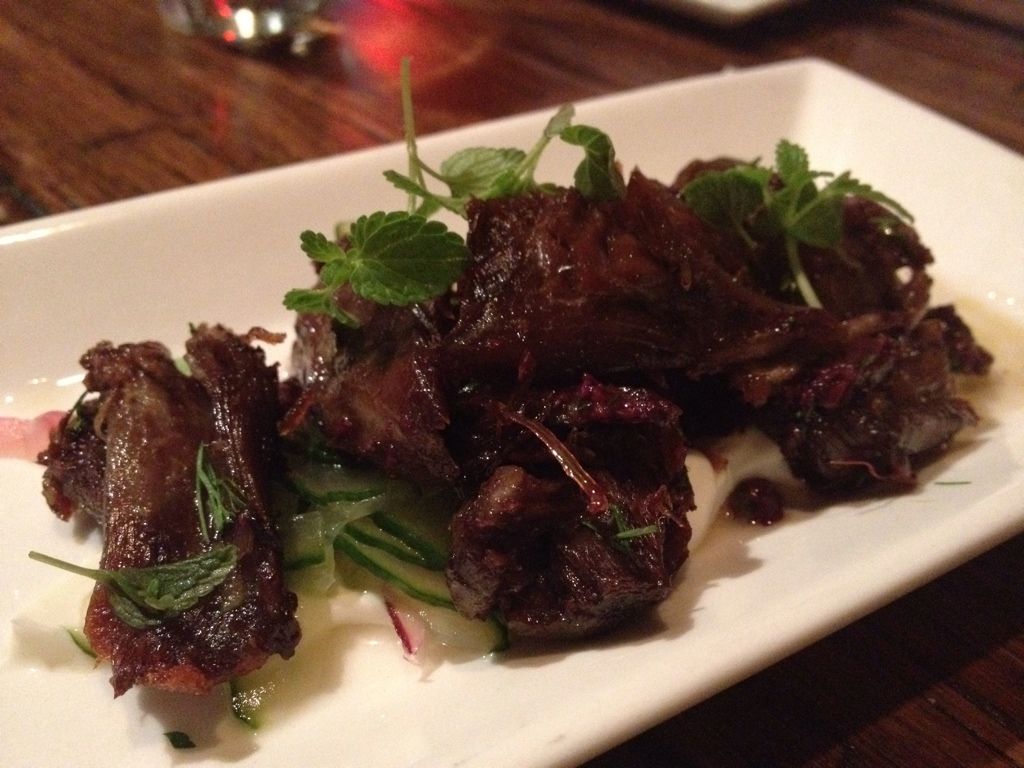 Finally we enjoyed the
Pork Ribs
with fennel and apple mostarda. These were really different - they had a lot of spices rubbed into them (coriander and fennel if I remember correctly) and were nicely cooked. A little hard to eat without using your hands!
Then it was time for dessert! And although it sounds like we had a lot of food, we all were not too full and ready to try some sweet treats. We ended up getting the
Warm Chocolate Cake
with fudge and salted caramel gelato, and an assortment of two gelati: dark chocolate and mint stracciatella (meaning with a crackly chocolate swirl throughout).
The cake was very moist and rich, and the combination of the cake with the fudge, the salted caramel, AND the salted caramel gelato was heaven in a bite. In all honesty, though, I could have done without the cake and just had the ice cream and toppings! But that's just me, an admitted ice cream addict.
The other gelati were good - the dark chocolate was SO dark and not too sweet. I think Xani would have really liked it. The mint stracciatella was a miss, unfortunately - too icy, not creamy enough.
It was overall a lovely meal and such a warm welcome to DC! I would definitely go back and try the pizza, and get more cocktails. The chef also has a Mexican restaurant in Georgetown [I'm new here, is it cool to go to Georgetown these days?] that looks awesome, and I hope to get there soon.
Thanks again Mark and Craig!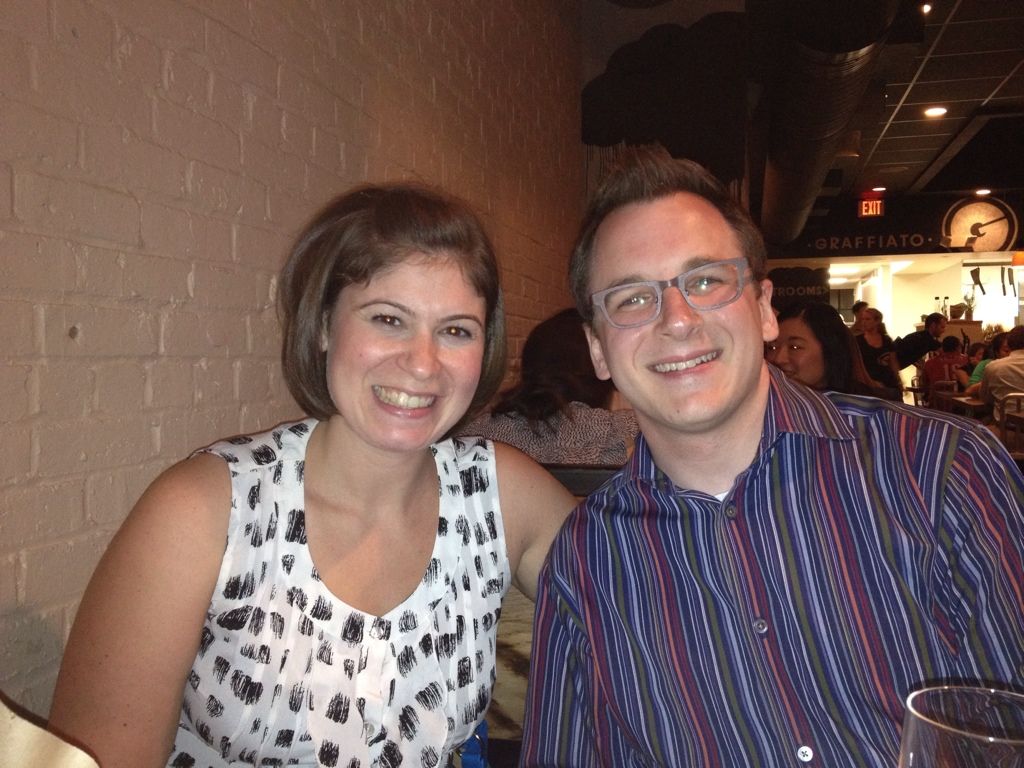 Sending you charred octopus wishes and ginger beer dreams -
EP