by EP
My new apartment in Silver Spring has a balcony that faces east. I can watch the sun rise, I can watch traffic on Georgia Avenue and the metro ride past, and in the immediate foreground, there are two buildings: a Vietnamese restaurant and a building with a pink heart-shaped sign that says "Jackie's." When my parents came to visit two days after I moved in, my Dad asked me what Jackie's was and since I had no clue, I gave him my best guess: strip club. The outside of the building is dark and decrepit, the sign is sickly sweet with a green background, pink puffy writing, and multi-colored hearts, and it's named Jackie's - what more evidence need I present?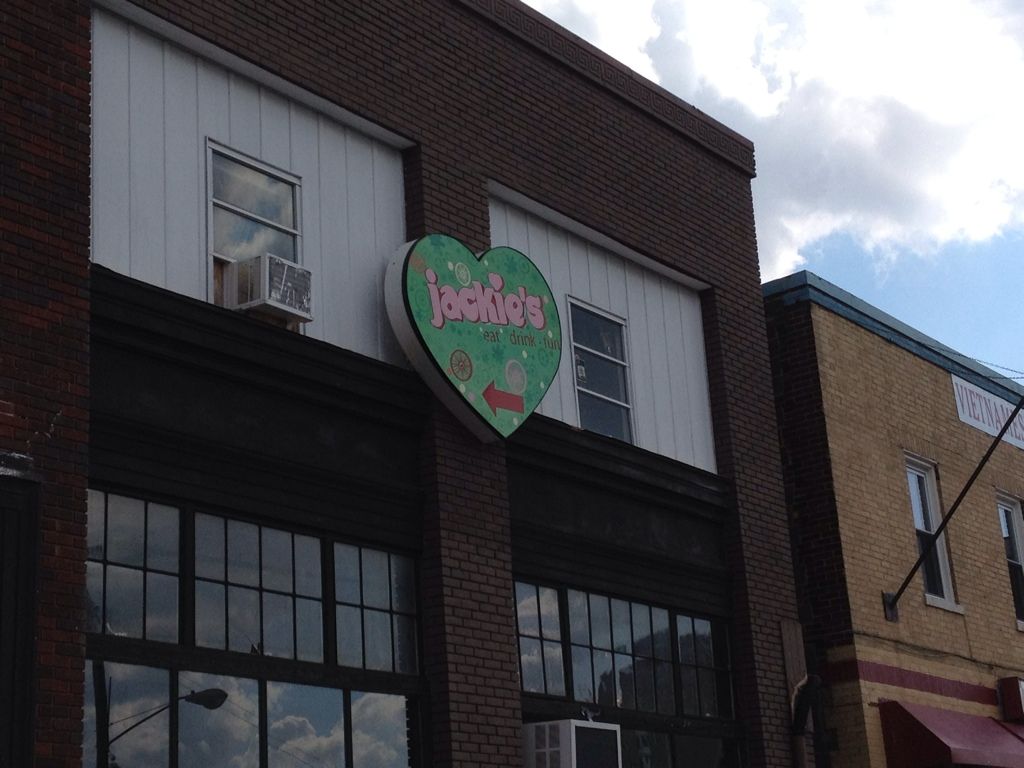 A few days later, my friend Jamie mentioned a place called
Jackie's
in Silver Spring as a great restaurant not to miss. Hmmm, could this be the strip club across the street? Apparently, yes. Last weekend, my friend Marissa and I checked out the bar next door to Jackie's (and owned by the same people) called
Sidebar
.
The menu at Sidebar boasts fancy cocktails with obscure/retro ingredients (including egg whites!), and Marissa and I happily indulged. The drinks were lovely and interesting (though I couldn't tell you what we ordered), but the service was rather slow/unfriendly, and that was
before
40+ people from a wedding (including the bride, still in her dress) strolled in. I think I'll check it out again on a weeknight when there's less hub-bub about.
Today I had the chance to try the real Jackie's - the restaurant (not the bar...or the strip club). My friend Carol came up to Silver Spring to see my new apartment and have a meal together. I had read through the Jackie's menu online and thought brunch would be a good opportunity to check it out in the light of day.
We strolled across Georgia Ave and confusedly tried to find the entrance to Jackie's. Even up close, this place looks shady from the outside. But around the corner (past the Sidebar entrance), you'll find the double doors wide open, music playing (Aretha!), and a warm welcome from the host. The decor is...unique. It's a combination of industrial lights, exposed brick, cement floors + bubble gum pink chairs, fluffy multi-colored pillows, and sparkly chandeliers. It's a sunny, lively space and we were excited to enjoy some brunch treats.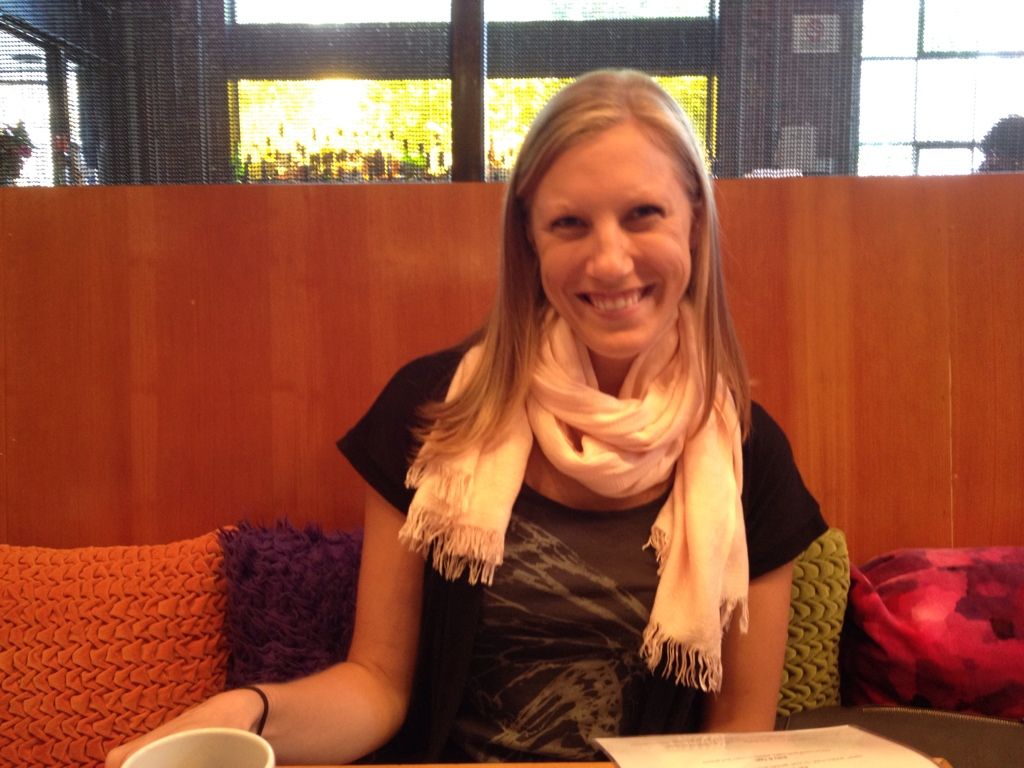 My lovely dining companion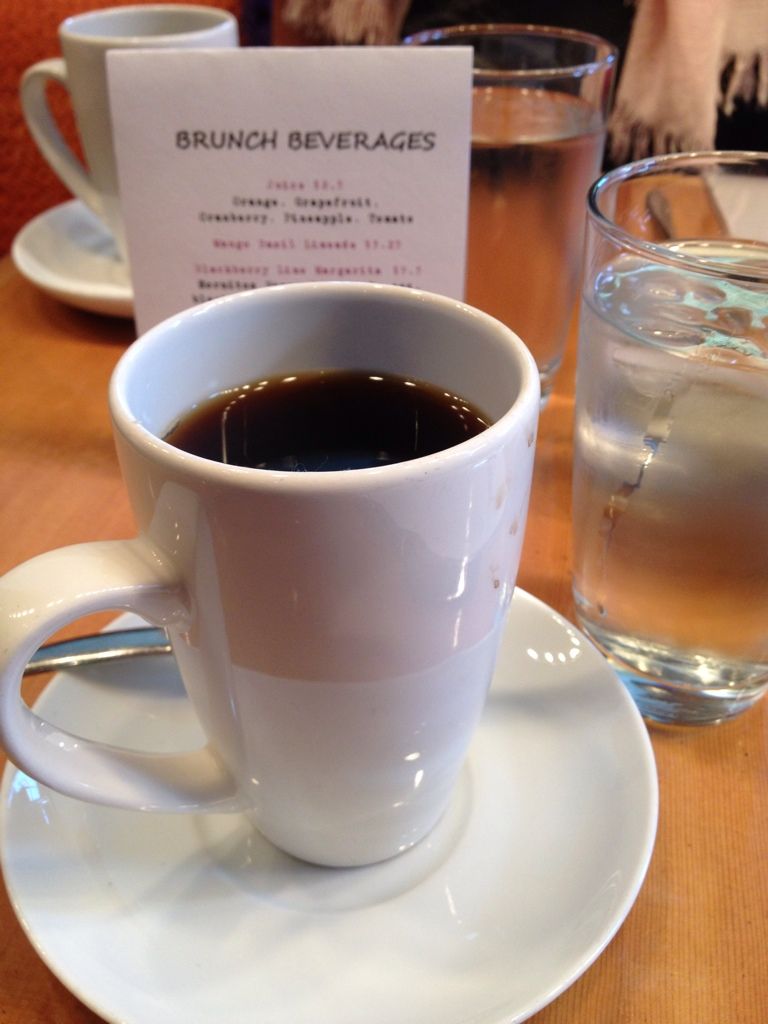 I love you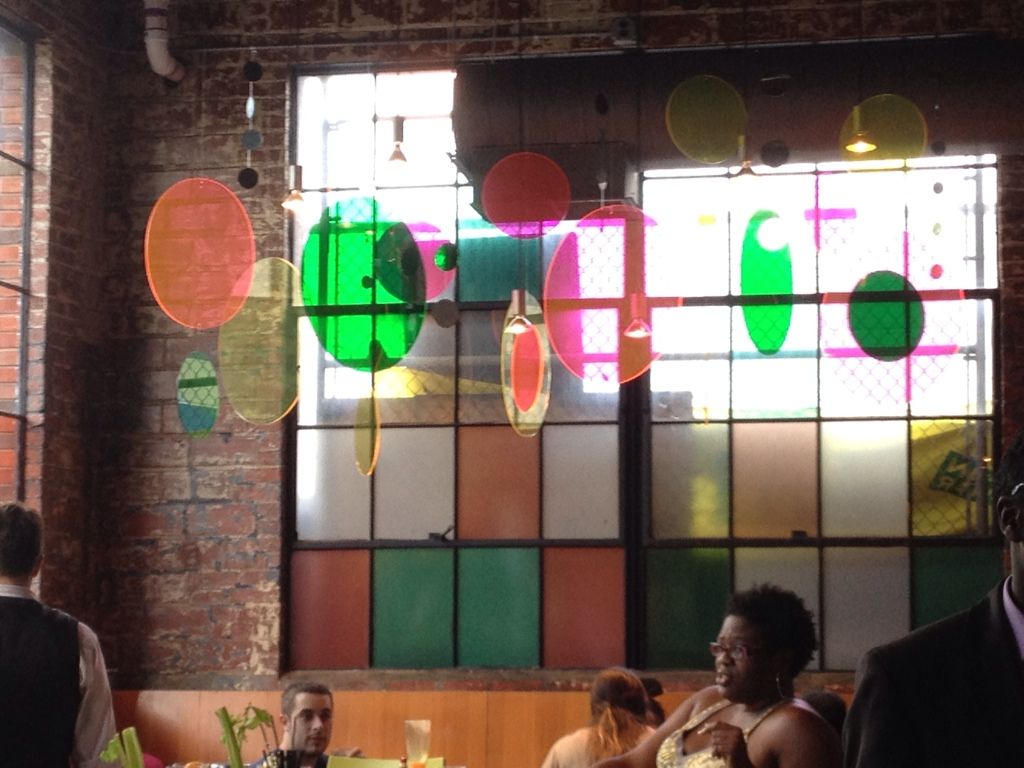 Multicolored hanging art to go with your coffee?
Carol does her best "Price Is Right" impression to present the fluffy pillows

Over coffee, our Justin Bieber look-alike waiter quickly ran down the not-to-miss items that were "to die for": donuts and pork belly. Jackpot. We started with the
dulce de leche donut
and the
filled donut of the day
, which had a peach jam filling.
Both were warm and definitely freshly made. The dulce de leche donut was a yeast donut and had a playful smattering of colored sprinkles on top. The filled donut was cakey with the perfect amount of jam filling.
I see you, peach jam!
Both were absolutely delightful. I think I preferred the filled donut (they're so hot right now) but I loved both. Who can say no to a warm, freshly made donut? Soulless fools. Or people who are sticking to their diets.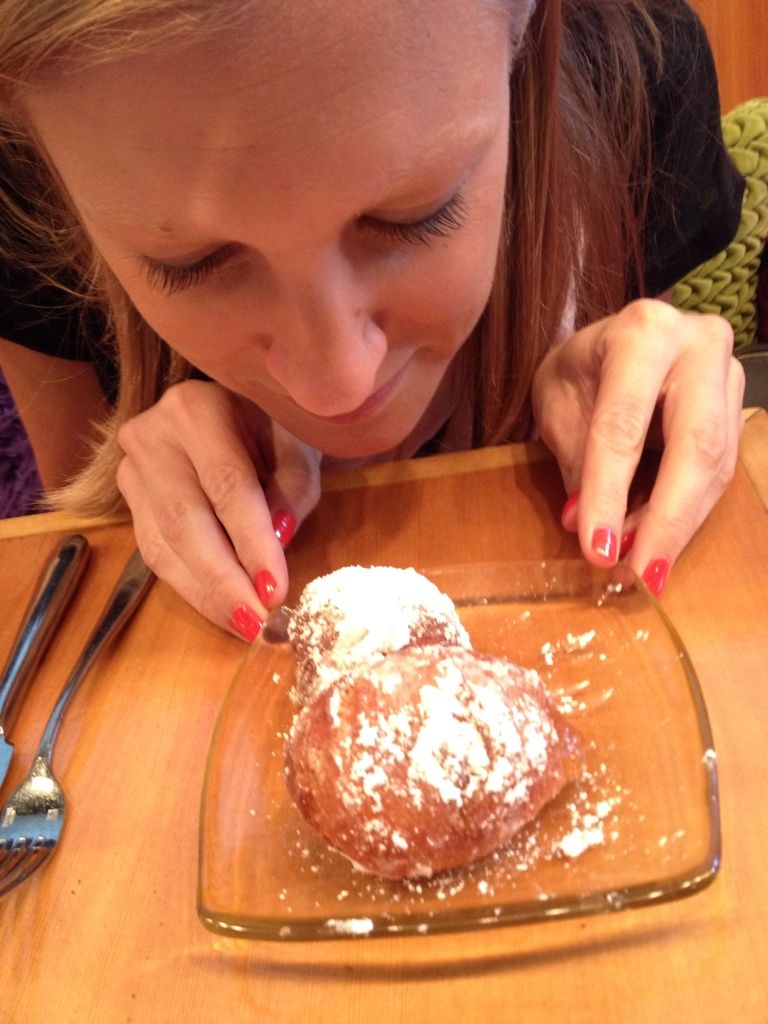 For our main dishes, Carol ordered the
"Egg's Nest,"
a nest of fried up shoe-string potatoes filled with fried eggs, kale salad, and hollandaise, atop a few slices of tomato. Beautifully presented but much better tasting when destroyed so the components could be eaten together.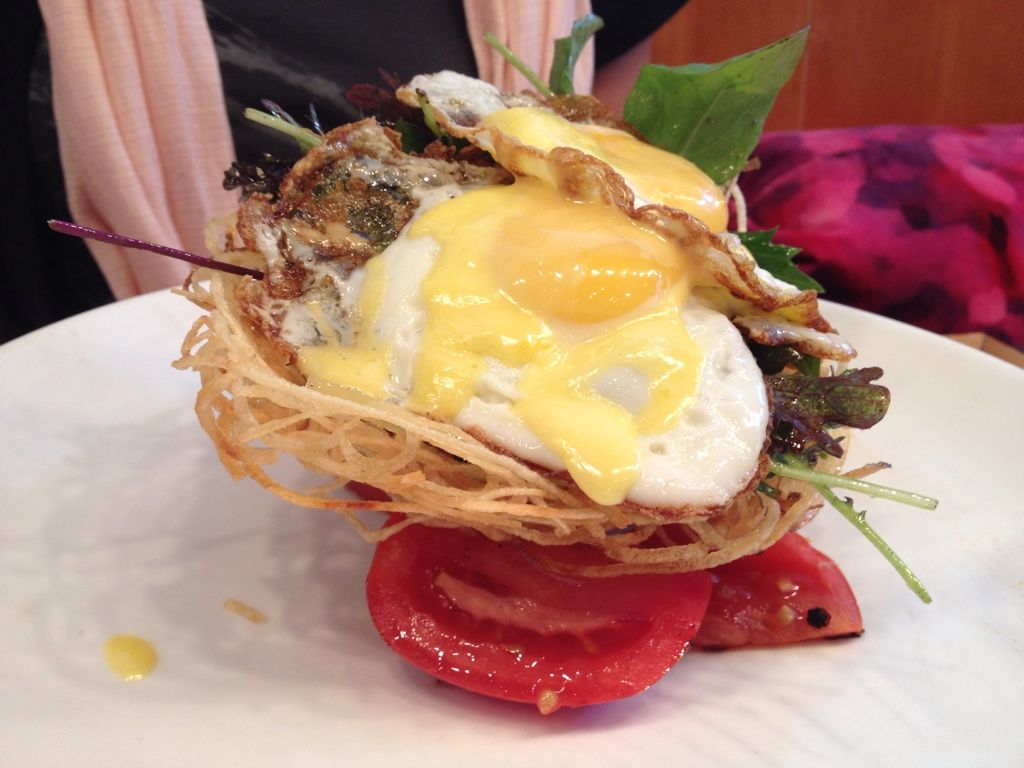 I ordered the
Chilaquiles
, a Mexican dish of scrambled eggs, fried up corn tortillas, black beans, salsa verde, fontina cheese, and a bit of avocado on top. Very flavorful, slightly spicy, and a nice contrast of textures. Why don't I make this at home?
And the
pork belly
? We didn't forget - we got a side order of the citrus-cured belly and it was, as predicted, to die for.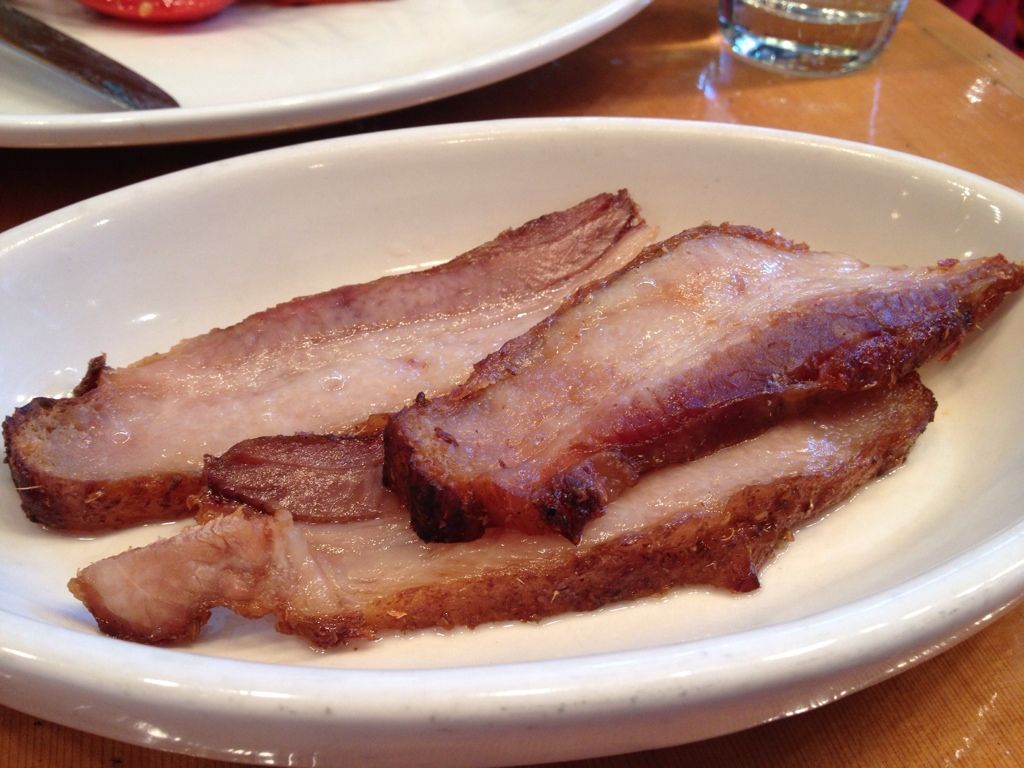 Aside from some spotty service (a theme with this restaurant group?), we had a lovely experience at Jackie's. I will definitely be back for dinner. And I think it's safe to leave my dollar bills at home.
Cheers,
EP