by EP
At the end of January, 15 people came together in Chicago - yes, Chicago in January - to celebrate a special friend's 30th birthday. That friend is my dear friend from college, Craig, who you might remember from such posts as
this
and
this
. I was so pleased and honored to be invited to this event, a "destination" birthday party in a fabulous city with an amazing and flourishing food scene. I had been to Chicago once before back in '04 for a chilly "spring break" road trip from St. Louis, but I was eager to get back and check out the city and the food I'd heard so much about (mostly from Twitter and
Xani's various visits
).
I will be blogging soon about my other eats with another buddy, Alex, but this post is dedicated to the fabulous meal and overall experience we had at
Girl and the Goat
, the brainchild of Chef Stephanie Izard, Top Chef Season 3 winner.*
Craig and his partner Mark hosted the dinner for 15 of Craig's friends from all parts of his life. We were seated in a private room in the basement of the restaurant ("the underground goat"). Technically I think it was their liquor store-room but they made it quite cozy and intimate with candles, music, and centerpieces, and the bottles of booze stacked up along each wall were more decor than "pantry."
We arrived at 7:00 and schmoozed for about an hour, enjoying champagne, warm marinated olives, and
Fried Naked Cowboy Oysters
with capers and egg salad. (It's a minor detail but I loved how the oysters were served on spoons that had been transformed into little serving vessels.)
Then we were seated at the large table, where our wonderful waitress brought three kinds of bread, each with two kinds of butter. While we noshed the bread, Craig stood up and made an incredible toast where he expressed his gratitude and addressed each of his guests, explaining to the group how he knew each person (since many of us had not met) and how special each of us was to him. Talk about touching!
Then it was time for the first "wave" of foods. This point deserves attention: the waitstaff brought the food out in several "waves" - lighter, appetizer-esque dishes, then mostly seafood dishes, then the meat dishes. Each dish in the wave was presented solo or with 1 other dish, and served family style. After each wave, we took a 10-15 min break to get up, use the restroom, walk around and mingle, take pictures, etc. To me, this made the meal that much more enjoyable - you didn't feel like you were just sitting there eating eating eating until you couldn't move. Plus, the table was kind of big so you could only comfortably speak to your close neighbors; the breaks allowed us to schmooze (my hobby) and get to know one another. Sharing the dishes family style also helped with this since it's interactive and everyone was excitedly discussing each dish.
And here was the fab menu (unfortunately the separation of dishes into waves is a bit hazy...blame the champagne):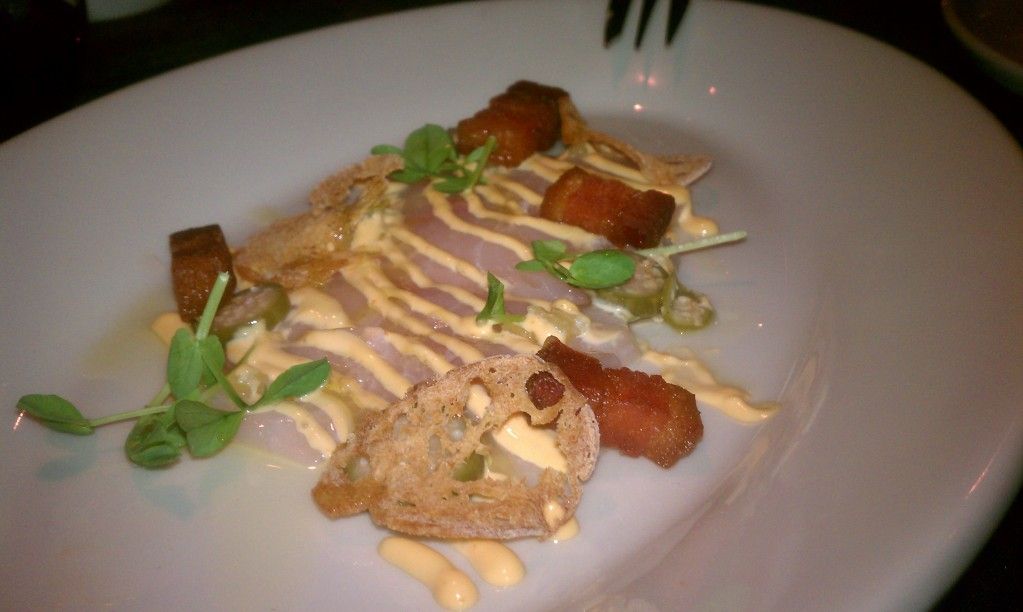 Hiramasa Crudo with crisp pork belly, chili aioli, caperberries
The crudo + pork belly combo here was killer - light yet decadent.
Kohlrabi Salad with fennel, evalon, pear, toasted almonds, ginger dressing
- no picture of this salad, which was one of the most memorable/favorite bites of the evening for me. I was too into the kohlrabi to take a picture, I guess! The salad was so crunchy but had a light yet creamy dressing. And I thought I didn't even like fennel!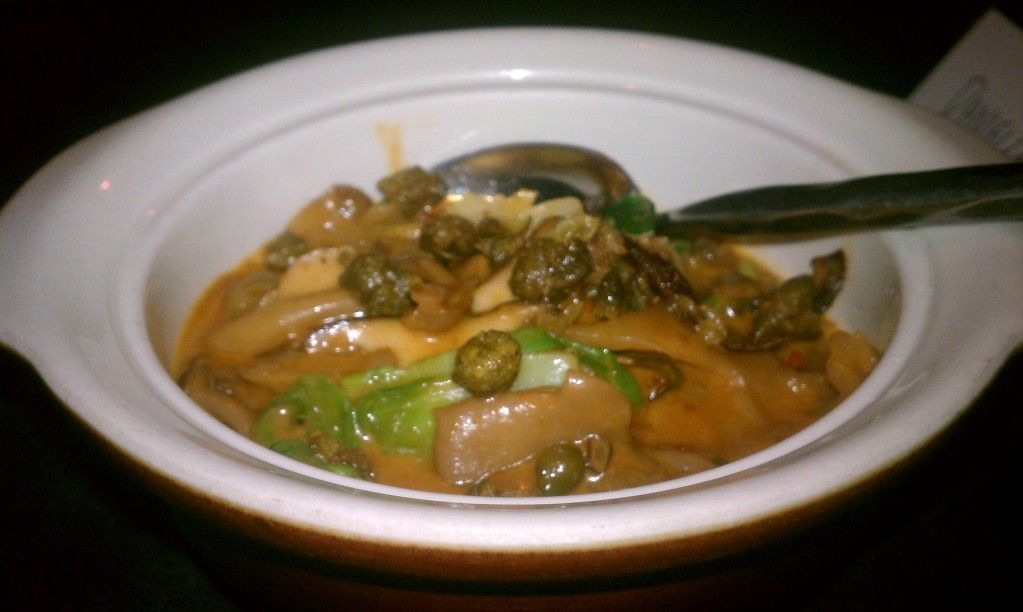 Hen of the woods mushroom ragout with sweet potato agnolotti, shroom creme fraiche, capers
Grilled Seppia with piparra-pineapple relish, grilled kale, sweet garlic puree
The seppia (cuttlefish) is not unlike squid, and here it was grilled to perfection. This was another big hit in the first "wave" -- and overall! I think we ordered more, it was so fantastic.
Smoked Blue Prawns with hedgehog mushroom gribiche, creamy polenta
The head-on shrimp in this dish were not only delicious but also a great conversation piece, as there were some of us willing to "suck the head," and we spent the course trying to make everyone else do the same. Great play on shrimp and grits.
Fried Cod Cheeks with bacon sweet n' sour, potato aioli, tempura broccoli
Clearly I was not able to take a picture before people started digging in! This dish of fried cod cheeks and tempura broccoli was like a super-fancy version of General Tso's...cod cheeks. Very rich but very awesome.
Kalbi Style Beef Ribs with grilled sweet potatoes, charred okra
Sauteed Green Beans, fish sauce vinaigrette, cashews