by EP & X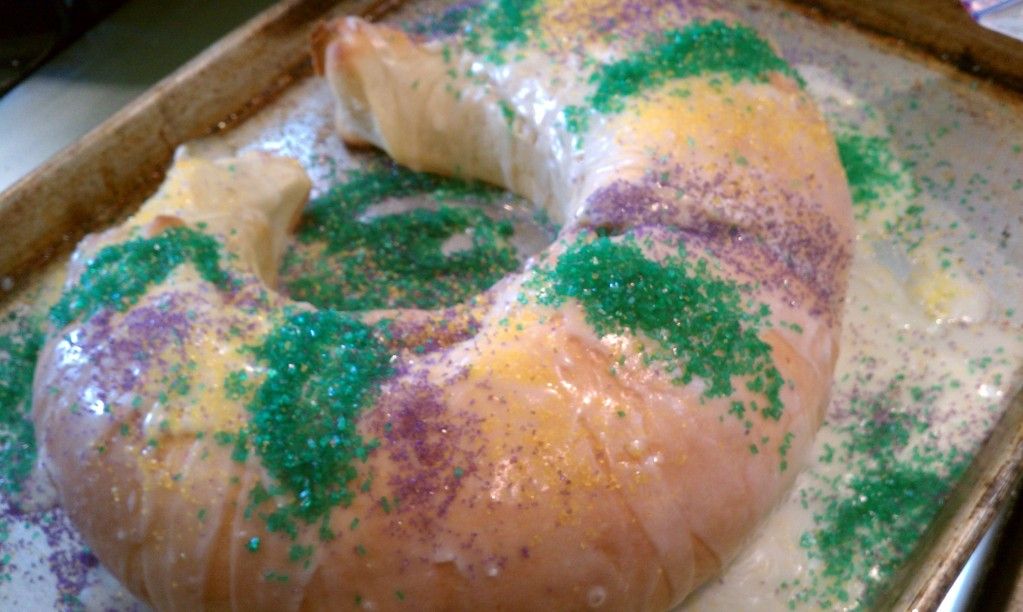 Xani and I have been cooking for a long time. Almost our entire lives. And we feel pretty confident in our ability to pick a great recipe (or make one up), execute it, navigate around any snafus, and serve it with a smile. In recent years, we have delved more deeply into the more complicated but arguably more glamorous cousin of cooking: baking. Xani has been baking breads a lot recently (remember her
birthday brunch
??), but I am more of a cookie girl. Give me a party and I'll give you some cookies/bars/treats of some sort. Maybe this is the only reason I get invited to parties...?
As you might recall, a few weeks ago it was Mardi Gras down in
New Orleans
, for which we have a great affinity. I told Xani I wanted to make a King Cake, the traditional sweet danish-like cake associated with Mardi Gras, as a baking adventure. In truth, I had never had a homemade, authentic King Cake myself - I had only had crappy grocery store versions when I was visiting the New Orleans area to do post-Katrina rebuilding projects. I wanted a taste of New Orleans and I figured we could handle the semi-complicated task.
For those who don't know, a
King Cake
is traditionally eaten around Mardi Gras and it apparently has to do with Christmas or Lent or...well, it's all very confusing for nice Jewish girls like us. We do know there is a plastic baby baked into the cake, and if you get the baby in your serving, you are king for the day! You also are on the hook to have next year's Mardi Gras party.
Let's just say we like cake and we like colored sparkly sprinkles, and we certainly love New Orleans, so we were excited to make our own King Cake.
We used two recipes,
a Southern Living recipe
for ingredients and most of the technique, and an
Emeril recipe
for a few other tips on technique.
Essentially, you make a yeast dough that includes sour cream, eggs, sugar, butter, and bread flour. You then knead the dough for 10 minutes and let it sit for an hour to rise.
Once it's risen, you punch it down and then roll it out into a rectangle shape. Then you slather it with butter, sugar, and cinnamon, and then roll it up like a jelly roll, and then form it into a ring - the traditional King Cake shape. The dough rises again. I think patience is a main ingredient in baking: all that waiting around for rising! Luckily, we are very good at cracking each other up and playing with the puppy, Eddie, to pass the time.
As for forming the ring, here is where the Emeril technique comes in: Emeril suggested wrapping the dough around a (greased) coffee can, to keep its shape. We did so (even used a Cafe du Monde can!), and the cake kept its shape, though you can see in the pics below that the ends didn't stay together too well. Perhaps if we had rolled the dough out thinner, we would have gotten a longer ring and we would have been able to get a better result. Ah well, for next time.
It was at this point that we hid the baby in the ring!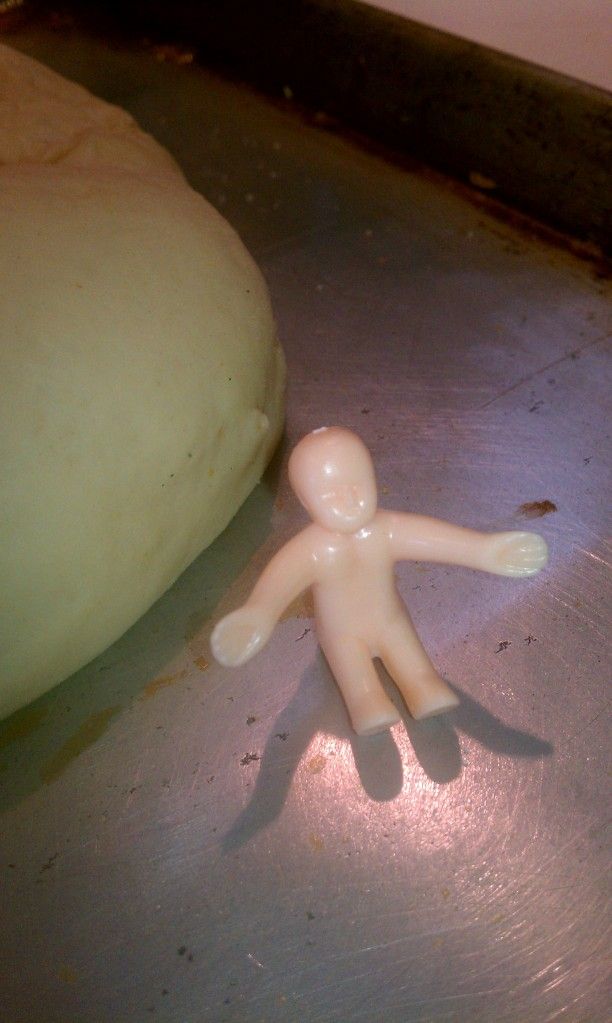 Hey, baby
Once the dough was risen again, we baked it until golden (14-16 min). We let it cool slightly and then came the fun part: drizzling it with a creamy icing (made with powdered sugar, butter, milk, lemon juice, and vanilla) and sprinkling it with green, purple, and gold sparkles! (Green, gold, and purple are traditional mardi gras colors. Green represents faith, gold represents power, and purple represents justice.)
G assists with Team Sprinkles
The final product was really lovely - it was sweet and cinnamon-y, and had a great brioche-like texture. And who doesn't love icing and sprinkles?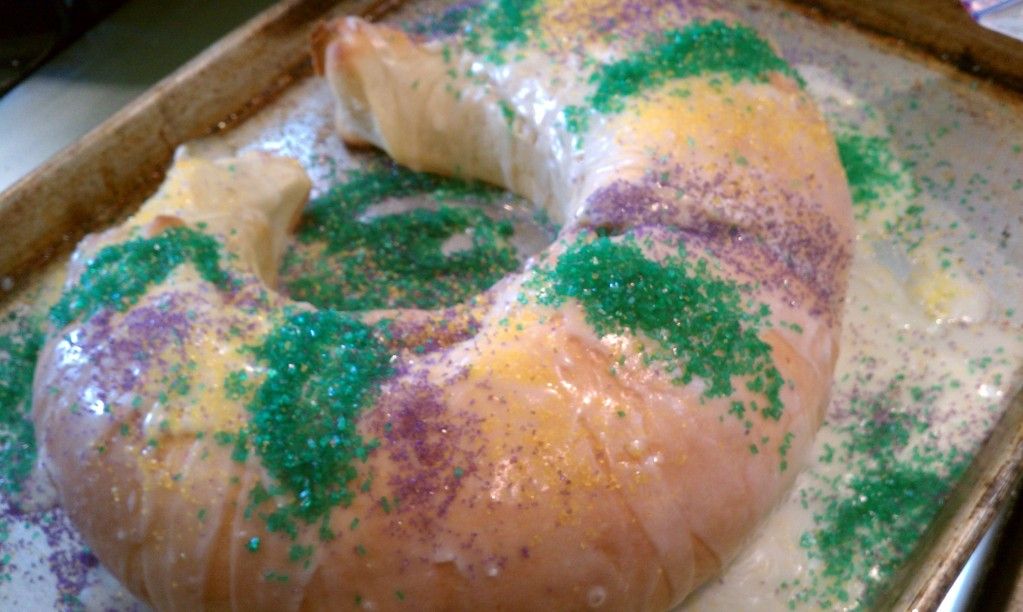 Finished product! Now where's that baby again...?
As we wrapped up the day of fun, we decided to cut the cake into portion-sizes so we could bring it to our respective friends and offices (aka not eat the entire thing). But, none of us could remember where the baby was. Sure enough, as Xani was cutting the cake, she practically cut that baby right in half, King Solomon-style!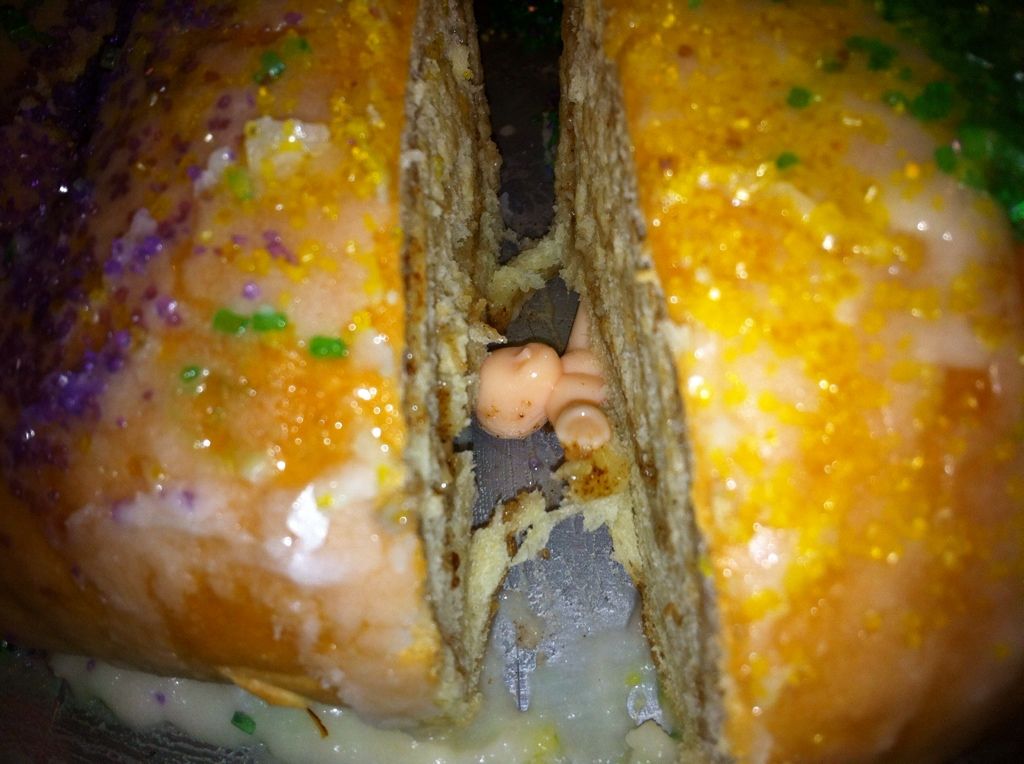 BABY!
While no one technically "got the baby," it was a fun activity for a holiday weekend and brought a little piece of mardi gras to Baltimore. I think once the weather gets warmer, we'll get Dave to make us hurricanes!
Laissez les bon temps rouler!
EP & X